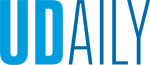 A unifying experience
Article by Amy Cherry Photo courtesy of the Delaware Interscholastic Athletic Association April 19, 2022
UD sophomore coaches a Delaware high school's Unified Basketball team to championship game
Some games are tough.
That's what Appoquinimink High School sophomore Tucker Barnes learned from his time playing Unified Basketball. But he also learned a lot about teamwork.
In his first season on the team, Barnes led the squad in three pointers, propelling the team to the championship game at the University of Delaware's Bob Carpenter Center against Dover High School in March.
"I made the final shot to get us to the finals," Barnes said. "Afterward, I wanted to get the crowd hype. People were screaming at the top of their heads. I could hear the chants saying 'MVP.'"
The team gave each other high-fives all around.
Barnes, who has only one functional arm — his left arm — never wanted to play basketball. But he is a huge Philadelphia 76ers fan and wants to grow a beard that rivals that of 76ers star James Harden.
"During a playoff game against Polytech, I hit back-to-back, back-to-back, back-to-back threes in two minutes," said Barnes with a huge smile as he recalled that moment on the court.
Appo has been a part of Unified Basketball since its pilot season in 2017. Unified basketball is a partnership between Special Olympics Delaware and the Delaware Interscholastic Athletic Association (DIAA). It brings together children with intellectual disabilities, who are the athletes, and general education students, who control and regulate the pace of the game.
The Appo team is currently coached by UD sophomore Autumn Gentry, who recalled a special moment during the season when Barnes made three three-pointers in under three minutes. Barnes was grinning from ear-to-ear as Gentry talked about that moment.
"It was just crazy to see. I ended up getting emotional because the crowd was all there cheering for him. He noticed the moment—that was all him," said Gentry. "It's awesome to see that we can facilitate an environment that made him want to come back to a sport that he didn't even want to play, initially."
This marks Gentry's fourth year involved with the team. She served as a student partner on the Unified Basketball team while attending Appo. After graduation, she was a volunteer coach, and then became head coach this past season. She also coaches the Unified Flag Football team at Appo.
"It's pretty full circle," she said.
The health behavior science major is within the Department of Behavioral Health and Nutrition in the College of Health Sciences. Gentry also minors in health, physical activity, and disability, making her coaching gig the perfect fit for her future career path.
"I find it interesting going into the adaptive physical education route, continuing the same principle of working with kids and teens with special needs in a sports sense," said Gentry.
For Gentry, Unified Basketball is about far more than the love of the game.
"We have pasta parties. And the kids, they're a clique in school, and it's a clique you would have never imagined when you walk into a high school," Gentry said. "You start off with a kid who thinks he's going Division 1 for baseball or basketball, and now just hanging out with all the kids from Unified. It's awesome to watch."
Waymond Elliott, a junior at Appo, is in his second year of playing Unified Basketball. This season, he led the team in points, scoring mostly two-points shots. But he doesn't take the credit.
"Our team chemistry was pretty good…we help each other out when we're down," Elliott said. "Everyone's different with what they're born with or how they are as a person, but we just push those differences aside, and I just learned the value of teamwork."
Barnes and Elliott are complimentary of one another.
"It's amazing, I get very excited every time he hits a three-pointer," Elliott said. "We high-five each other. I just love seeing him hit threes, it's astounding. I very much appreciate those high-fives; it just makes me feel confident in myself."
Barnes added, "It's hard to keep track of Waymond because he just runs very quick. He's all over the place."
Gentry's team had a perfect season that launched them into the championship game, which Barnes chalks that up to one valuable lesson:
"Hard work pays off, and talent needs to work hard," he said.
During the final game of the season, Appo's team rolled up dressed to the nines in suits before changing into their uniforms.
"We came in on official business; we came on a business trip," Barnes said.
While Appo led most of the game, Dover High School won the game by one point for its third straight title.
"We had some tears, maybe, for five minutes," Gentry said. "As soon as they got the trophy and got to look at everybody cheering for them again, it was out the window. They didn't even realize we were in second anymore. The feeling of losing didn't last very long. It was more like this is a really good experience."
Just getting to the championship game was an amazing feat following the program's first full-year back post-COVID.
"It was a really good game, and the amount of people who attended was just so surprising," she said. "You'd normally expect two parents from each kid or four depending on their situation — there had to be at least six people from each family alone, and then friends, and students."
Gentry's adaptive physical education and theory professor Steve Goodwin was in the audience for the final game. He was thrilled to see the ways in which Gentry interacted with the players.
"She was very positive with the Unified athletes as well as with those who did not have a disability. The athletes who do not have a disability took very few shots," Goodwin said. "She approached it with the understanding that the league is for those who have a disability. She has obviously worked hard with all her athletes and helped them have a very positive experience."
The winning shot in the championship game was taken by a non-Unified player on Dover's team. While Gentry hopes regulations evolve, current Unified rules only call for playing with integrity and ensuring meaningful involvement and inclusion. While there are no official rules regarding whether student partners can take shots in Unified, Gentry fosters a spirit among her team that Unified players take the shots and student partners get rebounds and facilitate passes.
"Maybe you didn't get the winning shot — you got a pass, or an assist, or a block — but letting our kids put up our own shots and our own points, that was really a good feeling for me," she said.
But win or lose, Gentry said student partners and athletes benefit from playing Unified sports.
"As a partner, it has a grounding feeling — it brings you back to why you play sports…it reminds you that the relationships you build on a team are the bigger parts," Gentry said. "For the athletes, it's a good opportunity for the kids who would have never had the opportunity to play a varsity sport — they get to build relationships with people that they may not have talked to before."
Appo senior Evan Bouldin plays varsity baseball in the spring but doesn't play a winter sport.
"This was my first time playing competitive basketball. I knew I wanted to do it because I used to do Special Olympics when I was younger," said Bouldin.
He leads the team in rebounds, and under Gentry's mentorship, was always looking for a Unified player to pass the ball to take shots.
"They love playing basketball," Bouldin said. "There was never a dull moment with them. They made sure I was taking it just as seriously as they were — we pushed each other. I'm going to miss being able to see them every day."
One of the more memorable moments for Gentry this season was when kids were able to take off their masks.
"Because you could see their emotion and see their reaction," Gentry said. "And you have rough days, where they come in crying, or they had a bad day, or mom was mad at home in the morning, but then they leave with a clear mind, and they had a good practice. We never end on a bad note."
Gentry ties her experience with Unified back to her studies at UD, where she strives to understand behaviors in children.
"If you never try to understand where a behavior is coming from, you're never going to know," Gentry said. "A lot of times, as a coach, we get mad when kids get frustrated and give up. But at UD, you understand that frustration comes with fear, anger comes with fear. So, we encourage them — 'Don't be scared, you've got this,' is better than saying, 'Calm down, relax.'"
Gentry credits Goodwin with helping her develop her coaching skills.
"The only thing we don't tolerate is a bad attitude — from anyone," Gentry said. "If you're having an off day, take a minute and come back. It's the only thing we can't have. Dr. Goodwin gave me the insight into working specifically with the kids, fostering that 'You got this mindset.' "
Gentry said she is planning for a career in adaptive physical education.
"Seeing them play, and some of these special moments, it just makes my heart happy," she said. "I never want to leave working directly with individuals with disabilities. I think that's definitely my alley. I love doing it."