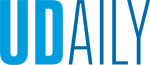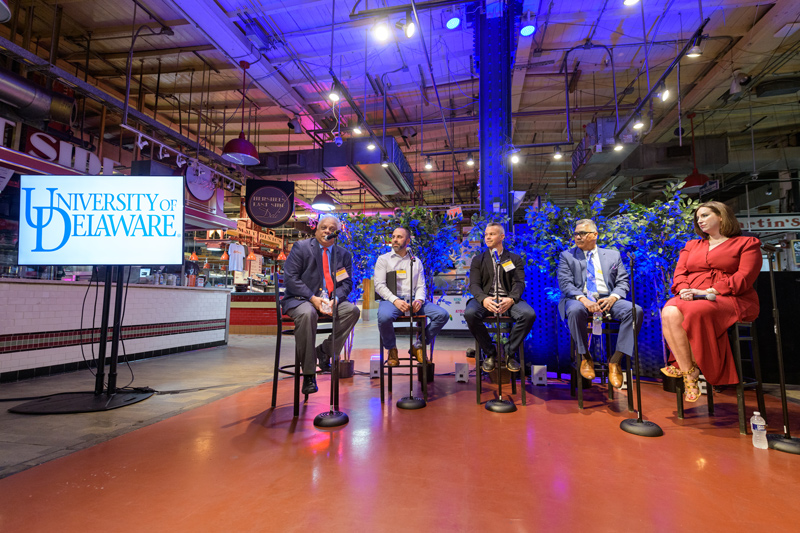 Resiliency in hospitality
Article by Artika Casini Photos by Kathy F. Atkinson and Evan Krape April 27, 2022
UD hospitality experts discuss the impact of the pandemic at Philadelphia's Reading Terminal Market
The coronavirus pandemic has made us all experts in reaction. When life suddenly changes, we change, too. We "pivot" and adapt.
This is especially true for those who work in hospitality, an industry that accounts for 10% of the global combined gross domestic product (GDP) and one that has withstood some of the harshest impacts of COVID-19.
More than two years into the pandemic, the effects continue to reverberate, University of Delaware experts in hotel, restaurant and service management told fellow Blue Hens at a "Conversations and Connections" event, developed by UD's Office of Development and Alumni Relations and hosted by the Philadelphia Blue Hen Network to engage alumni around different areas of thought leadership.
The April 7 discussion featured notable alumni in the hospitality industry: Allan Fernandes, vice president for global safety and risk solutions at Aramark, Class of 1992; ​​Lydia Jeffress, group sales manager for the Four Seasons Hotel Philadelphia, Class of 2007; and Class of 2000 graduates Craig Mosmen and Michael Cassano, co-owners of the Couch Tomato restaurant group.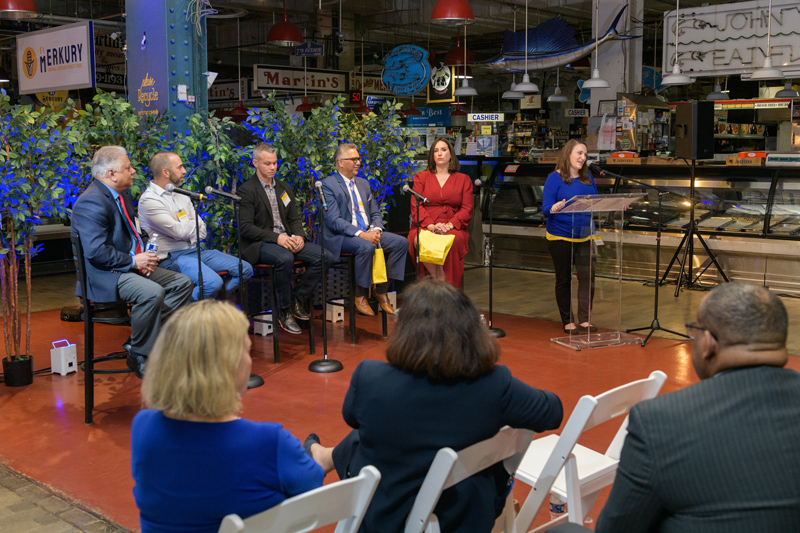 Speaking to nearly 100 attendees in a panel discussion moderated by Srikanth Beldona, professor of hospitality, the four alumni shared their experiences over the past two years in an exclusive, after-hours event at Philadelphia's Reading Terminal Market. The historic space served as a fitting backdrop for the conversation. Since 1892, the farmer's market has survived wars, food shortages, recessions — and now, two pandemics.
"Care will be the social currency of the future," said Fernandes, who spoke on the great recession, global supply chain disruption, technologic innovation, labor shortage and the need to provide quality mental health services. "Salaries have gone up. Prices have gone up. You have to pay much more. But you also have to show your employees that you really care about them, that your company is a true hospitality company."
This is a big task for a global company like Aramark. Most Americans often refer to the pandemic's start as March 2020, but for Fernandes, it was Jan. 20, 2020.
"We were in the first hospital in Wuhan, treating the first patient with COVID," he said. "I got a call from my folks in China saying, 'Better be prepared.' I put together a presentation for our CEO and executive team and outlined three points: There's going to be a significant supply chain disruption, a significant shortage of labor, and we've got to have policies and procedures for safe dining in place. They asked me what I needed, and I said, 'Give me money to strategically source ahead of time,' so we bought masks, disinfectants, and we had a significant supply of necessary materials."
As a result, Aramark was able to serve nearly 100 million meals at a time when few others could. Globally, business grew 10-fold in China and domestically, the company provided 300,000 care packages to New York City nurses.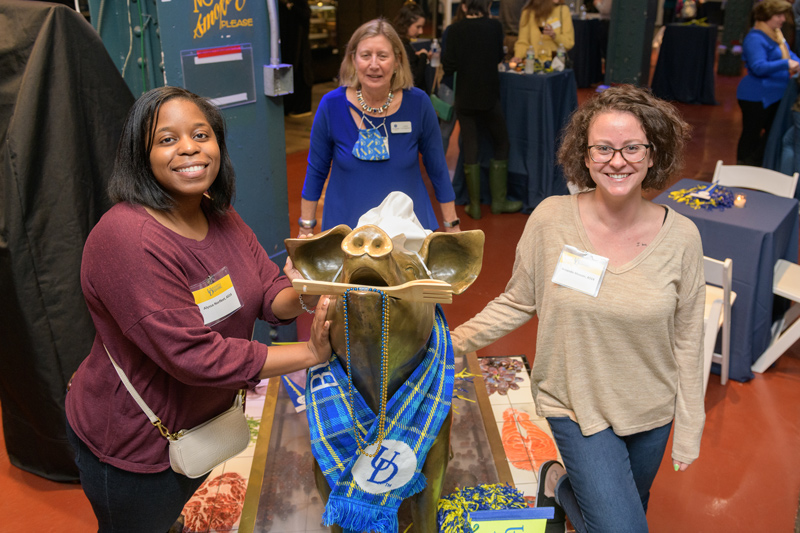 Jeffress noted that the Four Seasons opened seven months before the pandemic hit and has never experienced a normal year. Despite the lack of historic data to predict future trends, she has noticed changes in buyer behavior and a "hesitancy to commit to much of anything." The short-term booking window — in which someone might book a Saturday getaway on a Thursday night; or the contract she received on the morning of April 7 for a large event on April 20 — also strains operations. 
For a hotel that prides itself in guest services and satisfaction, "things are just a little harder to plan for," Jeffress said. But she remains optimistic that the luxury hotel will not revert back to the dire days of March 2020, when occupancy was at 2%. 
"COVID is not going away, and clearly it's something we'll be learning to deal with for a while," she said. "People have learned to appreciate the moments when they can get out and enjoy time with their family and be together and feel safe. And in those moments when you can't, you're thinking about what it is you want to do when you feel that way again. We're learning to take it one day at a time and hope that the good business stays."
Providing a more localized, Main Street perspective, the Couch Tomato co-owners spoke of adapting to price increases and supply chain shortages. "We shrunk our menu, changed our packaging," Cassano said. "People would ask things like, 'Why is my salad in a different bowl this week?' but we had to do everything we could to make things work."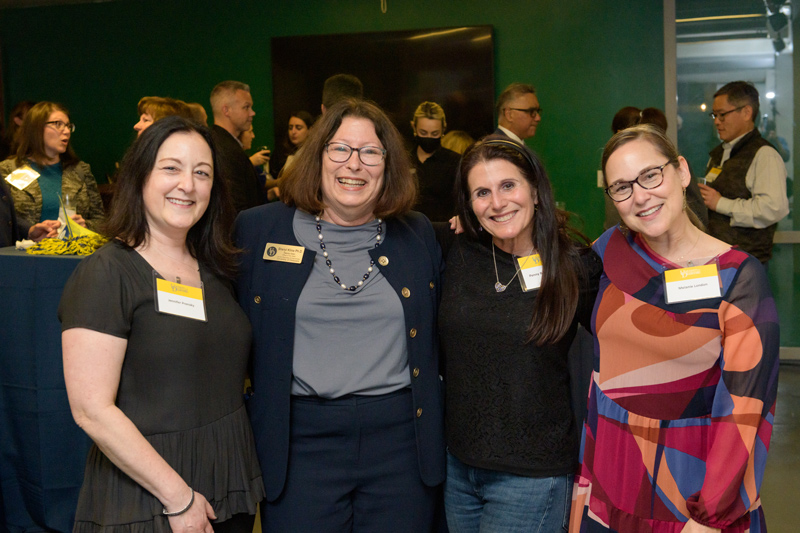 Cassano and Mosmen opened their restaurant at age 22. Two decades later, they found themselves in "the most fearful part of our lives," Mosmen said. "We put our heads down and pushed forward and listened to our customers. We were resilient. We made modifications to survive. But if it hadn't been for government financial support, we wouldn't be here."
Well after the panel ended, attendees continued mingling and dining on special Terminal Market items, including crab-stuffed mushrooms, vegetable samosas, seafood etouffee, gourmet corndogs and much more.
It was the first in-person Conversations and Connections event since the pandemic's start. Sheryl Kline, deputy dean of UD's Alfred Lerner College of Business and Economics,  gave the opening keynote address. She spoke of UD's efforts to help hospitality students, she highlighted innovative ways professors adapted their hands-on curriculum, such as offering four-course, fine-dining meals delivered to one's car (rather than served in the student-operated restaurant, Vita Nova).
Today, UD boasts the return of study abroad, the highest Lerner freshman class in history (770 students), a 22% increase in graduate enrollment and a top-ranked online MBA program (28 in U.S. News and World Report and 18 for military veterans).
"Two years ago, we were shutting down the world for a few weeks while we sorted out a virus we knew nothing about," said Kline. "Now, our students and faculty are back."