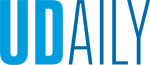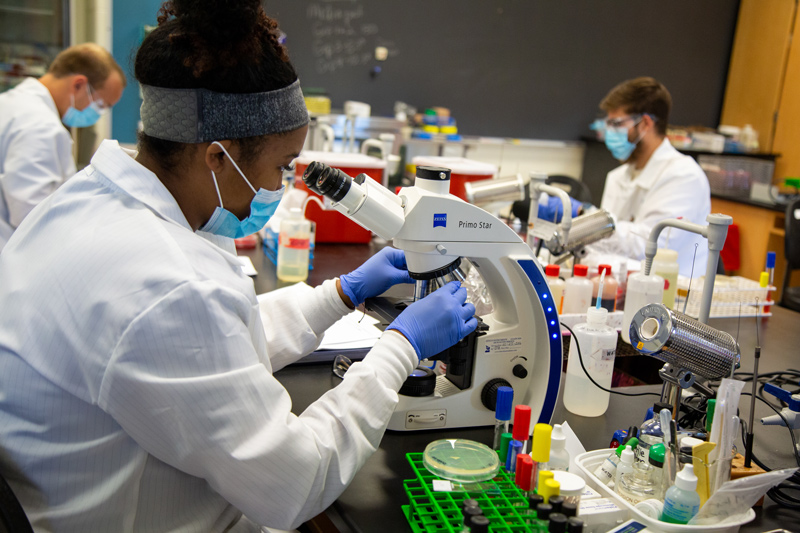 New neuroscience grad program
Article by Colin Heffinger Photos by Ashley Barnas October 19, 2021
UD pulls together expertise from disciplines in Colleges of Health, Engineering and Arts and Sciences
With the rapid expansion and growth of the field of neuroscience leading to incredible new career opportunities among innovating businesses, the University of Delaware introduced an Interdisciplinary Neuroscience Graduate (ING) program for the fall semester of 2021.
UD's College of Health Sciences, College of Arts and Sciences, and College of Engineering contribute to the graduate program through a dozen departments to provide a broad and thoroughly engaging curriculum for the study of neuroscience. The graduate program's driving mission is to cultivate a cohesive atmosphere to expose students to the study of brain function, provide interdisciplinary training across a variety of fields such as psychology and engineering, and to prepare students for a successful research-oriented career in the rising field of neuroscience.
John Jeka, professor and chairperson for the Department of Kinesiology and Applied Physiology, said the career opportunities will be plentiful for students completing the program.
"These are amazing jobs with excellent salaries," Jeka said. "Since this graduate program is exceedingly broad, it creates a larger variety of career opportunities for neuroscience students such as medical scientists, biomedical researchers, physicians, professors, and medical directors. There are tremendous advantages to joining the neuroscience program for students."
The creation and growth of the interdisciplinary neuroscience graduate program further creates opportunities within UD's Graduate College, which was established, in part, to foster​ innovation in graduate education, especially in creating and supporting interdisciplinary programs. By bringing together the collaborative efforts of different disciplines as part of a shared goal, there will be new, unique ways to approach research as students have access to faculty and resources throughout a dozen different departments.
"Exciting programs like the Interdisciplinary Neuroscience Graduate (ING) program are perfect examples of the innovative offerings that the Graduate College is here to facilitate and support," said Louis Rossi, dean of the Graduate College. "Students who hope to be leaders in the field of neuroscience need preparation in multiple disciplines and approaches to understand cognition in living systems."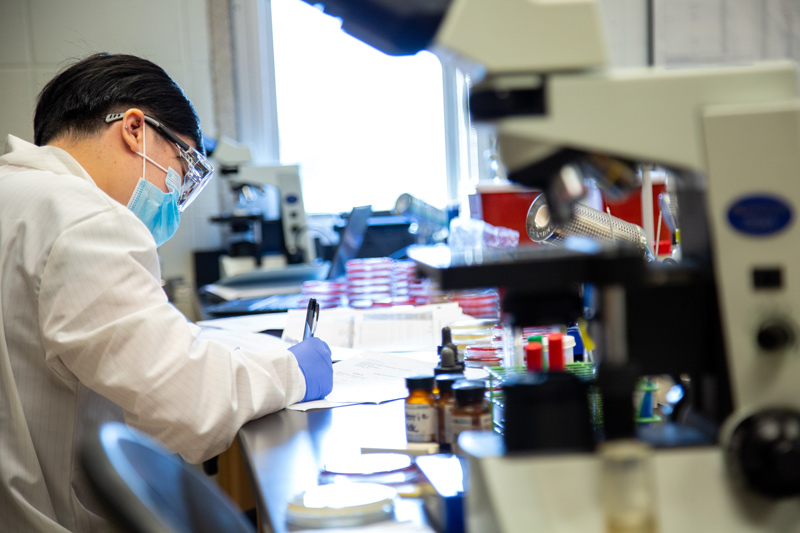 Anshuman Razdan, associate vice president for research development in the Research Office, said information passes in multiple ways.
"Vertical depth of knowledge in fields of study is important — but new, modern discoveries happen because of horizontal bridges built between these fields," said Razdan. "This program will allow students from different departments like physiology, psychology and brain sciences or biomedical engineering the opportunity to reach beyond departmental boundaries — utilizing other people, tools, and resources for their research. There are so many implications for the impact of how we develop tools and solutions that originate from the combined effort of different fields. Even the rapid creation of the COVID-19 vaccine was built on the shoulders of people who created complex models and worked across disciplinary boundaries.
"When all of these first neuroscience Ph.D. students are out in the field in 3 to 5 years — how does this help our mission? The indirect and direct impacts are that the best students in this program will be funded by different grants which will produce new science, ultimately leading to further funding and research growth at UD. We are looking at the long arc of success in establishing UD's unique neuroscience program and the credit goes to faculty for their creativity and hard work in envisioning this new program."
Mark Stanton, professor in the Department of Psychological and Brain Sciences and graduate director of the ING program, said the program will have an impact on UD and society at large.
"This is a tremendous opportunity for UD to enhance its programs and visibility," Stanton said. "Both the research and the teaching in this rapidly expanding field are very timely for science and public policy. The ING program plays a critical role to strengthen interdisciplinary capabilities at the University. It's been a rewarding experience to work with the committee and departments to bring this program to life."
The ING program will function through an executive committee that considers transfer applications from graduate students who are mentored by UD faculty participants and are enrolled and supported by their UD home departments. Transfer applicants will not change their faculty mentor, home department, or source of financial support through transferring degree programs under this interim policy. 
"The key is that students will still exist in the department they are already in," Jeka said. "Students will have opportunities to work with faculty, departments, and resources beyond their original field of study while having all of the benefits and resources of their adviser and home department through the neuroscience program. For example, a graduate student in Psychological and Brain Sciences can benefit from the broader spectrum of the neuroscience program and still utilize the resources they have available through their department."
Kathleen Matt, dean of the College of Health Sciences, said neuroscience includes individuals that come from a broad set of disciplines.
"This diversity in neuroscience brings a richness to the program and creates an opportunity to train students in interdisciplinary and translational work," Matt said. "This work is important because future innovations in medicine are discovered in areas that cross disciplinary lines. For example, there is an opportunity to link the findings of a scientist studying neurons at the molecular level with a biomedical engineer monitoring electrical activity of neurons, and linking that to a researcher studying neurological disorders, and connecting that to a physical therapist and an engineering team that is designing a brain/machine for a patient with a neurological disability. It's about connecting these data sets to lead to better comprehensive understanding of the neurological systems that can result in better treatment of patients. In neuroscience there are continually new enabling technologies being developed that allow you to ask and analyze questions at different levels and bring different disciplines together to find the answers.
"I really believe this program is a natural fit for our University and I applaud the faculty for putting this together. We are bringing the breadth, strength, and diversity of UD together to solve the complex healthcare challenges of now and the future." 
The ING program is supported by the Unidel Foundation.