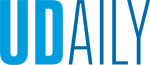 Bonded by cancer
Article by Diane Stopyra Photos by Evan Krape April 23, 2021
Three UD seniors, all cancer survivors, live together and give back via UDance
In many ways, David Fu, Zack Turner and Colby Atkinson are your typical college roommates. All seniors at the University of Delaware, they share meals, play Call of Duty after class and sometimes engage in shower karaoke. (One guy starts singing in the shower so loudly, his roommates join in from elsewhere in the campus apartment.)
But the three Blue Hens also share a not-so-relatable bond for most college undergraduates: They have each survived childhood cancer.
Now, these roommates are channeling their experiences with the disease into volunteer work for cancer-related charities, including UDance, a year-long fundraising effort on campus that benefits young patients and their families. The group's culminating event, typically an in-person dance marathon at the Bob Carpenter Center, will take place April 25 as a virtual celebration and also at a variety of smaller, on-campus locations in accordance with coronavirus (COVID-19) safety guidelines. Attendees can expect music, entertainment and inspirational speakers.
All this time spent battling cancer, raising awareness for cancer and living with fellow survivors? You would be forgiven for assuming a bit of cancer burnout at play. After all, while the three said they try not to focus too much on the past, they do find themselves reflecting over the dinner table about, say, that period when all their food tasted metallic, due to chemotherapy. Or they end up sharing a knowing glance every time a friend with the sniffles says: "I think I'm dying." But, in those moments of feeling, well, sick of the sickness? The students find inspiration in one another.
"Seeing the hard work of your roommates and their commitment to give back, it brings up determination to do more," Fu said. "We experienced at a young age how serious this disease can be, and not everyone wins this battle. So we find the motivation to keep pushing forward."
At the age of 10, Fu was diagnosed with acute lymphocytic leukemia, or ALL, a common childhood cancer which begins in the cells of the bone marrow. Because this is an "unbearably heavy" disease for a fourth grader to process, one that required three years of treatment and a year of homeschooling, he said he was sent by his parents between hospital visits to Kay's Kamp, then located in Middletown, Delaware, for a bit of normalcy.
At first, homebody Fu was not enthused by the thought of an overnight, medically supervised experience for sick kids, but immediately upon entering his cabin, he met Turner. As it turns out, this bunkmate — who had recently endured more than a month in a medically induced coma as well as surgery for a seven-pound tumor on his trachea — had, at the age of nine, also been diagnosed with ALL. (One of the things that got him through, Turner said, was a formative relationship with a male nurse, one of few in a sea of female nurses, who took the time to play video games in his hospital room and, simply, "connect over guy stuff" — more on that later.)
While at camp, the young boys hit it off, forging a friendship during summer activities typical for elementary school kids (fishing for striper and attending camp-sponsored dances on Friday nights) and not-so-typical (comparing radiation treatments undergone in the 3C North unit of Wilmington's Nemours/Alfred I. duPont Hospital for Children).
During this same period, Turner was selected as a so-called B+ hero, a child cancer patient who benefits from the fundraising work of the Wilmington-based Andrew McDonough B+ Foundation, UDance's non-profit partner. Throughout the year, these kids are paired with student organizations on campus for friendship and support, and Turner was matched with Kappa Sigma, one of the largest fraternities at UD. The brothers invited him to their annual haunted house, among other activities. 
"I think that core interaction is honestly why I went on to do Greek life here at UD," said Turner, who paid forward the support in his sophomore year when he helped reestablish the Pi Kappa Alpha chapter on campus, which has raised money for UDance, hosted 5k runs for breast cancer awareness and provided specialty bikes for people with disabilities. "I remember one student in particular who would always message me to make sure I was all right. It meant a lot." 
Fast forward to high school. Fu and Turner found themselves in remission, once again enjoying a more typical childhood. That all changed in 2013 when Atkinson, Fu's classmate since elementary school, was diagnosed with a different type of leukemia, at the age of 14. His treatment involved six months in and out of the hospital for various procedures, including a bone marrow transplant.
"When the doctor delivered the diagnosis, I could tell my mom was going to start crying," Atkinson said. "So I tried to put a smile on her face by asking a couple of dumb questions, like: 'So, I'll be able to play baseball again in the spring?' I remember wanting to do what I could to make her laugh."
While sports were not in the cards that spring, Atkinson did get paired as a B+ hero with UD's baseball team, which he said provided emotional support not only for him, but for his mother as well.
Later, when Atkinson ended up at Kay's Kamp, Fu and Turner, still regulars, welcomed him to their cabin. And although they could not convince him to join their camp karaoke sessions — "Pocket Full of Sunshine" was their song of choice — they did recruit the newbie for some teenage shenanigans, including one prank in which they taped all the beds in the girls' cabin together before pushing these beds against the front door, making the room inaccessible. (Atkinson, still sporting a leg cast from his cancer treatment, had to hobble-run away from the scene of the crime.) No worries — the girls later got revenge by saran-wrapping the beds of their instigators.
When it came time to apply for college, the boys — now more like brothers — did not intentionally select UD in order to be together. They each had individual reasons for choosing the University, where commitment to giving back is part of the student-body DNA. Fu is enrolled in the school's organizational and community leadership program, hoping one day to work for a nonprofit pertaining to leukemia and lymphoma — in the meantime, he volunteers with the American Cancer Society's Relay for Life. Turner, motivated by his experience with the limited number of male nurses during his hospital stay, is enrolled in UD's acclaimed nursing program — he has already put his studies to use as a medical assistant at Kay's Camp, trying to pay forward his own experience there. And Atkinson, a sports management major, was drawn to the University partially for its UDance work. He serves on the group's executive board, working as a liaison between various campus organizations and a new generation of B+ heroes.
"It was important for me to find the light during my treatment," said Atkinson, who is still struggling with cancer-related complications, like stage-two kidney disease. "I tried to always be upbeat and smiling. And now, through UDance, I can try to bring that light for others."
This focus on positivity is shared by all three roommates, who will tell you they have been through too much to sweat the small stuff. Take the current pandemic. Having to isolate from classmates? Take virtual classes? Wear masks in public? These restrictions are nothing new when you've been a cancer patient, and they are nothing to lose your sense of humor over.
"When things seem as bad as they can possibly get, just a little laugh goes a long way," Turner said. "I honestly believe humor can be the best medicine at times. In my apartment, we laugh all the time."
What could three guys who've faced down death possibly have to feel so happy (and sing so much karaoke) about?
That's easy.
"I would not be the person I am today without this struggle," Fu said. "It gives you a new mindset. It changes your perspective. It makes you want to be someone who helps others with whatever they're going through. For this reason, cancer was not a curse. Cancer was a blessing."