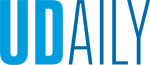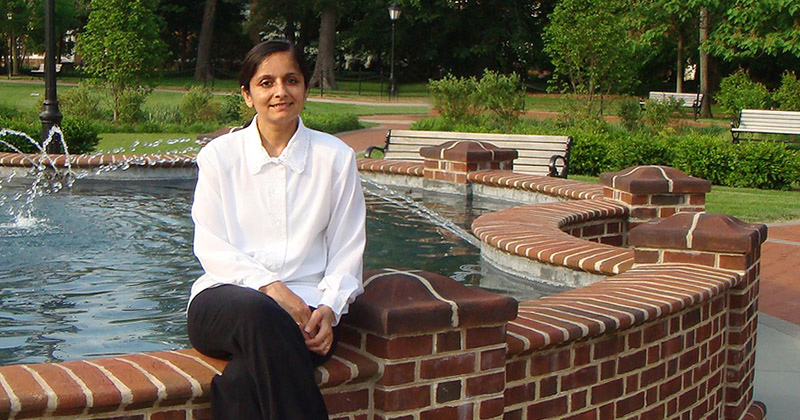 India native finds second home at UD
Article by Adam S. Kamras Photo by Janet Mendonca April 13, 2021
Rita Rawal one of countless students supported by UD's Graduate College
Over the course of her 25 years and various positions at the University of Delaware, Mary Martin has always maintained an open-door policy for graduate students to stop in to see her at their convenience. Whether they are looking for guidance with their academic plans or finances, a friendly and empathetic person to talk with or any other kind of support, Martin has been there to listen and propose options for a solution to the problem. When Rita Rawal visited Martin, the current associate vice provost for graduate and professional education and associate dean of UD's Graduate College, for the first time in January 2008, it changed her life forever.
A native of India, Rawal enrolled at the University of Delaware in 2005 to pursue her childhood dream of studying in the United States. Though she earned bachelor's and master's degrees in India and was working as a clinical dietitian in her home country, she was attracted to the many research opportunities available in the U.S. After using a student loan for UD's master of science in human nutrition program, she wanted to complement the degree with a dietetic internship, which included the need to take some prerequisite courses, but lacked the resources to pay for it.
Life-changing meeting
"One day I was feeling sad and low and thought I might not be able to do the internship, but there was still this little hope in the corner of my heart." said Rawal. "I went to the Graduate College without an appointment and landed in Mary Martin's office. When I entered, I felt helpless and didn't know where I would go from here. When I came out of her office, I had a big smile on my face. It was the turning point of my life."
Martin also has a vivid recollection of her initial encounter with Rawal.
"Rita told me about her financial situation and how much she wanted to do the internship," said Martin. "I was able to see that she was a serious-minded person who was working really hard. I listened to her story and could just feel her spirit. I looked up at her and said, 'Can you start working in my office today at 1 p.m.?' She said yes, and I said, 'You're hired. You come back at 1 p.m. and you have a job.' ''
The job Martin offered Rawal was a 20-hour-per-week graduate assistantship that covered her tuition. Martin has never doubted her rapid decision and described Rawal as an extremely responsible, hard-working, always positive person who turned out to be one of the best graduate assistants she ever had.
"It was great for both of us," said Martin who manages competitive awards and funding for students in the Graduate College. "My coworkers always say that students come in with tears in their eyes and leave smiling. I am fortunate to have a lot of interaction with graduate students and am all about helping them be successful."
After completing her master's and the internship in 2010, which included hands-on experience with UD's Cooperative Extension and Russell Dining Hall, as well as Union Hospital in Elkton, Maryland, Rawal became a registered dietitian and was hired by the Unites States Department of Agriculture (USDA) to conduct research in Beltsville, Maryland.
Supported students pay it forward
"I had such a pleasant experience working under Dr. Martin and learning from her," said Rawal. "Because of her kindness, I was able to complete the internship program successfully. Without the financial support, I never would have been able to enroll in that program, which opened the door to so many things for me."
Martin said students who go to graduate school are often passing on the opportunity to work full time and earn sufficient income. Because of their sacrifice, she said their research and other work often benefit all of us.
"Financially supporting students to meet their basic needs while they are in graduate school is really important for their well-being and their ability to become the future leaders of our society," said Martin. "If we do not provide for their basic needs, many of them will not be able to come to UD."
Multicultural campus
Rawal developed her interest in nutrition as a child by watching her mother and grandmother cook and was amazed to see that so many different ingredients could be used to treat various ailments, such as colds, coughs and upset stomachs. She chose UD for its master's program in human nutrition and the research interests of the faculty and, with the encouragement of her parents and siblings, made the 18-hour journey to the U.S. Describing her acclimation to the country, which she had not previously visited, as quite a learning experience with lots of ups and downs that any international student would face, she said she was lucky to make some very good friends and meet wonderful people who made her experience easier.
"When I attended my orientation, I noticed that there were people from so many different countries at UD and there is a great opportunity to be exposed to such a multicultural environment," said Rawal. "It's a very friendly university, and everybody is welcomed with so much love and acceptance."
Back to UD for another degree
Seeing how interested Rawal was in research, her USDA colleagues suggested that she pursue a doctorate. She left her job to return to UD and enroll in its medical sciences program in 2017; however, the need to change her visa to student status required her to go back to India after one year of doctoral work. She returned to campus and completed the program in May 2020 after just three years. Aided by Martin and others at UD, her doctorate was fully funded by a combination of a teaching assistantship, a scholarship and other awards.
"Dr. Martin supported me at every stage and struggle I faced to get the financial support for my master's and with my immigration issues during my Ph.D. time," said Rawal. "Whatever help I needed, she was always there for me. If you face any trouble, you go to Mary Martin and she will try to find a solution for you."
Home away from home
Recently hired as a postdoc associate by the University of Maryland's Department of Nutrition and Food Science to work at the USDA's Beltsville Human Nutrition Research Center (BHNRC), Rawal wants to continue conducting nutrition-related research and studying the relationship between diet and dietary components on the modulation of risk of chronic diseases, such as obesity, cardiovascular disease, cancer, diabetes and other illnesses. Though she now resides in Maryland's Howard County, part of her will always be at the University of Delaware. Along with everyone who has supported her, she misses hanging out at the Trabant University Center and making her way down South College Avenue to enjoy some ice cream at the UDairy Creamery.
"I made the right choice of coming to UD," said Rawal. "Without Mary Martin, my professors and advisors, and so many other people, I would not have made it through. Whichever office you approach, people greet you with a big smile and want to help you. My family is in India, but UD is like a second home, my home away from home. I just love the University of Delaware. Go Blue Hens!"