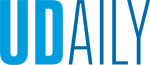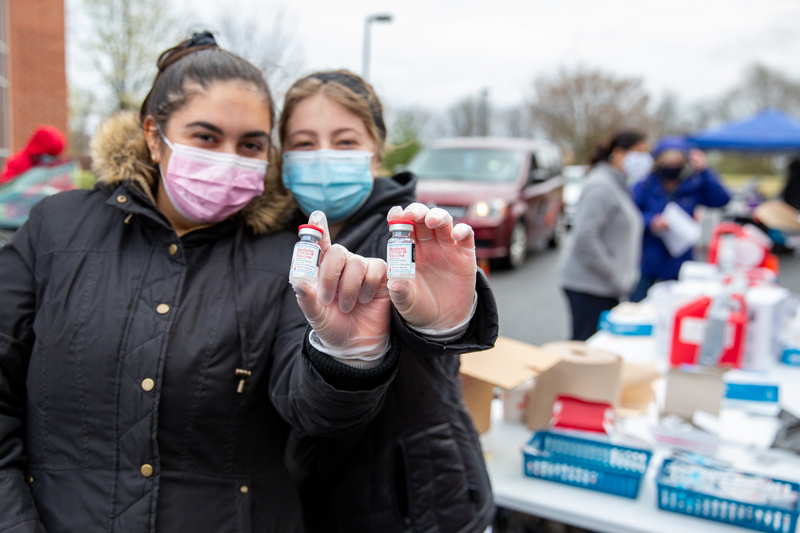 Community health nursing
Article by Kelly Bothum Photos by Ashley Barnas April 23, 2021
Senior nursing students help with mass vaccination events
Students from the University of Delaware School of Nursing are getting valuable firsthand experience in community healthcare by assisting with statewide efforts to vaccinate Delaware residents against the coronavirus.
As part of their community health clinical rotations, nursing students are participating in the mass vaccination events organized by the Delaware Department of Health and Social Services (DHSS) focused on vulnerable and underserved communities.
A group of 13 nursing students administered a majority of the 500 immunizations during a community clinic March 24 at the Route 9 Library and Innovation Center. More recently, nursing students have assisted at other vaccination clinics in New Castle County, including ones near Fox Run in Bear and also at UD's Science, Technology and Advanced Research (STAR) Campus.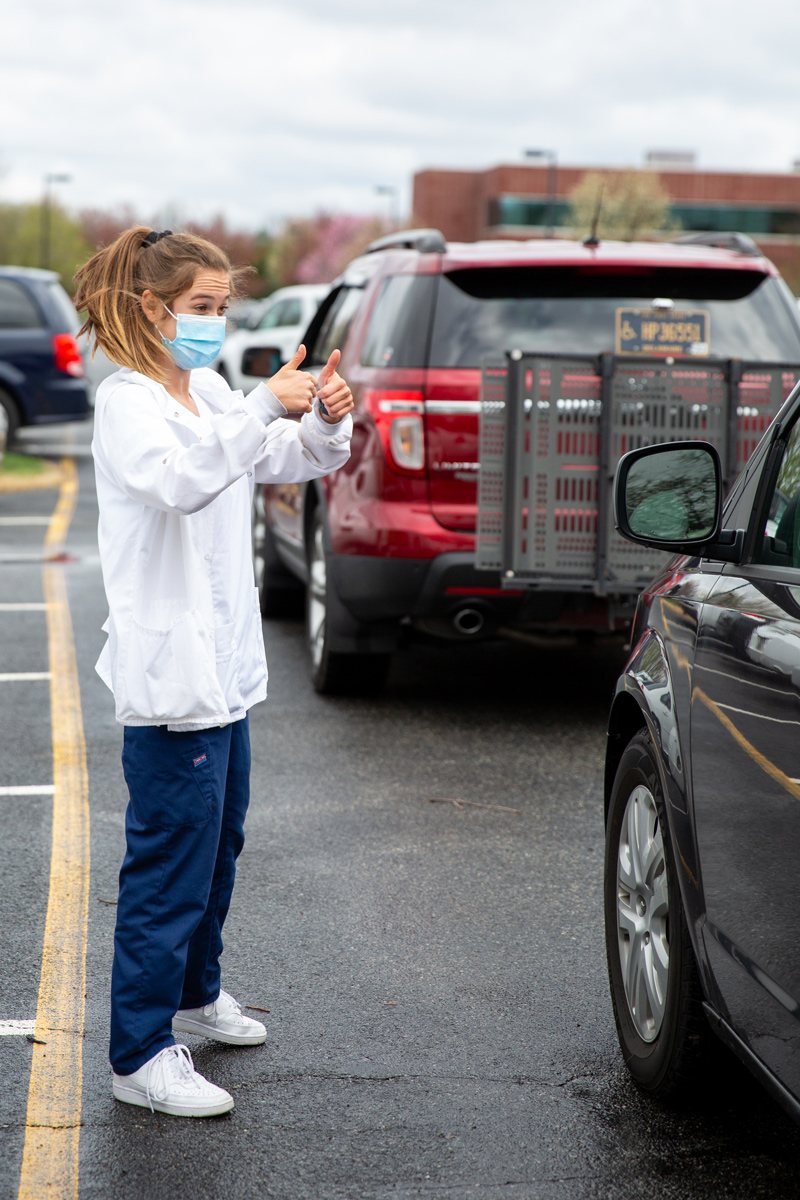 Jennifer Graber, an associate professor in the School of Nursing, said the vaccination clinics are an important experience for these fourth-year nursing students, who traditionally get most of their undergraduate clinical experiences in a hospital.
"This is public health. This is community health.This is a completely different aspect of nursing for them," said Graber, who is also associate dean of academic affairs and practice initiatives. "It's very different than being in the hospital and doing tasks. You're out talking to the community and you're working with a population that we really don't get to see in the hospital, where it's acutely ill patients."
The UD Partnership for Health Communities made the connection possible between the SON and DHSS. Rita Landgraf, director of the Partnership for Health Communities, said she hopes the success of the students will spur more UD health-related engagement in Delaware's communities.
During the event at Fox Run, students braved chilly weather to help with the drive-through vaccination clinic, greeting those who signed up for the vaccine appointment, assisting with paperwork and making sure no one was feeling ill effects from their shots. Senior Erika Sclafani even helped thaw vaccine vials between shots by rubbing the glass bottles between her hands.
"Getting community experience has definitely opened my eyes," said Sclafani, who graduates in May and expects to get a job at a hospital. "You get to see and hear the kinds of issues that come up for people that still affect their health."
As the state works to increase access to immunizations for residents, volunteers — including UD nursing students, faculty and members of the Delaware Reserve Medical Corps — play a critical role in helping to halt the spread of COViD-19 in Delaware.
"We are grateful to the UD nursing students for their enthusiastic and passionate response in helping us to vaccinate hundreds of people," said Jill Fredel, director of communications for DHSS.
Senior nursing major and Honors student Julianna Zomper said she has developed a new appreciation for public health as a result of her clinical class experience. Not even the biting wind at the drive-thru vaccination could dampen her smile as she walked between cars to check on people who had just gotten their shots.
"Working at these vaccination events is an amazing opportunity for nursing students to directly make an impact during the crazy times of the COVID-19 pandemic," she said. "This is an invaluable experience for new nurses to become comfortable working with such a diverse and vulnerable population."