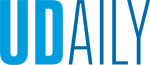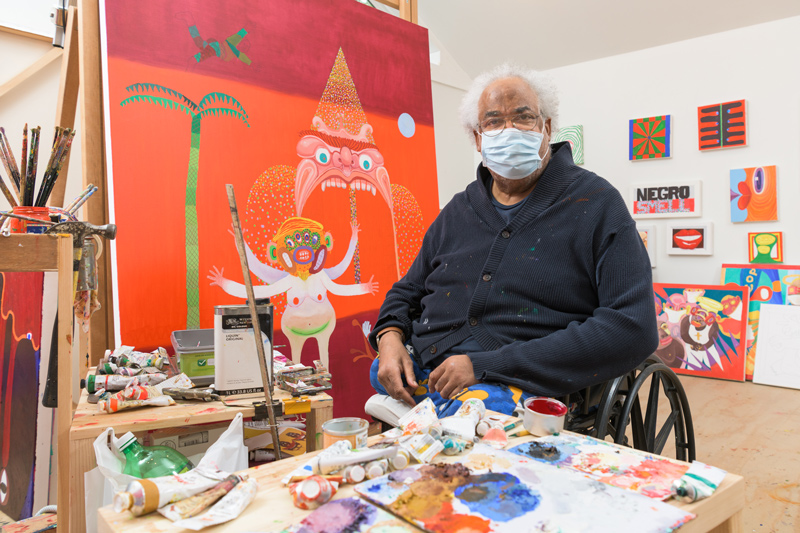 Identity, experience on canvas
Article by Ann Manser Photo by Evan Krape April 27, 2021
Guggenheim award recognizes Peter Williams' acclaimed artistic career
Peter Williams has been exploring issues of African American identity and experiences in his paintings for the half-century he has spent as an artist.
Now, as the University of Delaware professor of art prepares to retire from the faculty in August, he says his artistic journey will only continue and develop as it gains additional support from a newly awarded Guggenheim Fellowship in Fine Arts. Williams is one of 184 American and Canadian scientists, scholars, artists and writers to receive a 2021 award from the Guggenheim Foundation.
"Mine isn't for a particular project; it's for whatever I want to do with it," Williams said of the prestigious fellowship. "I want to explore the medium in different ways — to try to make sense of what I've learned in my 69 years of life."
The specific Guggenheim awarded to Williams was established this year by actor Robert De Niro, who collaborated with the John Simon Guggenheim Memorial Foundation to underwrite the award in fine arts. It honors De Niro's late father, artist Robert De Niro Sr., who himself received a Guggenheim Fellowship in 1968, providing professional and financial support that, his son said, "made all the difference" and marked a turning point in his father's career.
"As I understand it, Robert De Niro wanted to repay the Guggenheim and honor his father at the same time, and my work was selected," Williams, who has not met De Niro, said of being the inaugural honoree. "I was the lucky recipient of that payback."
Williams uses narrative and storytelling in his art, which features vivid colors and cartoonish caricatures that challenge viewers to think more deeply about the dark issues they often represent. He said he has always included themes of cultural identity and representations of African Americans in his paintings, often inserting Black characters and racial imagery.
In recent years, and particularly since the beginning of the Black Lives Matter movement, many of his paintings have focused on issues of systemic racism, including violence against African Americans, slavery and mass incarceration. He has said that he always "believed in the idea of bearing witness to the times in which you live."
Williams' current work, he said, is incorporating the emergence of environmental factors into "this bigger project" he's been exploring for his entire career — that of the Black experience.
He has a solo show, running until May 15, in the Freight + Volume gallery in Manhattan's Tribeca neighborhood. The paintings in "Black Exodus" depict his Afrofuturist vision in which a race of people escapes into outer space to seek new planets where they can live without oppression.
The characters in the paintings "struggle against their environment to realize their destiny," according to the gallery. "While his personal take on Afrofuturism often comes off as childlike and humorous, the viewer can read into his otherworldly vistas the labors that will have to be reckoned with to realize a new collective identity and freedom."
To take a virtual tour of "Black Exodus," visit the gallery's website.
The Guggenheim is just the latest in a career filled with honors. Williams has won numerous awards, including the Whitney Biennial in 2002, Djerassi Resident Artists Program in 2018, Joan Mitchell Award in 2004 and 2007, a Ford Foundation Fellowship in 1985-87 and the Wynn Newhouse Award in 2012. In 2018, he was inducted into the National Academy of Design.
He has had many exhibitions throughout the U.S., and his work is included in such permanent collections as the Detroit Institute of Arts, Walker Art Center in Minneapolis, Whitney Museum of American Art, Delaware Art Museum and Howard University. In 2019, the Smithsonian American Art Museum acquired his 2018 painting "A Foolish Trick," making him only the third Delaware artist listed in the museum's collection.
Williams, who earned bachelor's and master's degrees in fine arts, joined the UD faculty as a full professor in 2004 after teaching for 17 years at Wayne State University, where he was described as a mainstay of the Detroit arts community. At UD, he has taught painting and drawing classes.