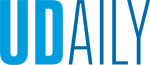 Blue Hens connect for career guidance
Article by Diane Stopyra Photos by Evan Krape July 31, 2020
Before COVID-19 hit, UD students met with successful alumni in media jobs in New York
Editor's Note: During the 2020 spring semester, before the coronavirus (COVID-19) changed the world, UD students had the opportunity to travel to New York City to meet and network with top media executives who happen to also be alumni. Here's just one story of the power of the Blue Hen connection.
As a general rule, if you ask already sleep-deprived college students to wake up before the sun, you should expect bleary eyes. Dramatic yawning. At least a grumpy remark or two. But the energy at 4:45 a.m., on a Friday in February during the 2020 spring semester, as 26 University of Delaware students boarded a bus headed for Manhattan, was anything but sleepy.
Near the back of the bus, in the predawn darkness, junior Anthony Ozuna-Pena showed off his tie (a gift from his college adviser) and the colorful socks that offered, he said, "a little bit of flair." Next to him, recent graduate Runcheng Liao nodded his head in acknowledgement: This was a good day to look their best.
"I had several outfits picked out, including a double-breasted jacket," Liao said, adjusting a sleeve. "But I decided to go with this greenish-blue suit instead — it has more character."
Displaying a bit of (well-tailored) personality is important when meeting potential career contacts, the students have learned. And the day ahead promised nonstop networking. Funded by a Faculty and Staff Career Innovation Grant from the UD Career Center, this free trip to New York — located only two-and-a-half hours from campus — was planned with the University's communication majors in mind. On the agenda? A behind-the-scenes look at NBC Studios followed by panel discussions at the renowned Paradigm Talent Agency. At each stop, UD alumni were set to dole out their best job-searching advice.
"What a great opportunity for our students to find mentorship and potential internships," said Kami Silk, chair of UD's communication department, somewhere along the New Jersey Turnpike. "What a great opportunity for launching their careers."
Or, as senior media communication major Kennedy Gayle put it: "I am jet-lagged and exhausted, but I wasn't going to miss this for anything." (Following a study abroad trip to London, she had been home less than 24 hours before departing for this networking opportunity.)
"This is a fascinating time in the field, and there are so many options for people who think outside the box," said Tara Smith, an instructor in UD's Department of Communication and co-organizer of the trip. Before coming to the University, she worked in corporate communications at NBC Studios in New York, where it was not uncommon to see Usher heading down the hallway on a hoverboard. Her duties included managing the red carpet at President Obama's White House Correspondents' dinner and handling publicity requests for Tom Brokaw. "It is great to hear about these opportunities in the classroom. But it's another thing to see them brought to life by people who walk the walk and talk the talk every day — especially in the media capital of the world."
The first panel discussion of the day, held at NBC Studios and featuring six UD alumni, kicked off with a welcome from Peter Lazarus, senior vice president of ad sales for NBC Universal, a $10 billion unit that's 1,500 people strong. A proud Blue Hen who graduated in 1992, Lazarus gave the group a primer on what it's like to work for the oldest broadcast company in the nation at a time when the traditional television model is undergoing a massive overhaul. Hello, on-demand streaming and multiple-platform viewing.
"As an older legacy media company, we need to now become a new-age digital media company," he said. "We're retrofitting an almost 100-year-old business to transact and communicate in the future."
So, what skills are needed from up-and-comers who will usher in this next-generation entertainment?
"Excel," said Kristina Christiansen (Class of 2008), partnership sales lead for news and lifestyle at NBCU CODE. Translation: She facilitates advertising partnerships with Buzzfeed, SnapChat, YouTube and others. "The most useful classes I had at Delaware were Excel 1 and 2. Anywhere you go, you're going to need this expertise."
Others stressed the importance of being inquisitive and engaged.
"A lot of colleagues we see from your generation will sit at their desks and get their jobs done, even get their jobs done well," said Jim Donofrio (Class of 1991), vice president of sponsorship sales and strategy for NBC Sports. "But if you want to advance, you have to get out of your seat. Put down the phones, and have a conversation."
Following a question-and-answer period, the students toured the hallowed halls of the building, led by an NBC page. In studio 3A, surrounded by robotic cameras and 200 lights, they saw the desk where Lester Holt delivers nightly news (it has built-in TVs so the anchor can make sure his reporters in the field aren't, according to the tour guide, "eating a sandwich before go-time."). The students also stood for a moment of silence in front of a memorial to the 17 NBC staffers who have, over the last five decades, died while reporting on wars and natural disasters. Then they spotted Oprah. Or, at least, they glimpsed the media mogul on a TV screen in a Today Show production room, so they knew she was in the building.
"We are breathing the same air as Oprah," mused Sean Hinton, a UD senior and aspiring Saturday Night Live writer. Later, while viewing NBC's empty SNL stage, he added: "This is totally surreal."
Among the last stops of the tour? The studio where The Tonight Show With Jimmy Fallon is filmed. This is the program for which Scott Slotkin, a 2011 graduate of UD, edits video. He landed the job by leveraging as many contacts as possible while working unpaid internships and freelance gigs.
"It's all about networking," he told the students. "You have to keep putting yourself out there."
After a slightly confusing elevator ride (at 30 Rockefeller Center, elevator buttons go on the outside of the lift), the group headed for the Paradigm Talent Agency, a 50,000-square-foot space in a lower Broadway highrise complete with Banksy paintings on the walls and Warhol-inspired stools made to look like giant Brillo pad boxes. Between taking a few Instagram-worthy selfies in a waiting area on the 26th floor, the students marveled at Paradigm's client roster, which includes musicians (Ed Sheeran), authors (Stephen King) and actors (Zoe Kravitz).
"I was a psychology major at UD," said Randi Edelson (Class of 2008) who now books Paradigm clients for shows on university campuses. "That degree comes in handy when you work in entertainment, where everyone has massive personalities."
Because the head of global music for this company, Marty Diamond, is a UD graduate committed to helping fellow Blue Hens, he offered a Paradigm conference room — one lined with platinum-selling records — for the afternoon's speakers. They represented recent and not-so-recent graduates from companies around Manhattan: Edelman public relations, ESPN and Google. And they offered their best job-searching hacks related to interviewing (stay in touch even with employers who reject you) and budgeting (live beneath your means, so you never have to choose between your passion and a bigger paycheck).
"This country needs moral, ethical and professional leaders," said Lydia Timmins, assistant professor in UD's communication department and co-organizer of the trip. "Events like this allow students to visualize themselves this way. They get to see who it is they're aspiring to become."
For his part, UD senior Jymere Stillis-Stanford is aspiring to become the next Kelley Drukker, a vice president with A&E Networks and a 1994 graduate of UD. Having recently applied for a job at this company, Stillis-Stanford sat at attention when it was Drukker's turn to share her wisdom with the group: "Folks just coming into the workforce don't want to speak up," she said. "I don't know if it's a lack of confidence or feeling as though they don't have a seat at the table. Just know, you have a voice. Use it."
Unfortunately, as Drukker spoke these words, Stillis-Stanford received a rejection letter via email — from Drukker's company. Rather than feel discouraged, he took the day's advice to heart and advocated for himself. After the panel discussion, he introduced himself, explained the situation, and — just maybe — earned a foot in the door.
"I told her about the rejection, and that I'm still waiting to hear about two other positions at the company," Stillis-Stanford said. "She told me to email her directly, which I'm going to do as soon as we get home. It's perfect timing. I am blessed to be here."
This feeling of gratitude seemed to permeate the rest of the afternoon and, later, the bus ride home.
"I serve tables at a diner, and customers always ask me what I'm studying," said Delaney Tierney, a senior in the spring semester. "When I tell them, 'communication,' they are skeptical about my prospects. But the thing that really stuck me today is how many avenues are available to someone with this degree."
It's a realization that will, for many attendees, reinvigorate job searching efforts — first thing in the morning.
"I'm excited to put all this knowledge to good use," said Gayle, the communication major who was then still recovering from her study abroad jetlag. As she spoke, she rested her head against a window. "As soon as I get a good night's sleep."