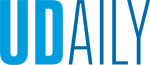 Support flows after Chabad Center fire
Article by Eric Ruth Photos by Evan Krape August 27, 2020
Blue Hens from around the world reach out
Editor's note: On Sept. 1, the Bureau of Alcohol, Tobacco, Firearms and Explosives announced a $5,000 reward for information leading to the arrest of the person or persons responsbile for setting an Aug. 17 townhouse fire and the fire Aug. 25 at the Chabad Center for Jewish Life. Anyone with information about either fire or the individual seen in a surveillance video after the Aug. 17 fire is asked to call 888-ATF-TIPS (888-283-8477) or send email to ATFTips@atf.gov.
Blue Hens from across the country rallied in support of University of Delaware's Chabad Center for Jewish Life after a fire late Tuesday night, Aug. 25, gutted the center on South College Avenue.
A GoFundMe started by the center's students quickly surpassed its initial goal and was climbing past $64,000 on Thursday morning as news spread on social media of the fire, which has been ruled an arson by the State Fire Marshal's Office. No one was injured in the 11 p.m. blaze, and the building was unoccupied at the time. The State Fire Marshal's Office says there is no indication the arson was a hate crime and this investigation is a top priority.
In an email to the UD community on Wednesday, President Dennis Assanis and José-Luis Riera, vice president for student life, quickly offered assistance to the hundreds of students who rely on the center for support, friendship and faith.
"Our hearts go out to the many students and alumni who spent so much time at the Chabad Center," Assanis said. "Our sense of community flourishes in the shared experiences that happen in such spaces all across the campus, and the loss of this one is particularly troubling just as we are set to begin a new semester.
"At the same time, the outpouring of support from alumni and friends of the Chabad Center provides a measure of comfort to leaven this sad situation," he added.
"We are committed to ensuring that our students have all the resources they need to help them cope with the loss of the Chabad Center," Riera said. "This year, more than any other, has presented challenges at every level, but, first and foremost, we are dedicated to supporting our students' needs, and I urge any member of our community who is struggling to cope with the impact of this crime to take advantage of our campus support resources."
On the special fund-raising site, students from the center described the impact of the fire and noted that while firefighters "tried to salvage what survived, there is not much left." The students estimated that the center sustained $150,000 to $200,000 in damages.
"The little blue house, which we students called home, will be missed, but it is time to give back and rebuild what we have lost."
On the crowd-funding website GoFundMe, that effort swiftly gathered momentum, with alumni and friends chipping in $25, $100, even $500 toward rebuilding. A single donation of $2,700 from a UD student led the wave of financial support, and UD's Hillel Center pledged unity. By Thursday afternoon, the campaign's earlier goal of $35,000 had been easily surpassed, raising more than $140,000 thanks to some 3,200 individual donors and a flurry of global retweets. (Update: As of noon, Aug. 31, more than $486,000 has been raised by some 8,500 donors.)
"We are one Jewish Blue Hen Community and will do whatever we can to help you build back. Sending love and support," members of the Kristol Hillel Center on Delaware Avenue posted on social media.
Hillel says that there are 2,250 undergraduate Jewish students at UD, making up about 13% of the undergraduate population. UD has three registered student organizations serving Jewish students, and the University has supported Hillel on its campus since 1948.
Social media feeds quickly filled with statements of sadness from graduates around the country, but also words of unwavering support.

"Seeing the destruction of the Chabad Center hurts all of the strong-knit family at UD, including students, staff, supporters and alumni," said Rosette Schleifer Roth, a 1992 UD graduate now living in Harrisburg, Pennsylvania. "I am confident that UD's Chabad Center will rebuild and be as strong as ever. I know that UD, UD Hillel and other organizations will support all affected by this senseless act."
"So sad! I am confident that the UD Jewish Community can come through this even stronger and more unified. I stand with UD Chabad!" wrote Alan Sweifach, a UD parent from northern New Jersey.
The Chabad Center is not officially a part the University, and like other Chabad houses across the country, it relies heavily on community support. It's a place that's known for hosting students each Friday night for a bowl of homemade chicken soup and freshly baked challah, and it serves as a hub for socialization and a home base for outside trips and events, all under the care of the house rabbi, Avremel Vogel, and his wife, Shulie.
Part of UD's religious, faith and spiritual diversity
As Assanis and Riera noted in their message to the community, the Chabad Center is not a University-owned facility, but it is "an active part of UD's religious, faith and spiritual diversity."
"Respect for others is a key value at the University of Delaware," Assanis said, "and we condemn anyone who would seek to harm any part of our Blue Hen family. We stand firmly with our friends in the Jewish community at this difficult time."
UD Dean of Students Adam D. Cantley predicted UD's spirit of unity will help Chabad prevail. "While this tragic event has shocked and saddened the community, it also has shown how we can come together to support one another," he said. "Thank you to our students, faculty, staff and others in the community for your support for Chabad at UD."
The fire also sparked an outpouring of concern and worry from the international Jewish community, especially in the wake of two fires of undetermined origin that struck a Chabad center this month in Portland, Oregon. The Newark fire was featured prominently by major Jewish and Israeli online publications, and support came from such organizations as Simon Wiesenthal Center, B'nai B'rith International and the American Jewish Committee (AJC).
"We are grateful for President Assanis's support for the UD Jewish community and his solidarity during this challenging time," the AJC wrote.
In Israel, where 2016 UD graduate Brian Aaron Meir Burstyn is continuing his studies in a yeshiva, the news from Delaware arrived like a jolt, prompting thoughts of his Delaware days and the warmth he had found inside Chabad House.
"That blue building is a very special place for me," he said. "I remember being a young college kid looking to find myself and walking in there almost every day. It was challenging to keep Shabbat on college campus, but thanks to the help of Rabbi Avremel Vogel and Rabbi Sroli Matsouf, I had a place where I could do that with others. I would spend nearly all day there, would study, play games and hang out with others—and, of course, eat."
At UD's Kristol Center for Jewish Life, Executive Director Donna Schwartz said she and colleagues were heartbroken. "We find it inconceivable and unconscionable that an arsonist would target a sacred house of worship and a gathering place that means so much to so many," she said. "We remain vigilant and determined that we all will emerge from this tragic event as a stronger, more deeply engaged, united Jewish community that cannot and will not be broken by this senseless act."
Delaware Gov. John Carney also offered words of solidarity: "It's upsetting to learn this fire at the Chabad Center for Jewish Life was intentionally set," he wrote on Twitter. "This is a place of worship and community, and this kind of violence is unacceptable. Thinking of and praying with Delaware's Jewish community."
Newark Mayor Jerry Clifton called the incident "heartbreaking" and said, "My thoughts are with the Jewish community and those affected by this tragedy. I have faith that the Newark Police Department and partner agencies will work tirelessly to identify the individual or individuals responsible and bring them to justice."
Anyone with any information about the arson is asked to call the Delaware Fire Marshal's Office at 302-323-5375 or Crime Stoppers at 1-800-TIP-3333 or send email to firemarshal@delaware.gov.
Need counseling?
UD's Center for Counseling and Student Development is available to students, reachable at 302-831-2141 during business hours (8 a.m.-5 p.m., Monday through Friday). In addition, the UD Helpline is available to students 24 hours a day at 302-831-1001. For other support or advocacy needs, students may contact the Office of the Dean of Students at 302-831-8939. Students may also wish to reach out to the Chabad Center at ChabadUofD@gmail.com or the Kristol Hillel Center at 302-453-0479.
To donate
Donations to rebuild the Chabad Center of UD are being accepted on the group's GoFundMe page: www.gofundme.com/f/donate-to-chabad-ud