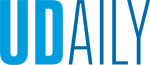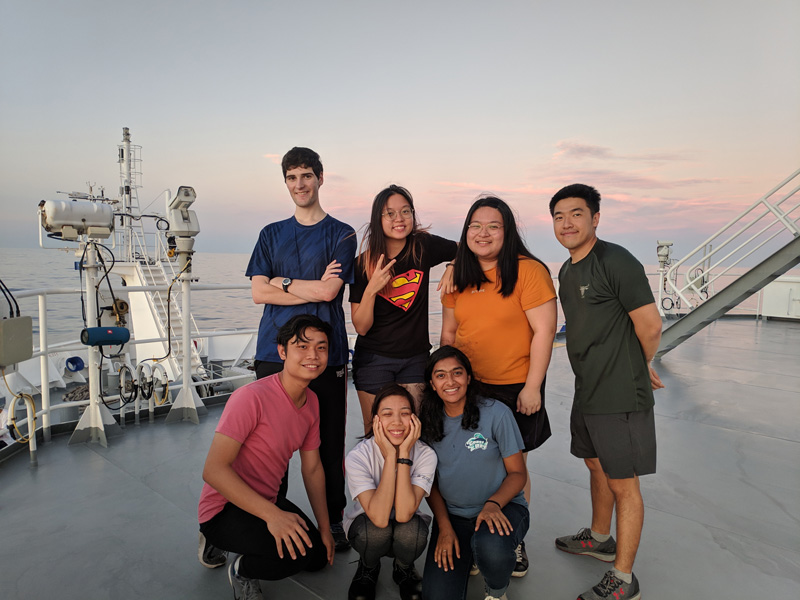 Chinese research experience
Article by Adam Thomas Photos courtesy of Rucha Wani November 12, 2019
Two UD students take part in first research cruise with Xiamen University
As she sat in her room aboard Xiamen University's research vessel, the R/V Tan Kah Kee, traversing the South China Sea, University of Delaware student Rucha Wani looked over and realized she had a surprise visitor at her porthole: a dolphin.
A private visit from one of the ocean's creatures was just one of the many amazing experiences for Wani, who is an honors student majoring in marine science in UD's School of Marine Science and Policy in the College of Earth, Ocean and Environment (CEOE) with a minor in chemistry, and Paul Ernst, an honors junior majoring in marine science with a concentration in oceanography, during their immersive stay at Xiamen University in China as well as Xiamen University's Malaysia campus.
Having partnered with one another for the past 10 years, UD and Xiamen decided that in addition to having students from Xiamen study in Delaware, it would benefit both universities to have students from UD travel to China.
"Ocean science, and geoscience in general, is naturally an international discipline. We are studying our planet, and to do that well, we collaborate with scientists from around the world," said Estella Atekwana, dean of CEOE. "We want to take advantage of our partnership with Xiamen to help UD students gain experience working with their global peers and studying a different part of the world. Xiamen University has this terrific research vessel, and our colleagues were open to hosting UD students on one of their educational cruises. We were excited to be able to make the opportunity available to our students."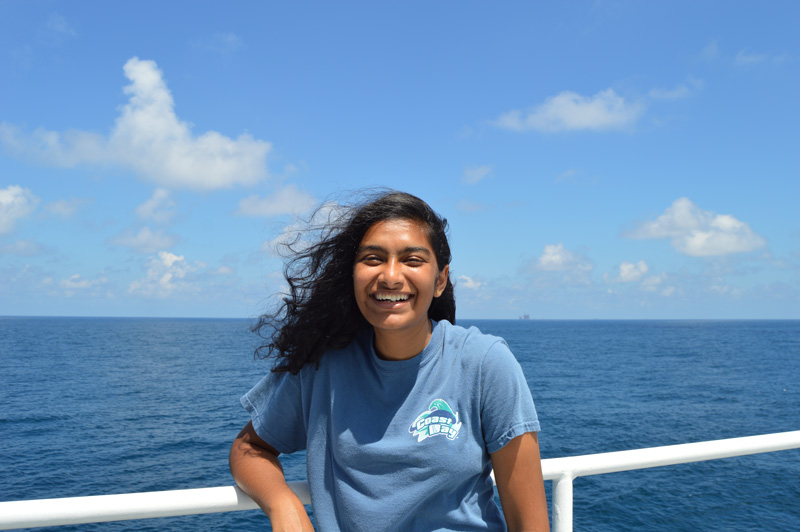 Wani and Ernst were the first two undergraduate students chosen to travel to China to test out this aspect of the partnership, allowing them to gain hands-on experience working and living on a research vessel. 
During the nine-day voyage on the ship from Malaysia to the port near Xiamen University in China, the two UD students joined 26 other students from Xiamen University and got to learn various scientific techniques. 
They learned how to take sediment samples on the slope of the continental shelf using a gravity corer, an instrument that allows researchers to sample and study sediment layers at the bottom of lakes or oceans, and got to watch as the ship profiled the ocean floor. 
"It was interesting because you could see the bottom of the ocean floor live as we were going on top of it," said Wani. "There were other screens where you could see water depth and dips, valleys and the ridges on the bottom of the ocean floor." 
They also looked at water samples with a Rosette Conductivity, Temperature and Depth (CTD) machine, analyzed samples from a plankton tow as well as a benthic trawl, and performed a chlorophyll analysis. [Benthic macroinvertebrates are small organisms without backbones, that can be seen with the naked eye.]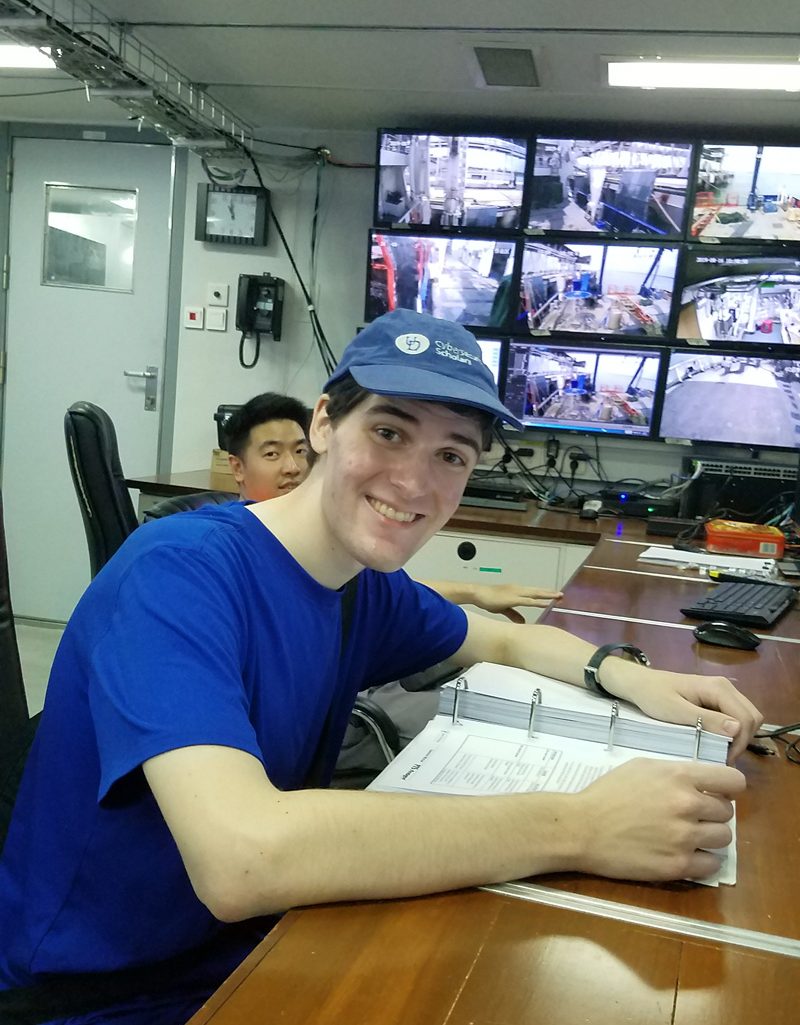 Ernst said that operating the CTD machine was an interesting experience.
"I've never done that on the ship scale with the huge Rosette CTD that you always see on these research ships," said Ernst.
The ship made stops at two research stations, where they lowered the instruments and then took them back up.
Wani said that she had performed some of the research activities before, but getting to do them on a moving boat was a whole different experience.
Once back on shore, they got to study the zooplankton and phytoplankton samples that they gathered at sea, as well as count copepods and analyze them.
In addition to learning research techniques at sea, before leaving for their research cruise, the students interacted and informed the public about the R/V Tan Kah Kee, serving as tour guides or room interpreters for particular labs on the boat.
This experience gave them in-depth knowledge of the ship and allowed them to get to know their fellow students and faculty members.
Wani said that it was interesting to get a look behind the scenes at how tours are put together and how science is communicated to the public, as well as getting to learn so much information about the ship.
"I have so many boat facts memorized — like that it's 77.7 meters long — that I could just fill up a whole hour of this and that," said Wani. "There were times they requested English tours so there were times when I was pulled out of something to go give a tour in English."
Wani added that it was interesting to get exposed to a group of students and professors who are learning and teaching about the subject she is interested in all the way across the world.
"It's one thing to know that there are other people in the world studying in your major at other universities around the world, but to go see it and be a part of their classroom and their teaching style is a very different experience," said Wani. "The professors were very friendly and super nice. They wanted to get students involved and made sure people were mingling, which was really fun. That gave me a chance to meet people, meet professors in the field, and talk about their science with them."
Mingru Chen, associate dean of China-ASEAN College of Marine Sciences (CAMS) — Xiamen University's campus in Kuala Lumpur, Malaysia — said that overall, the students were able to gain valuable insights through both scientific and cultural experiences.
"It is hopeful that in the future there will be more of such activities in collaboration between the University of Delaware and CAMS, Xiamen University Malaysia," said Chen. "The exposure and guidance by experts from Xiamen University had really given a good training ground for these students to broaden their knowledge base and skills in handling and processing of marine specimens."
(Rucha Wani shared more thoughts on the experience in a question-and-answer interview with UDaily.)