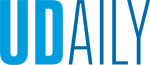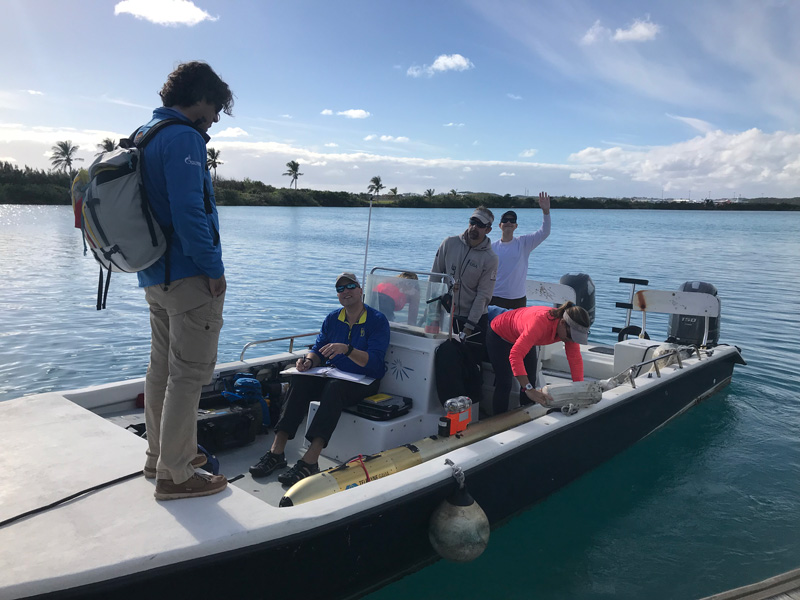 UD students explore Bermuda
Article by Adam Thomas Photos courtesy of Art Trembanis March 07, 2019
Underwater research around Bermuda part of Winter Session study abroad
Seventeen undergraduate students from the University of Delaware's College of Earth, Ocean and Environment (CEOE) spent Winter Session at the Bermuda Institute of Ocean Sciences (BIOS). Besides taking classes, the students benefited from hands-on experience using an autonomous underwater vehicle (AUV), using a remotely operated vehicle (ROV), snorkeling, and learning about the British territory's environment and history.
The program was led by Art Trembanis, associate professor in CEOE, who said that in addition to getting to work at a world-class facility like BIOS, students got a chance to study two things that he is passionate about — coral reefs and shipwrecks — while learning about Bermuda's rich cultural and historical heritage as well.
"There's approximately 400 years of human habitation with a connection to the earliest European colonial activities in the New World," said Trembanis who also noted Bermuda's importance in the Civil War, World War I and World War II. "And surrounding the islands are diverse reefs, shipwrecks and a whole variety of other habitats and environments for us to explore from limestone caves to mangrove forests."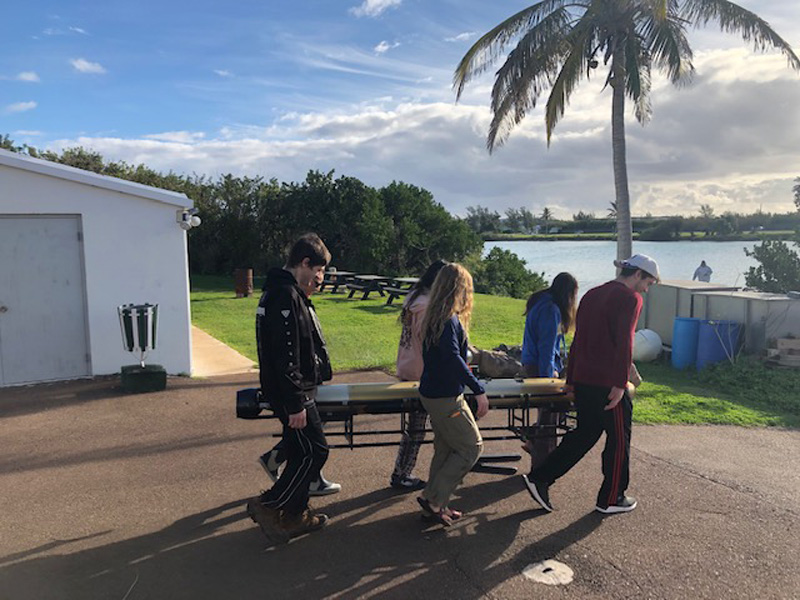 Bermuda Bomber
This study abroad project included an added element of planning and execution because Trembanis wanted the students to have use of UD's robotic surveying equipment. That meant the autonomous underwater vehicle (AUV) and a remotely operated vehicle (ROV) had to be shipped by sea transport from New Jersey to Bermuda. Drones were hand-carried on to a commercial airline flight, then checked as baggage.
All of that was so students could explore areas in Bermuda that they couldn't reach by scuba diving, such as mesophotic coral reefs — reefs that occur in deeper regions of the sea and are not explored as much as their shallower counterparts.
"We brought some drones and some other sensors and equipment that allowed us to go out and collect data, process that data, plan missions with robot systems and execute those missions," Trembanis said. "It was very much an active experience."
This active experience even led the students to discover fragments of a B-24 plane that crashed in Bermuda in February of 1945.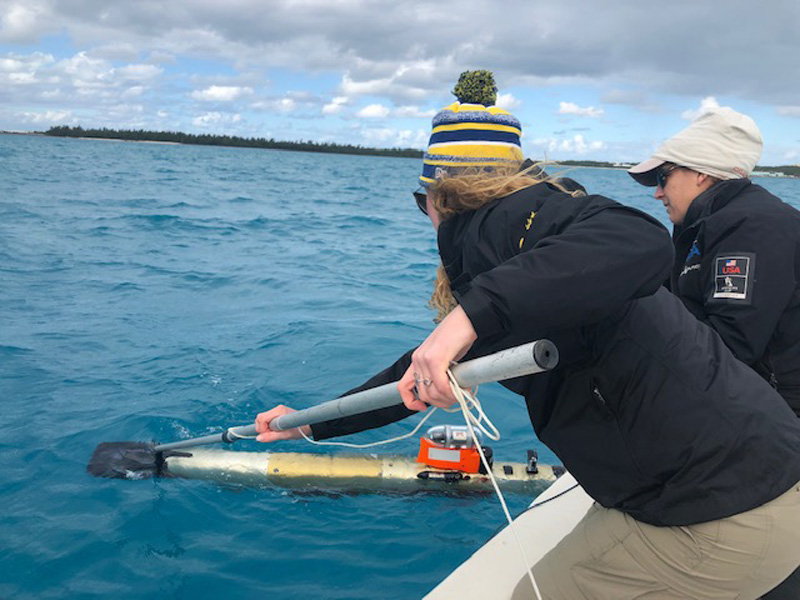 "Dr. Trembanis told us about the bomber plane the first day that we were there and we thought he was joking and we wouldn't really find it," said Mary Kate Dinneen, a junior environmental science major with a chemistry minor. "But when we learned more about the case, we realized that we had a good chance of finding it."
Before setting out with the AUV to look for the plane, the students investigated reports about the plane crash and weather conditions on the night of the crash. They compared newer maps against older maps and were able to guess coordinates to plug into the AUV for the search.
"It took the AUV three hours to go back and forth and cover all that grid that we plotted out, so we snorkeled while that was happening," said Amanda Obosnenko, a senior majoring in environmental science and minoring in wildlife conservation. "We didn't find anything snorkeling, but we found it later with the AUV."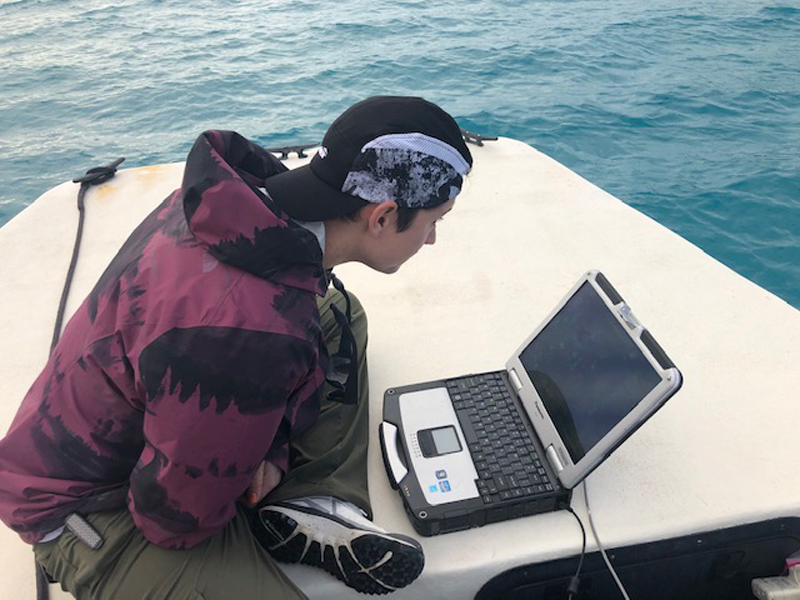 Locating ships and planes lost at sea, investigating coral reefs and other ocean environments, and studying marine animals with AUVs are all research areas of CEOE's Robotic Discovery Laboratories, which primarily involves graduate students. But each year the college finds special opportunities to share the experience with select undergraduates.
Study abroad outreach
The UD students also got a chance to teach middle school and high school students in Bermuda about the robots they brought with them for underwater exploration.
Stephanie Dohner, a doctoral candidate at CEOE who accompanied Trembanis on the study abroad, said that it was a great opportunity for the UD students to experience communicating their science.
"I love doing outreach — it's one of the best ways you learn — and so we used the outreach event as a way to get our students excited and get to know the robots," said Dohner.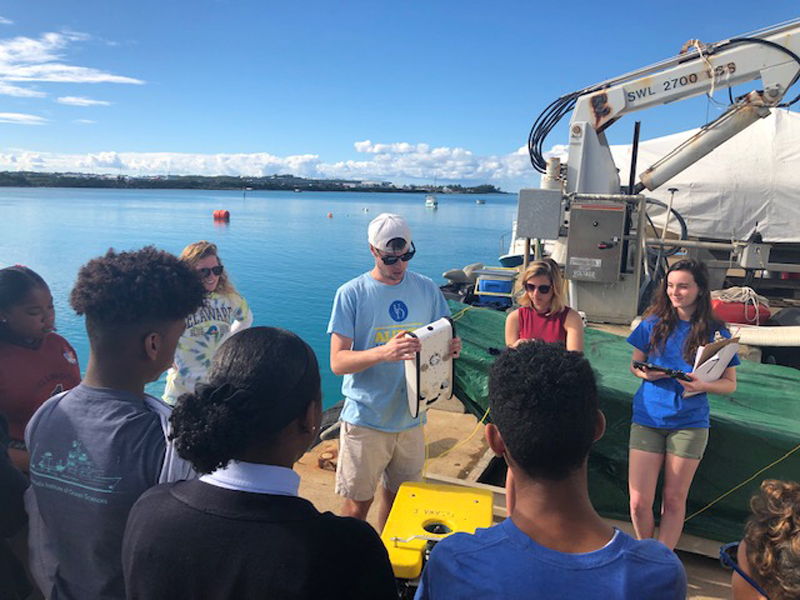 Obosnenko said that the outreach event was one of her favorite parts of the experience.
"It was awesome to get to know the kids of Bermuda and talk to them and see how they felt about the environment," said Obosnenko.
Nonsuch Island
The students were also able to hear from David Wingate, one of the leading conservationists in the world, and travel to Nonsuch Island, a protected nature reserve important for the conservation of rare and threatened species and habitats. The island is so protected that the students had to snorkel to get there, as boats aren't allowed to land on the island for fear that they might bring invasive species with them.
"It's an amazing place that is essentially a microcosm of what Bermuda was like before colonization," said Dohner.
To help with the native plant mission on Bermuda as a whole, the students participated in tree plantings on Cooper's Island, planting one tree named "Blue" and one named "Gold" in honor of the University.  
Plankton tows
Obosnenko and Dinneen both pointed out the benefit of studying at BIOS, getting to hear from world-class lecturers and getting to combine field experiences with lab work.
A lesson comparing samples of plankton collected at night to samples of plankton collected during the day stood out to Obosnenko who said that after the group collected plankton, they were able to go back to BIOS and examine the creatures.
"At night time, there's a vertical migration that the bigger plankton do every day," said Obosnenko. "When the sun comes up, they go down to hide and then they come up at night to eat the smaller plankton."
Dinneen said it was great to be able to get field samples and take them back to the lab at BIOS where they were able to interact with the scientists and ask them about their work.
"They were all willing to answer any questions that we had," said Dinneen. "There were also a lot of questions that I left Bermuda still wondering about. I want to have the chance to go back there as I learn more through my studies and hopefully answer more of those questions."
For future explorers
Students interested in studying abroad should visit the Institute for Global Studies website and blog to learn more about programs and mark their calendar for IGS walk-in advising hours on Wednesdays from 1-3 p.m. in Clayton Hall.
Follow along @UDGlobal on Instagram and Twitter and engage using the hashtag #UDAbroad.