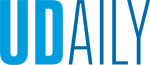 Primary colors
Article by Ann Manser Photos by Jessica Peace July 09, 2019
Art alumnus brings campus to UD's youngest students
Many artists may aspire to see their work hanging on a wall for public view, but for University of Delaware alumnus Matt Terranova, his work often is the wall itself.
Since graduating in 2006 from the visual communications program in the Department of Art and Design, Terranova has developed something of a specialty as a muralist. He particularly likes to paint creative, colorful and kid-friendly murals in school buildings.
His latest work is an eye-catching depiction of the UD campus for children, teachers, parents and visitors to enjoy at the University's Early Learning Center (ELC). With its "Where's YoUDee?" theme, the project encourages viewers to search the mural not only for familiar places on campus but also for various representations of the University's mascot.
"I was very excited about the idea of incorporating a lot of things I knew the kids would be familiar with," said Terranova, who was contacted about the project by Jane Graci, the ELC's financial director. "I included their own school, of course, and the [UDairy] Creamery, where I figured the giant ice cream cone would get their attention."
Other especially recognizable places featured on the mural are Delaware Stadium — where fireworks explode overhead, as they do each year during July Fourth festivities — and Morris Library, which appears to be partially constructed of books.
Students are shown studying, painting, carrying musical instruments, playing volleyball and soccer, hurrying to class and sitting at tables outside Trabant University Center and along Main Street. On South Campus, a train travels under the South College Avenue railroad bridge, and a profusion of plants can be seen in the College of Agriculture and Natural Resources' Fischer Greenhouse.
The ELC, operated by the College of Education and Human Development, is not located on the central UD campus, and Terranova said his goal was for the children to see their connections to the University community and its many interesting activities.
"I wanted to pull from a lot of different categories to show all the different things you can do at UD," he said. "My goal was for your eye to move from vignette to vignette, to capture the kinetic energy of a day in the life of the campus."
Terranova spent several weeks in preparation for the project, taking photos and making sketches as he visited all parts of campus and creating a scale mockup. After that, he spent about eight weeks in the ELC itself, where he used tracing paper to transfer his sketches to the wall and then began working with fast-drying acrylic paint.
The wall, just off the entrance lobby at the center, is a high-traffic area, so he was constantly aware of people passing by. Children, teachers and parents got used to seeing him at work and often talked to him about his progress, he said.
"Everyone was interested and had questions, and that was one of the best parts of the project," he said.
Terranova operates his own business, Colorful Matt Design, and does a variety of types of artistic work, from illustration to graphic design to working with a local interior decorator.
As a student in visual communications, he concentrated on illustration. After graduating, he worked with a muralist for a time and soon was asked to create a mural in Wilmington's St. Thomas the Apostle School, where he had attended elementary school. He's also painted a mural at St. Elizabeth High School, another of his alma maters.
"So now, with this new UD project, I've done murals at all three schools I graduated from," he said.