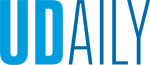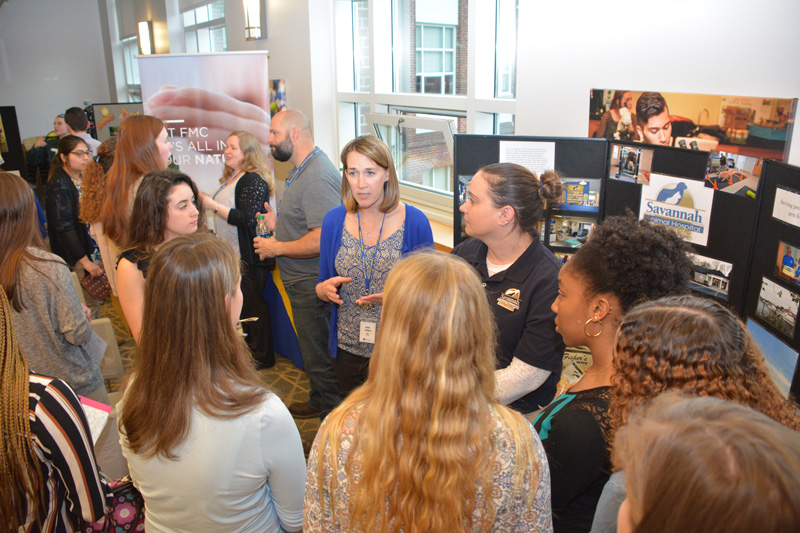 Preparing for a career
Article by Jamie Taraila Photo by Michele Walfred April 09, 2019
Undergraduates meet, get advice from agriculture and natural resources professionals
University of Delaware student Parker O'Day, a food and agribusiness marketing and management major, jumped at the chance to network with agriculture and natural resources leaders. The junior joined more than 100 other undergraduates at College of Agriculture and Natural Resources (CANR) inaugural career planning and personal development event, called "Ready, Set, Grow."
The two-hour event held at Townsend Hall offered a unique opportunity to hear directly from leaders across the agriculture and natural resources industries. After a lively panel discussion, students interacted with the panelists at exhibits representing each of the 16 organizations in attendance.
O'Day said he knows the value of making connections and working over the summer in career-related internships. Through his networking efforts, he leveraged relationships with UD faculty and added strategic internships to his resume.
During the summer of his freshman year, O'Day worked at UD's Carvel Research and Education Center in Georgetown as a communications intern and last year as an intern with Perdue Agribusiness.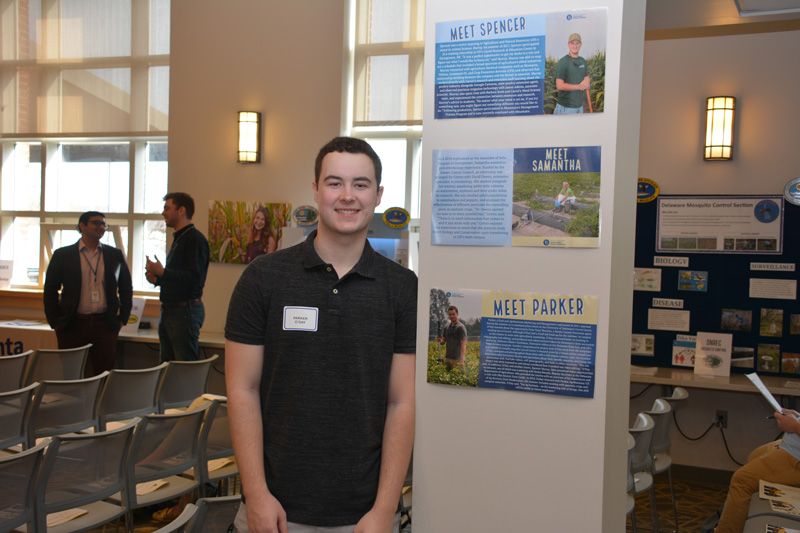 "Hearing advice about resumes, internship experience and how important all of this really is in the business world has given me strong information that I can use to help myself be more prepared as I come to the end of my college career and prepare to get a job," O'Day said. "Coming to events like this is very important for getting prepared for your life after college."
Student takeaways were reflected in the event's introduction by Dean Mark Rieger.
"We want to help you get ready for the next big step in your lives that happen either when you graduate, get a job, get into vet school or get into graduate school," said Rieger. "It's a big responsibility that we take very seriously — not just giving you an education, but getting you on the road to success!"
Mark Isaacs, director of Carvel Research and Education Center, said the event is designed to be a hybrid, part career fair and part learning opportunity.
"Our goal of this event was to set the stage for our students to informally interact with diverse representatives from the agriculture and natural resources areas and to learn the experiences and professional development skill sets desired by today's employers," Isaacs said. "This event was a hybrid from a traditional career fair by providing unique student interactions with panelists as well as traditional recruitment tables."
The event was presented by the UD Career Services Faculty/Staff Career Innovation Grant.
The evening's format was divided up by a question-and-answer session with 16 panelists representing a wide cross-section of professions in the agriculture and natural resources sectors. Many currently provide internship opportunities to CANR students.
The panel, moderated by Isaacs, fielded questions submitted by students during the event registration process. Undergraduates received specific dos and don'ts from each of the panelist. The panel included:
Aileen Kerrigan, White Clay Creek State Park, Department of Natural Resources and Environmental Control

Andrea Howey-Newcomb, Tri-State Bird Rescue and  Research, Inc.

Billy Willard, Willard Agri-Service

Craig Rhoads, Delaware Division of Fish and Wildlife and the Division's Habitat Conservation and Management Program, Department of Natural Resources and Environmental Control

Dr. Erin Giebel, Savannah Animal Hospital

Dr. Heather Hirst, Delaware Department of Agriculture

Dr. Katie Goodrich, FMC

Dr. Sandeep Rana, Bayer Crop Science

Kenny Bounds, Delaware Department of Agriculture

Kurt Fuchs, MidAtlantic Farm Credit

Rick M. Deadwyler, Jr., Agriculture Division of DowDupont, Corteva Agriscience

Scott Johnson, Syngenta

Scott Raubenstine, Perdue Agribusiness

Tom Moran, State of Delaware Division of Fish and Wildlife - Mosquito Control, Department of Natural Resources and Environmental Control

Tracy Wootten, University of Delaware Cooperative Extension

Wes Page, Helena Agri-Enterprises LLC.
Eric Wommack, CANR deputy dean, told the group that undergraduates benefit from doing research and discussed graduate school options.
"One thing about doing a research-based internship is that you get to try it out," Wommack said. "I have mentored many undergraduate interns in my lab and some of them found out at the end of the summer that research isn't for them."
Wommack emphasized that gaining various experiences will help students figure out what direction they want to take their careers upon graduation.
Each student received a program brochure with panelists' biographies and contact information. The program included a collection of tips, which were further emphasized during a panel discussion. Proofreading cover letters and resumes came up many times.
"This document represents you; it is speaking for you," said Corteva representative Rick Deadwyler during the resumes segment.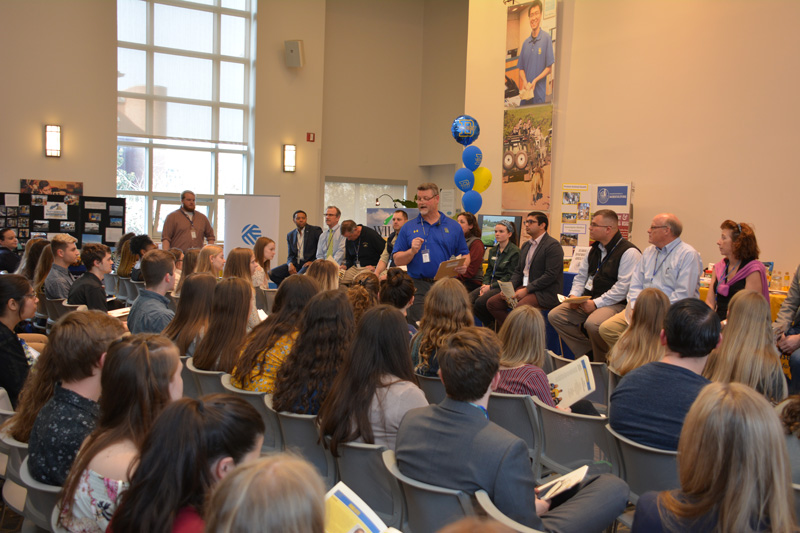 Panelists agreed that a short, conservative approach with resumes was best and should  include information that will differentiate a student from other candidates. Interview behavior and dress, pre-interview preparation on the company, and when to raise discussions about compensation were also topics covered. Many students looked for guidance on how to best prepare for life after college.
"The day you get out of college and dive into the 'real world' no matter what you're going to do, you're going to be competing with somebody that's been doing it for 30 years," said Wes Page of Helena. "The biggest challenge that anybody faces is being patient."
Page reassured his audience that everyone's path will be different and that patience is key to any career.
"I was very pleased with the great response we received from the companies and organizations about participating in our first event," Isaacs said. "Each organization's representative genuinely values developing young students on their career path trajectory and provided invaluable knowledge to our students toward professional development. The partnerships formed with these companies are key to providing excellent work based learning opportunities for CANR students. This event is a great example of the value in partnering with the UD Career Services Center to impact our student's career development."
On track as an annual event
Attendees shared their opinions in post-event evaluations. The response was overwhelmingly positive and many offered ideas for what they hoped would be an annual event.
"I enjoyed coming to the career and development event because I was able to meet and interact with professionals that I wouldn't have had the opportunity to, otherwise," said Samantha Swanson, a wildlife ecology and conservation major. "I've learned a lot and gained a lot of insight and had a great time here. I can't wait to come back next year!"