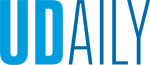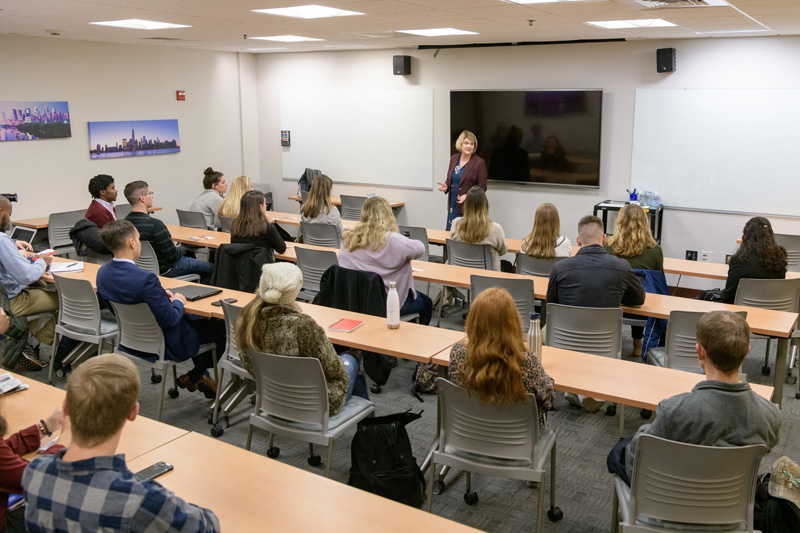 From UD to around the globe
Article by Nikki Laws Photos by Evan Krape and iStock November 21, 2018
Alumna Patricia Scroggs enjoys career in international affairs
Coincidence led University of Delaware graduate Patricia Hanigan Scroggs to the U.S. State Department's Foreign Service, but more than three decades later, she said it was a perfect fit.
Scroggs, an Honors alumna, graduated from UD in 1983 with a bachelor's degree in communication before pursuing a master's in international relations at the Johns Hopkins School of Advanced International Studies.
"When I was in graduate school, a friend of mine was taking the Foreign Service exam and she asked me to come along to keep her company," said Scroggs, who returned to UD recently for a series of workshops with students. "I wasn't thinking about the Foreign Service as a career at that time, but I took the test. Because I wasn't nervous, I passed. One day, I got a call asking me to take a position."
The rest was history. Scroggs served in numerous roles as a Foreign Service officer with the State Department in locations as near as Washington, D.C. and as far as Japan.
"There were a few things that I really love about the Foreign Service," she said. "The first is that every day is different than the previous. Also, every couple of years, we get new assignments in different countries working on a distinct set of issues. If you are a person who loves challenges and learning, this is a wonderful career. "
During her tenure, Scroggs worked on projects big and small, but all with impact.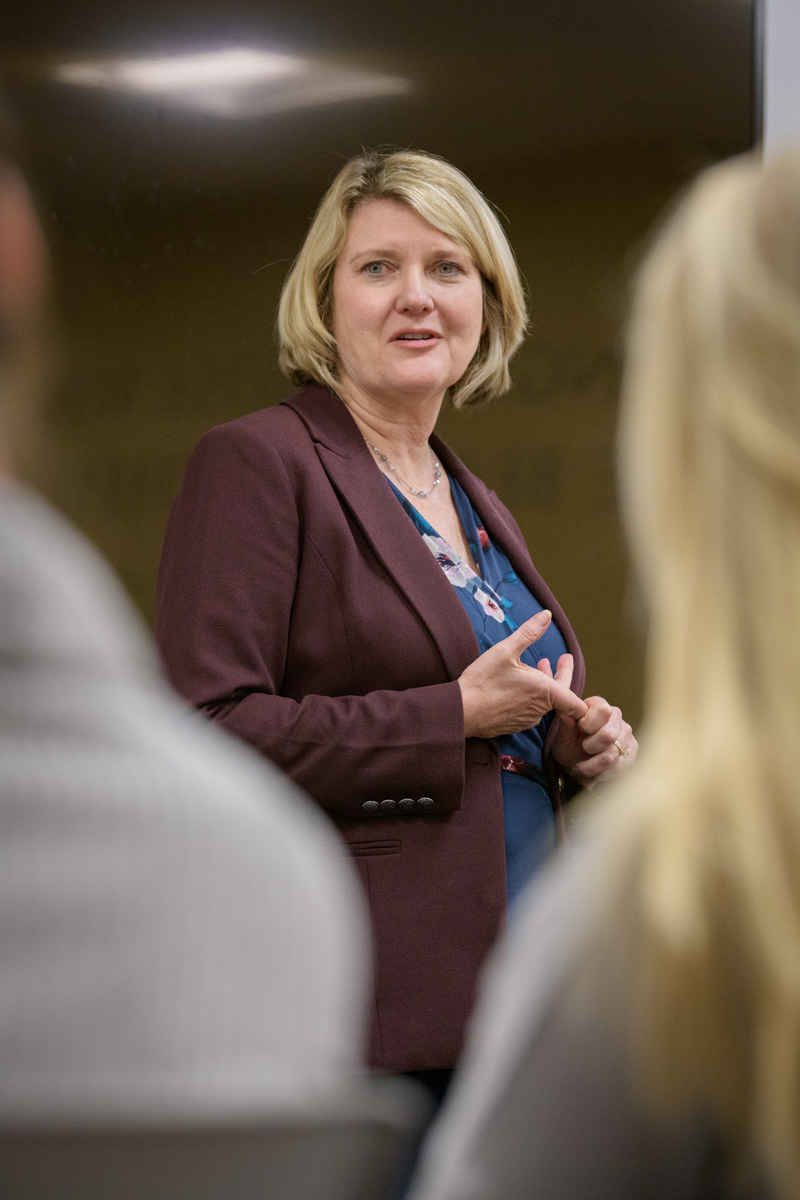 "What we do really matters," Scroggs said. "I've helped American citizens in trouble, worked on multi-billion dollar high tech trade deals, worked to find answers for families of those missing in action in Vietnam, helped to stop drift net fishing and the Japanese trade in endangered sea turtles and helped support Cambodia's return to democracy after a fifth of its population was killed in a genocide."
Having left the State Department, Scroggs considers her current role to be the most important of all. As Director of Diplomatic Fellowships at Howard University in Washington, D.C., Scroggs leads two prestigious U.S. State Department fellowship programs, the Charles Rangel International Affairs Fellowship and the Thomas Pickering Foreign Affairs Program. Both graduate fellowship programs provide support for young people interested in careers in the Foreign Service.
"We find really outstanding people, often from disadvantaged backgrounds, and support them through graduate school and into the Foreign Service," Scroggs said, adding that the field is more diverse than ever. "Quite honestly, our fellows are inspirational, and we are changing the face of diplomacy. If you are sitting around a policymaking table, you want different perspectives. It simply leads to better policy. As we represent the United States, we want to show the diversity that is our strength."
While Scroggs' journey has taken her far from the First State, she credits UD with giving her a start.
"As an Honors student, I really benefited from all of the support, challenging courses and and research experience offered through the program," she noted. "I worked with foreign students at UD and also studied abroad in Spain. This was my first time overseas and really set me on an incredible path."
Scroggs' new role recently brought her back to UD for a series of special workshops for students, faculty and staff.
For those interested in a career in Foreign Affairs, Scroggs advised:
1. Be intentional. "Realize what you want and work towards that in everything that you do - from your academics, to your extracurricular and professional activities."

2. Stay focused on your mission. "Keep focused and build towards what you want to achieve, both for yourself and for your organization. Even when you have setbacks or lulls in your work, it is important to remember why you do what you do. This helps me stay motivated all the time."

3. Be kind. "We work in a business where relationships are really important. That's how we get things done. While it's not something we often think of as a professional skill, taking the time to get to know people and treat them well is exceedingly important in diplomacy."

4. Think globally. "No matter what the issue is in the United States, we probably also deal with it on an international scale. There are so many problems that we cannot solve domestically, like environmental degradation and economic growth. Don't be afraid to think outside of your community and the nation for solutions on a global scale."

Learn more
Students interested in a career in Foreign Service are encouraged to visit the Rangel and Pickering websites and to contact the Institute for Global Studies for advisement and support.
About the Institute for Global Studies
The Institute for Global Studies was created in 2009 to enhance the international dimensions of teaching, research and outreach at the University of Delaware. IGS provides leadership and support for programs and experiences that contribute to the education of informed, skilled, open-minded citizens of the world.
Best known for coordinating the University's study abroad program, IGS also awards scholarships and grants to faculty and students for a number of global opportunities, and administers internationally-recognized State Department-sponsored programs such as the UD Fulbright Initiative, Middle East Partnership Initiative (MEPI) Student Leaders Institute, Mandela Washington Fellowship Program for Young African Leaders, and most recently the Study of the U.S. Institutes for Student Leaders on Women's Leadership (SUSI-WL) program.
IGS sponsors such signature events as Global Month each fall and the Fulbright Lecture Series each spring.
IGS collaborates with other global partners on campus, including the Office for International Students and Scholars, the Confucius Institute and the Center for Global and Area Studies. In addition, IGS partners with Enrollment Management to coordinate the UD World Scholars Program.