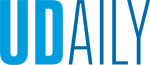 Highlighting the humanities
Article by Ann Manser Photo by Evan Krape and Kathy F. Atkinson December 14, 2018
National Endowment chairman meets with UD faculty, students
Themes of public outreach, inclusiveness and civic engagement were clearly on the mind of the National Endowment for the Humanities (NEH) chairman during a recent visit to University of Delaware programs and projects that emphasize those same qualities.
Jon Parrish Peede, a writer and literary editor who was sworn in as chairman in May after a year with the agency, spent Dec. 6 meeting with UD humanities faculty, students and staff. The NEH, an independent federal agency established in 1965, is one of the largest funders of humanities programs in the United States.
"It was an exciting visit," said Lauren Petersen, interim associate dean for the humanities in the College of Arts and Sciences. "What all of the programs and initiatives have in common is that they're very research-intensive but they also all reach out to the public and engage a wide audience."
During the visit, Peede said he was also thinking ahead to 2026, when the United States will mark its 250th birthday.
In a recent press interview, he mentioned plans to enact a new series of grant guidelines focusing on that anniversary, and during his time at UD he spoke about the value of celebrating America's history and heritage in a way that's accessible to the public.
"I love that you're training people to preserve important treasures," Peede said while touring the conservation labs at Winterthur Museum that are used by students in the prestigious Winterthur/University of Delaware Program in Art Conservation.
"It's especially important to see that you preserve [not just famous works of art but also] more obscure pieces that let us tell the stories of remarkable people."
Peede, who met with the Delaware Humanities organization the previous day, began his tour of the University's humanities programs with a full morning at Winterthur. He was accompanied by two NEH staff members, including senior program officer Tatiana Ausema, who earned bachelor's and master's degrees in art conservation and is currently writing her doctoral dissertation, all at UD.
In the paintings conservation lab, graduate student Julianna Ly showed Peede a diorama depicting an expedition to the North Pole by explorers Matthew Henson, who was African American, and Robert Peary. Conservators first worked on the diorama, part of an African-American history collection at Tuskegee University, as part of a summer program at UD for students from historically black colleges and universities (HBCUs).
The program, Ly explained, was designed to expose talented students to the field of art conservation, which is seeking to address a serious lack of diversity.
From there, the group visited the Winterthur library, where a relatively new, collaborative program is educating the next generation of conservators to work with library and archives collections.
Student Karissa Muratore described the process of working with a particular book, which, she said, required conservation work in several specialized areas. The book itself is an object, she said, but it required techniques in paper, painting and photography conservation.
Peede, who previously worked with a university press, spoke briefly with the students and faculty about a shared love of books.
"It was great training," he said of that job. "I'd been reading books forever, but I had no idea of them as objects."
Peede also spoke with students, faculty and staff in the preventive conservation program and in other conservation and scientific labs. He briefly visited a class of first-year graduate students and discussed the importance of disaster preparedness and response.
Throughout the visit, Peede asked questions about techniques and students' career paths, and pointed out the importance of communicating with the public about the value of humanities.
"We have a commitment to public outreach in all our programs," said Debra Hess Norris, the Unidel Henry Francis du Pont chair in Fine Arts and chair of the Department of Art Conservation. "We teach our students to think about best practices around the world and about innovative ways to communicate."
Later in the day, Peede met in Morris Library on the University's Newark campus with representatives from several humanities programs and projects. Many have received NEH support.
P. Gabrielle Foreman, who is the Ned B. Allen Professor of English and professor of history and Africana studies at UD, and a team of students and staff presented an overview of the Colored Conventions Project, an interdisciplinary and collaborative public humanities project that brings decades of early African American organizing for legal, educational and labor justice to digital life.
Founded and headquartered at UD, it now encompasses a national network and was highlighted by the NEH last year as one of 50 "essential" projects the agency has supported in its 52-year history.
When the project began in 2012, Foreman said, the records of the national, state and local "colored conventions" of the 19th century were little known and not accessible. Today, the project has transcribed hundreds of convention records for a digital archive that is used by "multiple publics," Foreman said, from academic scholars to individuals doing personal genealogical research.
"It's a new way to think about black organizing," she told Peede. "This is history that was hidden in plain sight."
As with all his meetings, Peede connected with students working with the project and asked questions about their participation.
He went on to meet with groups who highlighted such programs as the Interdisciplinary Humanities Research Center (IHRC) in the College of Arts and Sciences and the NEH Next Generation Ph.D. and UD's African American Public Humanities Initiative (AAPHI).
Laura Helton, assistant professor of English, spoke to Peede about this semester's undergraduate seminar, "Into the Archives," in which students used the UD Libraries, Museums and Press' Langston Hughes Ephemera Collection to explore the poet's life and to learn how to work with collections. The project was funded by an IHRC teaching grant.
"It was clear from Chairman Peede's remarks that he shares UD's commitment to public-facing humanities scholarship," Helton said after the meeting.
Julie McGee, associate professor of Africana studies and IHRC director, said the meeting was an opportunity for Peede to meet several students who are AAPHI scholars and to have professional discussions with them.
"He seemed exceptionally engaged by the conversation and provided on-the-spot mentoring, contact and research suggestions to the scholars," McGee said.
Peede was also given an overview of the Center for Material Culture Studies (CMCS) and the Delaware Public Humanities Institute. With support from NEH, the institute offers graduate students the opportunity to take part in a two-week summer program focused on learning how to communicate their research to the general public.
"We were very happy to give him a sense of the innovative outreach here at UD that the NEH made possible," Sandy Isenstadt, professor of art history and a CMCS director, said of that meeting.
Peede also met with Morris Library leadership and toured Special Collections and the Student Multimedia Design Center.
"The Library, Museums and Press was … delighted to demonstrate the partnerships across the campus in programs such as the Colored Conventions Project, the African American Public Humanities Initiative and the Interdisciplinary Humanities Research Center," said Trevor A. Dawes, vice provost for libraries and museums and May Morris University Librarian. "The funding from the NEH, for which we are very grateful, helps to sustain these collaborations."
Petersen said the daylong visit was important in highlighting UD's priorities and plans in humanities education.
"All of the programs and initiatives that Chairman Peede saw are models of collaboration, and they engage graduate students in a very meaningful way," she said. "It was an opportunity to really showcase the humanities and what is possible in terms of research and graduate training as we move forward."