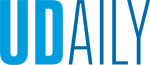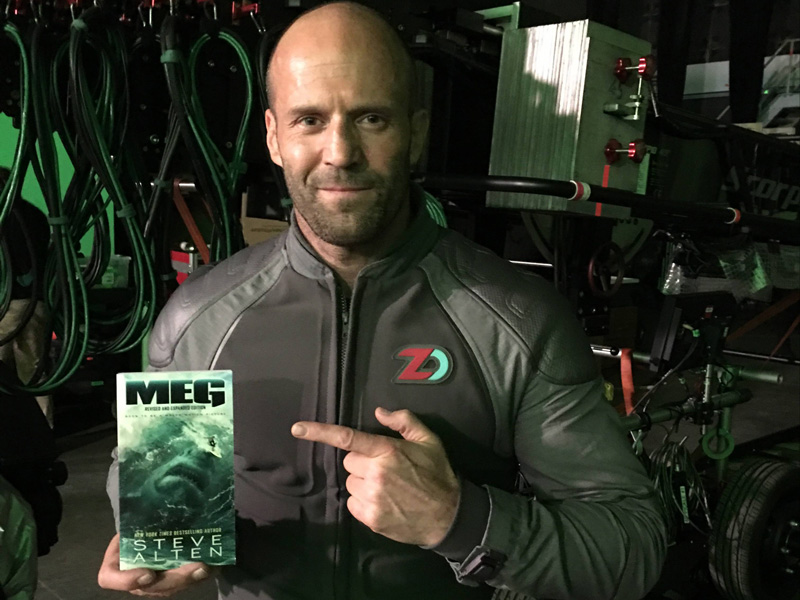 Meet 'The Meg' (if you dare)
Article by Eric Ruth Photos courtesy of Steve Alten/Warner Bros. August 07, 2018
UD grad's shark tale is turned into summer blockbuster
Sharks might be the most misunderstood and maligned creatures to ever stalk the seas.
Movies make them out to be gape-mouthed, cadaver-eyed, tourist-munching monsters. TV marathons focus only on their most malevolent moods, with hardly a segment spent exploring their warmer-fuzzier moments.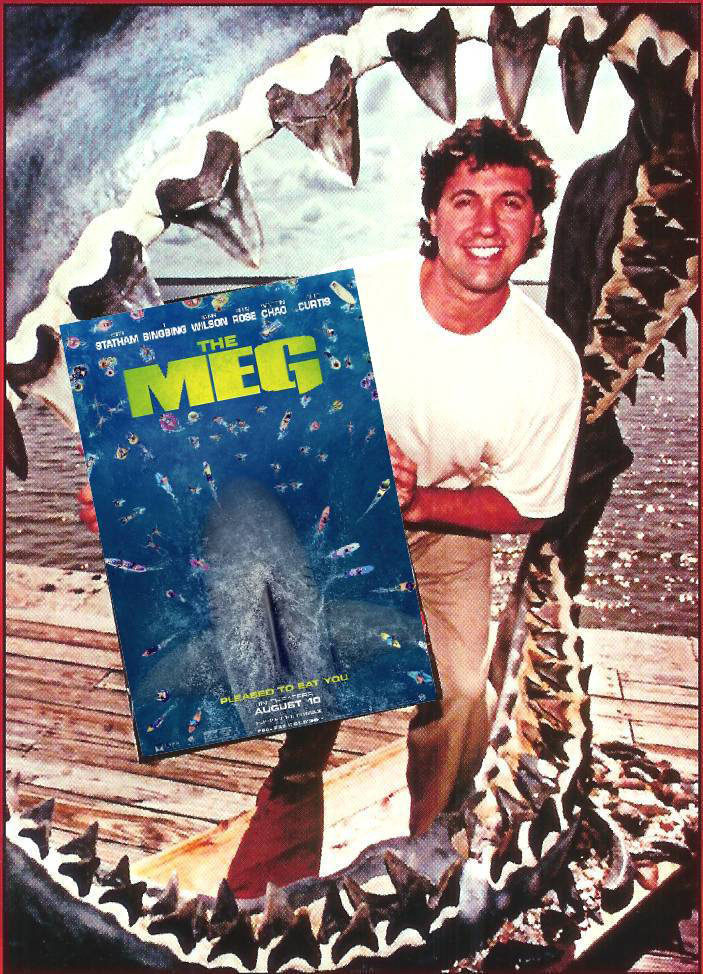 But Steve Alten knows just how benevolent these ancient animals can be — after all, a 75-foot-long bioluminescent megalodon shark once rose from the Marianas Trench to save his career and feed his family in a time of grave peril. Now, that same toothy critter seems poised to give the UD alumnus an extra helping of fame and fortune.
Her name is Meg, and when she isn't terrorizing surfers, munching helicopters or threatening global tranquility, this snappish prehistoric anomaly is a celebrity to the millions of fans who have scarfed up Alten's nail-biter novels for the past 20 years. This month, she makes her first leap from the page to the big screen, making her Tinseltown debut as The Meg alongside brave-but-bald action-hero Jason Statham.
Judging from the pre-release publicity, the big-budget movie has blockbuster ambitions, something that suits Alten just fine, considering how far he and Meg have come, and how far they were about to fall together.
It started in 1996, when Alten was laid off from his job at age 37. His first Meg novel was finally complete, but so far all he had to show for it was a vague sense of accomplishment mitigated by growing anxiety. His children were 13, 12 and 1, his future was uncertain and his bank account was nearly dry.
Next thing he knew, Disney suddenly snatched up the rights to the book. Weeks later, he was in the middle of a big-bucks bidding war between big publishers. And just four days after losing his job on Friday the 13th, he had signed a two-book, seven figure deal.
When that happened, Alten found some salvation. But it wouldn't be the last time the Philly-born-and-bred Blue Hen would face long odds and financial ruin.
That first book,  MEG: A Novel of Deep Terror, would reach #19 on The New York Times Bestseller List, eventually hitting bookshelves in 20 countries. Over the next 21 years, Alten would craft six more Meg novels (and four other books), propelling him and his toothy protagonist into cultish adoration by "Megheads," sustained in part by Alten's passionate commitment to his fans.
"I swore to myself that anybody who took the time to email me would get an email back," said Alten, who holds character contests before he begins each new novel, allowing fans to immortalize themselves in print. "My readers know I care about them very much."
And Alten himself would again come to know the value of resilience and perseverance. After nailing his initial contract, the second novel in his two-book deal would be cancelled a week before he was scheduled to be paid. A few months later, a movie deal was scuttled after the head of the studio was fired.
"Those were harsh lessons," he said. "We had just moved into a new home and I knew I wouldn't be able to keep it without the lost revenue. I had to quickly get back up on the horse again just to keep food on the table. My life over the past 20 years has sort of been an emotional roller coaster."
The writing bug had arrived relatively late in Alten's life, after he graduated in 1984 from UD with a master's in sports medicine and worked as a graduate assistant for the men's basketball team and coached the JV team. 
Inspired by an article on super-deep ocean trenches (as well as his infatuation with "Jaws") he would decide to try his hand at a novel in 1995, often working in front of his old word processor until sleep overtook him at 3 a.m.
"I always thought I could write," he said. "I actually had an article published while I was earning my master's degree at Delaware. I came up with a treatment for infrapatellar tendonitis."
In 2005, a second movie studio optioned the rights for MEG — and then decided they didn't like the screenplay or the lofty budget all that much.
"So I went to the altar twice and was left at the altar twice," said Alten, who would be diagnosed with Parkinson's disease even as Meg gained more fame.
Eventually, the movie version of his book would be embraced fully by Warner Brothers, which enlisted veteran director Jon Turteltaub (National Treasure series) and set a beefy budget of $150 million, sending the cast and crew to film on location in New Zealand and China.
"I think it's going to be the movie of the year, I honest-to-god do. There's been a buzz about this book for 20 years," Alten said. In recent months, some of that buzz has included Meg fans who grew alarmed that the movie took too many liberties with their beloved book, changing the story arc and even messing with Meg's iconic albino coloring.
Amid the fan-demonium, Alten leapt in to soothe fans' anxiety by writing a lengthy online explanation, and asking them to just give the film a chance. He said he owes them at least that much, because he knows they are such a big part of his success — just as his alma mater has been to him.
"The teachers at UD were terrific, very personal," he said. "They were not just faculty, they were friends in many cases. They're the best that I've ever worked with."