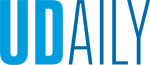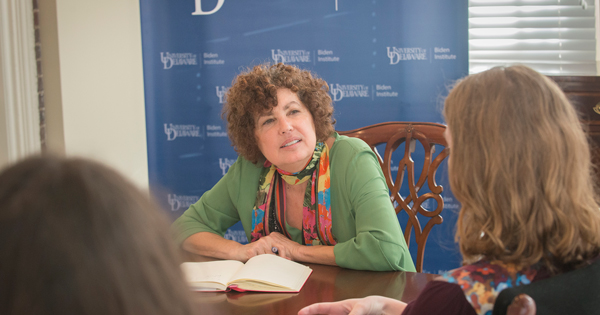 Ending sexual assault
Article by Jack Reilly and Cindy Hall Photos by Wenbo Fan and Doug Baker November 07, 2017
Former White House adviser on violence against women Lynn Rosenthal shares insights, guidance
"Social justice doesn't just happen. It happens because people are willing to push it forward," Lynn Rosenthal, director for the Biden Foundation's initiative to end violence against women, told a group of attentive University of Delaware students on Thursday, Nov. 2. It was an important message delivered consistently during her visit with various groups of students, faculty, staff and community members throughout the day.
Rosenthal began her work fighting gender-based violence at the grassroots level, serving as director of a local domestic violence shelter and rape crisis center. She came to UD to share her insights on sexual misconduct and how to create positive change. The discussions, organized by the University's Office of Equity and Inclusion and the Biden Institute, were part of the units' efforts to engage students on issues they care about.
Rosenthal addressed Marie Laberge's women and violence class on Thursday afternoon, recalling stories and lessons that shaped her career in public service and the White House. The course challenges students to analyze the gendered nature of violence and learn how a wide range of socially institutionalized and individually perpetuated political, social, economic, and physical circumstances impact and shape our experiences. The discussion served as a valuable opportunity for 80 students to reflect upon the intricacies of gender-based violence with an experienced organizer and policymaker. Topics included the uphill battle in fighting for victims of domestic violence, the necessity of comprehensive solutions, and the role that individuals and institutions play in maintaining and resisting violence in society.
As a senior adviser to then-Vice President Joe Biden and the first-ever White House adviser on violence against women, Rosenthal developed new initiatives to address sexual violence, reduce domestic violence homicides, and improve the workplace response to violence against women. One of the Biden Foundation's seven pillars is "Ending Violence Against Women," and Rosenthal is director of the group working on the issue.
In the afternoon, at the Biden Institute, Assistant Professor and Associate Chair for the Department of Women and Gender Studies Jennifer Naccarelli convened a group of students to discuss a UD program that trains students to become advocates for domestic violence survivors. Domestic Violence Prevention and Services (DVPS) is the only program of its kind available to undergraduates in the United States and combines coursework with practical experience by partnering with local domestic violence service agencies for a 10 week summer practicum serving victims and survivors of domestic violence.
"Ms. Rosenthal's lifetime of advocacy demonstrates the real life intersections among the social justice issues explored in our classrooms, particularly the relationship between reproductive justice and the work against gender-based violence," said Naccarelli. "It is critically important for our students to learn from leaders such as Lynn Rosenthal that a socially transformative career path is rarely linear; rather, it includes many stops along the way and the willingness to accept opportunities that you may never have imagined for yourself. The work is hard, the game is long, but with a fresh generation of advocates building on the past, Rosenthal believes that one day we will experience a future without gender-based violence."
In the evening, Rosenthal spoke at a discussion moderated by Adam Foley, coordinator of UD's kNOw MORE campaign. The conversation examined the issue of campus sexual assault, the disturbing trends surfacing in the entertainment industry, and the ways in which, collectively, we can work toward comprehensive solutions and uphold communities where sexual assault is unacceptable.
"Violence against women is not a legal problem; it's a cultural problem," Rosenthal said. "For the violence to stop, the culture has to change."
When asked how she has persevered throughout her career-long fight for justice, Rosenthal said she gets inspiration from others who are passionate about the issue, particularly Biden. She recalled a conversation with him: "This is about a measure of our decency as a people and as a nation," he had said in preparation for the Obama-Biden administration's 2011 announcement of Title IX guidelines on sexual violence in our schools.
Rosenthal said she was encouraged too by the work going on at UD and the conversations she'd had that day with staff, faculty and students. She urged the audience, largely made up of students, to participate in the fight and work hard, citing activists in history who have been successful in bringing about social change.
"The future is in good hands," she said. "I think you all [should] work as hard as you can for as long as you can and the day will come when you can hand it off and we'll be much further along because of what you've done."  
She added, "You are the generation that will make the most progress in ending sexual assault and domestic violence."
Annie Stohler, Class of 2020 marketing major, tweeted, "I love seeing inspiring women on campus!"  
"So happy I got to experience my first #kNOwMOREatUD event tonight with @Lynnspeaksout!," tweeted Erin Grady, Class of 2018 hotel, restaurant and institutional management major. "Thank you for the insight + advice."
Ways to get involved
UD's kNOw MORE campaign and the Biden Institute are committed to ending violence against women and making sexual assault unacceptable at the University of Delaware. You can make a difference every day on campus and join the fight to prevent sexual misconduct:
Take the kNOw MORE pledge. Show your commitment to knowing more about sexual misconduct and doing your part to prevent it. 
Use your power. Be an active bystander and watch out for the safety of your peers. Learn how to safely intervene.
Report incidents. If you experience or are aware of any sexual misconduct, report it to the Office of Equity and Inclusion or online at www.udel.edu/knowmore.
Support survivors. Believe victims and direct them to important resources on campus. UD's Sexual Offense Support (SOS) provides support and advocacy to survivors of all forms of sexual misconduct. Numerous other resources are accessible on the kNOw MORE website.
Become a kNOw MORE Ambassador. Help raise awareness among your peers through education and prevention efforts. To sign up, contact Adam Foley at foley@udel.edu.
To learn more about and become involved in the work that the Biden Institute is doing to end sexual violence, please email bideninstitute@udel.edu.