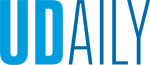 Biden Is Back
Article by Ann Manser Photos by Kathy F. Atkinson and Evan Krape April 07, 2017
University of Delaware welcomes its distinguished alumnus home
Editor's note: Click here to watch a video, and visit the homepage to see a photo gallery and a roundup of social media posts.

The weather was chilly, but the welcome could not have been warmer as University of Delaware students and the entire campus community turned out in force to celebrate distinguished alumnus and former Vice President Joseph R. Biden Jr., and the new public policy institute of which he is the founding chair.
Excitement for the welcome rally began early in the week with students on social media anticipating Biden's return. Early Friday morning students picked up blue "Biden Is Back" T-shirts and gathered in front of Memorial Hall to await the start of the noon ceremony. In late morning, the crowd was entertained by emcees Mikey Draine, Class of 2017, and Sydney Lobosco, Class of 2016. By the time the event began, the crowd had swelled to fill a large section of The Green and eventually reached an estimated size of more than 2,500 students, faculty and staff.
Performances by the University's cheer, dance and mascot teams and the UD Marching Band added to the event's pep-rally atmosphere, as the crowd viewed slides and video clips on large screens and students took numerous selfies with one of UD's most famous alumni. Students shared the love on social media throughout the event, which was also webcast live.
Around noon, as the band played the "Fight Song," UD President Dennis Assanis emerged from Memorial Hall and took the stage to join in leading the crowd in chanting, "Biden is back." Biden then walked onto the stage to even louder cheers from the audience.
In his remarks, Assanis described the occasion as "a special moment in the history of the University of Delaware."
"We are all honored to have Joe Biden back on campus," he said, calling Biden "one of our most distinguished alumni, a lifelong public servant and a true Blue Hen."
The Biden Institute, Assanis said, represents a partnership with great benefits for UD students and faculty, who will now have the opportunity to work with such an experienced and knowledgeable public servant who is also a role model for civic engagement.
And while being involved with Biden and the institute, he told students, "You'll get to work on some of the most important issues of the day—protecting the environment, creating safer communities, making people healthier and ensuring civil rights for everyone."
Assanis told students he's proud of them because they want to change the world, and he praised the Biden Institute and UD's School of Public Policy and Administration in providing the education they'll need to implement change.
"Whatever cause you care about, whatever challenge you want to tackle, you'll need to know how to make your solutions work in the real world," Assanis said.
Laura Askin, a graduate student in the School of Public Policy and Administration, said everyone in the school could not be more thrilled to work with Biden on today's significant public policy issues.
After a heartfelt introduction by Student Government Association President Matt Rojas, Biden stepped to the lectern and donned a blue UD baseball cap.
When he and Obama were nearing the end of their term, he told the crowd—pausing as the former president's name was greeted with loud cheers from the audience—he began thinking about how to continue to have a platform for the issues he had cared about and worked on throughout his career.
"Thank you," he told Assanis, "for giving me the opportunity to do that here at my alma mater. … It's good to be home."
He shared his vision for the Biden Institute as "a world-class intellectual center" that will be a destination for leaders and scholars to visit from across the U.S. and around the world. And those visitors, he told students and faculty, "will be available to all of you" for discussions and other interactions.
Biden also talked briefly about his years as an undergraduate at UD and about the important role the University has played in his life ever since. Faculty members encouraged him to believe he could make a difference in the world and that he had an obligation to do so, he said.
He described his time at UD and in law school in the 1960s, including such events as the escalating Vietnam War and the assassinations of the Rev. Martin Luther King Jr. and Robert F. Kennedy, as a period when young adults were cynical about politics and world affairs.
Today's students are smart, educated and care about issues, Biden said, but they need to become more engaged in civic life.
"I know you're turned off by politics," he told the audience. "My job is to turn you onto it—because we need you."
He ended his talk on a strong note of optimism: "America has never been better positioned to lead the world than we are today," he said. "And we need to step up."
About the Biden Institute at UD
The University and Biden announced their new partnership on Feb. 7, pairing the 47th U.S. vice president's long-time work in domestic policy issues with UD's strengths in public policy education and research.
The Biden Institute, part of the College of Arts and Sciences' School of Public Policy and Administration (SPPA), is a research and policy center. It will focus on solutions to issues ranging from economic reform and environmental sustainability to civil rights, criminal justice, women's rights and more.
The Biden Institute will be complemented by the addition of new faculty, increased enrollment in SPPA and an initiative to expand the school's offerings in the areas of smart cities, environment and energy, social justice and disaster management.
With a distinguished faculty and a cadre of dedicated professionals, SPPA is a globally recognized, comprehensive school that translates scholarship and research into usable knowledge to inform decision-making and policy, improve leadership and management and address critical societal needs.
About Joseph R. Biden Jr.
As a U.S. senator from Delaware for 36 years, beginning in 1972, Biden was a leading architect of domestic policy on some of the most pressing issues facing the country.
Then-Sen. Biden served as chairman or ranking member of the Senate Judiciary Committee for 17 years, and was a pre-eminent voice on criminal justice issues, including authoring both the landmark 1994 Crime Act and the Violence Against Women Act.
In January, President Barack Obama awarded Biden the Presidential Medal of Freedom, with Distinction, the highest civilian honor in the U.S.
Biden graduated from the University of Delaware in 1965, with a double major in history and political science.
Over the years, he has been a frequent visitor to his alma mater, speaking at four UD Commencement ceremonies (in 1978, 1987, 2004 and 2014). Last December, he was a featured speaker at Assanis' inauguration ceremony.
Biden donated his Senatorial papers to the UD Library in 2011, when he also delivered the inaugural James R. Soles Lecture on the Constitution and Citizenship. In 1984, he was inducted into the University's Alumni Wall of Fame.