Welcome to the home of Employee Engagement at the University of Delaware where we're working to create an environment that supports personal wellbeing, purpose-driven work and a sense of belonging for our community of Blue Hens.
Our wellbeing and recognition programs support physical and mental health, connection and community building for faculty, staff, retirees and their household members.
Walktober participants log 306,164,942 steps
UD's annual fall-themed activity challenge, Walktober, was capped off with a shoe drive and group walk on Thursday, Nov. 9, when employees gathered to celebrate participants' collective achievements. Beginning on Sept. 18 and ending on Oct. 29, 859 faculty, staff, retirees and household members recorded over 394,623 minutes (about nine months) of exercise, collected 24,746 total leaves and logged 306,164,942 steps — equivalent to around six times around the world.
UD Mental Health First Aid Directory
These faculty and staff are certified in Mental Health First Aid, and open to connecting with members of the UD community to offer support. These individuals are trained to recognize signs of mental health or substance use challenges, how to offer and provide initial help, and how to guide a person toward appropriate care if necessary.
You may email these individuals directly at any time.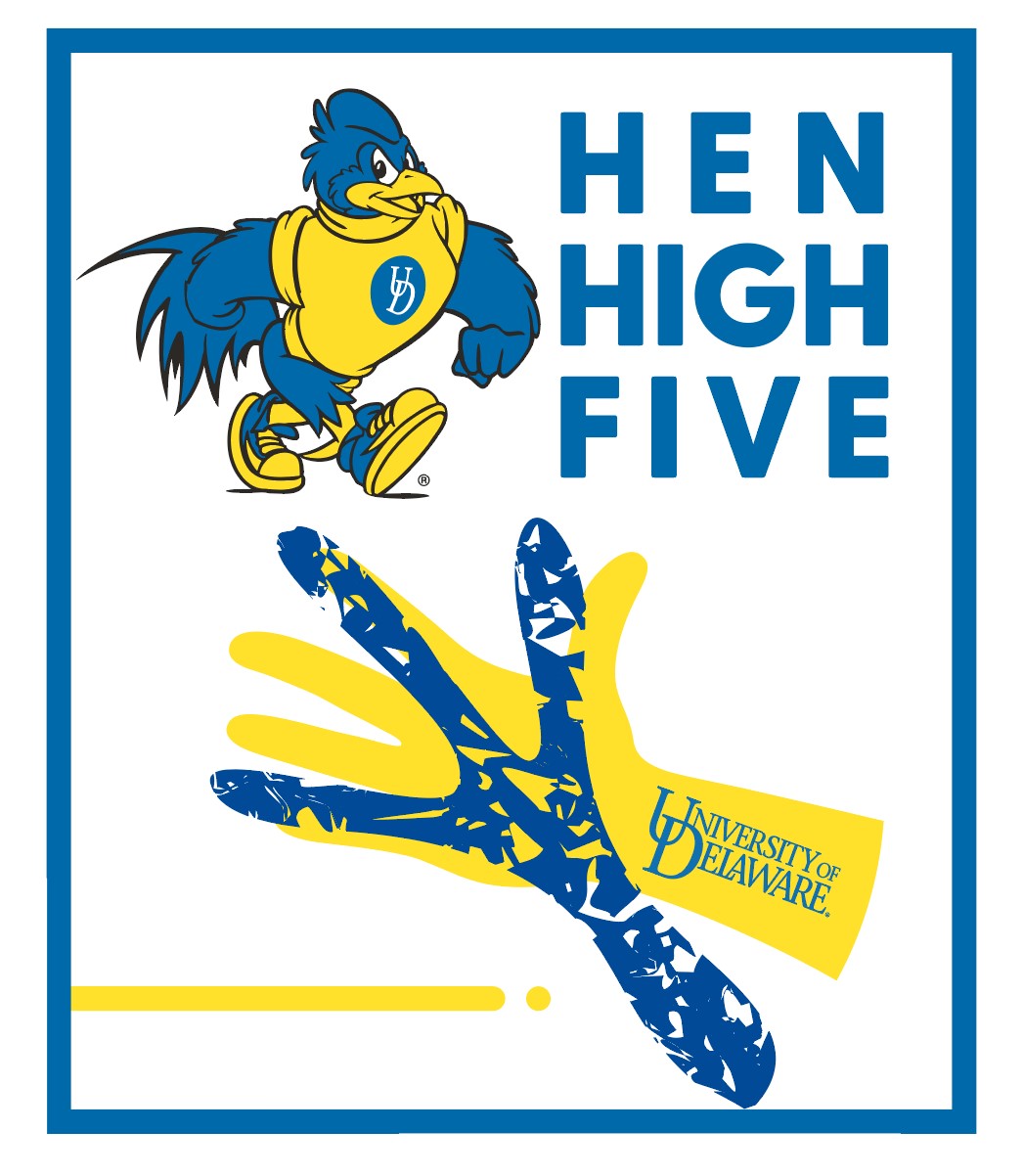 Hen High Five
Up high, down low – it's never too late to show your appreciation with a Hen High Five. Why a high five? The high five, which is often used as a gesture of greeting and celebration, is an instantaneous way of telling a person that they are important and deserve to be recognized, which can strengthen connections between colleagues, improve workplace engagement and boost wellbeing for both the giver and recipient. So, what are you waiting for?

Take five to share your appreciation of a colleague!
Congratulations Raffle Winners!
Hen High Five recipients are entered into a monthly raffle for a chance to win $100 (pre-tax). Congrats to these Blue Hens!
Service Recognition
The Service Recognition Program honors employee service to the University of Delaware at five year intervals. Employees may select from a special gift collection.
The University honors our recent retirees with a gift from the Retirement Collection.
Staff Excellence Awards
The Staff Excellence Award program recognizes staff members' contributions to the University of Delaware community with monetary awards. Three individual awards of $2,000 and one team award of $4,000 will be distributed each Fall and Spring to staff who exemplify UD values.
Monetary award levels, a careful selection process and community recognition activities have been developed with consideration of peer institution and UD faculty award best practices in mind. The program will be supported by a diverse committee of UD community members.