The University of Delaware recognizes that recruiting, retaining and promoting an excellent, diverse faculty and staff may involve supporting working couples to find meaningful employment at UD or in the surrounding area. To that end, we offer assistance to spouses and partners of full-time faculty and staff who are being hired (or have been hired) to the University of Delaware . We cannot guarantee employment at UD or elsewhere, but we will work to identify opportunities and to support spouses and partners in finding employment at UD or in the contiguous region. 
Getting Started
Candidates/current faculty and staff interested in employment services for a spouse or partner should fill out the online intake form. This communication will not go to the search committee, hiring department or direct supervisor. Informing those individuals is at the discretion of the candidate. Once the intake form is received, UD Human Resources will make contact with the applicant in order to discuss opportunities and the partner's employment goals. 
The Dual Career Support Program is a partnership between Human Resources and the Office of the Vice Provost for Faculty Affairs. Questions regarding applications for faculty positions may be directed to Matthew Kinservik, Vice Provost for Faculty Affairs, and for staff positions to Jared Aupperle, Director, Talent Solutions.
The University of Delaware maintains a list of available faculty and staff positions. Faculty partners and spouses are encouraged to apply early in the process, for positions that match their credentials and career goals.
The state of Delaware sits in the heart of the mid-Atlantic seaboard, halfway between Washington, D.C., and New York City. The shore resorts of Delaware, New Jersey and Maryland, and the recreational areas and ski slopes of the Pocono Mountains are about two hours away from the main campus of the University in Newark. Situated in the northwest corner of the state, Newark (pronounced New Ark, as it was once spelled) offers a traditional small-town college atmosphere in a location that affords easy access to major cultural and entertainment centers in nearby metropolitan areas. The campus is close to the Northeast Amtrak line, minutes from the I-95 corridor and midway between two major international airports (PHL and BWI).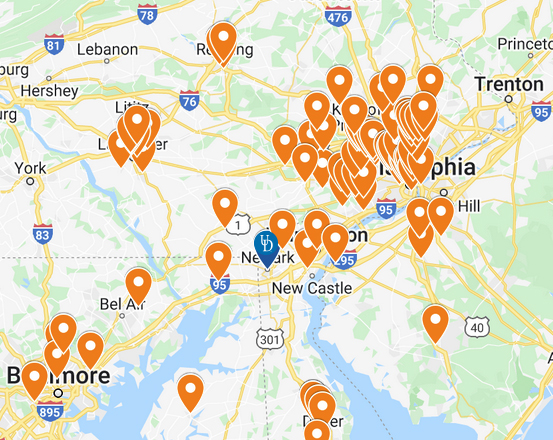 Interactive Map showing Academic/Research Institutions and other Major Employers within ~ 60 Miles of UD
Local and Regional Job Opportunities

Higher Education Job Opportunities