Filter by College
Filter by Subject
Physics Education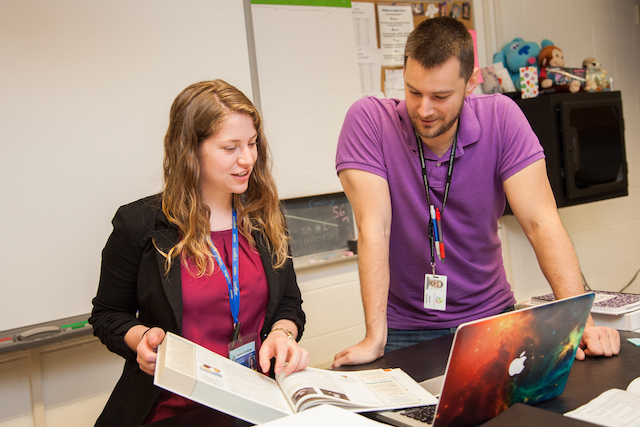 STUDY PHYSICS AND LEARN TO TEACH IT
Physicists investigate the fundamental properties of our physical world and develop a quantitative understanding of its phenomena with the scale of the investigations ranging from the sub-atomic to the transgalactic. Physics and astronomy have had a profound impact on how we perceive the universe and our position in it. The Secondary Science Education major at the University of Delaware offers students interested in teaching middle or high school science the opportunity to study their scientific area of interest—like physics—while also learning about and practicing the best teaching methods.
RELATED MAJORS
AREAS OF STUDY
Atomic Physics
Plasma Physics
Space Physics
Learning Science
Adolescent Development
Teaching Methods
Biophysics
Particle Physics
Laser Physics

CAREER OPTIONS
High School Teacher
Middle School Teacher
Department Chair
Teacher Leader
Principal
Instructional Coach
Textbook Author
GRADUATE PROGRAMS
Science Education
Curriculum and Instruction
Educational Technology
Counseling
Teacher Leadership
Educational Leadership
What's special about this program?
The Secondary Science Education Program has a partnership agreement with a local school district. Science teachers collaborate with university personnel to provide an innovative science education program that culminates in a capstone experience of student teaching. The Secondary Science Education Program has led the university in using coteaching as a model for student teaching. This innovative approach on learning to teach emphasizes professional collaborations between students and teachers. Physics education students are introduced to STEM and various education technologies to enhance their teaching practice. The university's clinical faculty oversee the physics education students' field experiences and provide professional development to the district's science teachers.