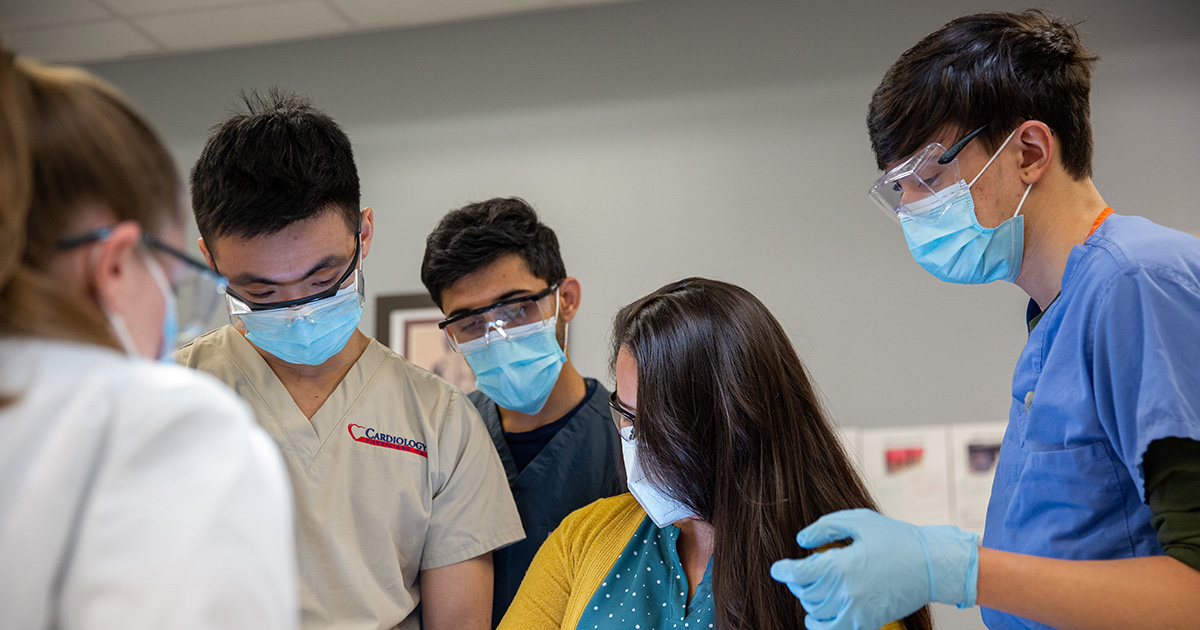 CHS Class of 2022 Spotlight: KAAP
May 27, 2022 Written by Amy Cherry | Photos by Ashley Barnas and submitted by graduates
We're honoring the Class of 2022 by shining the spotlight on some of the best and brightest graduates from the Kinesiology and Applied Physiology Department in the College of Health Sciences:
Kyle Ocampo | Sports Health Major, Master's Athletic Training
Three words to describe the UD CHS experience:
Exciting. Unexpected. Worthwhile.
In high school, Kyle Ocampo played basketball and lacrosse. He suffered a few lateral ankle sprains which forced him to spend time with his athletic trainer. He recalls another injury in junior year that would define his future career path.
"When I got a laceration in my eye, I remember looking down and seeing blood all over my shirt, and immediately my athletic trainer covered it up, and I was ready to go and finish practice."
Her confidence and competence in that moment established a strong trust with Ocampo as an athlete. He knew he wanted to build that trust with athletes going forward.
"Anxiety is a big part of the injury process, but trying to get them to understand, we're here to help you get back on your feet so you can get back to your sport as soon as it allows," he said.
Ocampo entered UD as a sports health major. Thomas Kaminski, director of the Athletic Training Education Program, served as a mentor to Ocampo, who urged him to enter the Athletic Training Education Program.
"He's one of our top students," Kaminski said.
Ocampo loved getting clinical experience in his first year.
"Freshman year, I was able to see what happens in the athletic training room, observe the current ATCs working at UD facilities, and I think that clinical experience my freshman year made me realize I want to work specifically with the athletic population."
This summer, Ocampo is heading to the Los Angeles Rams to work with UD graduate Jon Hernandez (Class of 2010, College of Health Sciences), who's the athletic trainer and physical therapist for the Super Bowl-winning team. 
"He's a UD graduate, and right now, I'm working an athletic training rotation at Newark High School, and Newark High School is also the clinical rotation that Jon Hernandez did, so it's crazy how life comes full circle. I'm excited to be working with him this summer."
He also credits being a part of the Filipino Student Association with shaping his experience at UD. 
"Just being a part of a community, where it feels like home, being around other Filipinos made Delaware feel more like home to me." 
Grace Miller | Exercise Science Major
Three words to describe the UD CHS experience:
Very well done.
As a junior in high school, walking onto the University of Delaware's STAR campus, Grace Miller remembers thinking: wow.
"They were adamant on showing me the Physical Therapy Clinic and all the amenities that came with that. I was like, 'This is real. This is so cool.' I knew that's what I wanted to do."
She had always had a penchant for math and sciences classes and took Advanced Placement courses in biology and chemistry and an anatomy class in senior year that prepared her well to major in exercise science in the College of Health Sciences at UD.
"The human body fascinated me, but I didn't quite know what to do with just that. I wasn't sure whether I wanted to go to medical school someday, whether I wanted to be a physician's assistant, or a physical therapist," she said, "That's why the exercise science major spoke to me because through that major you can go so many different routes. It prepares you for any of those choices."
After students were sent home for a time due to the COVID-19 pandemic, Miller has served as a technician at Drayer Physical Therapy Institute in Camp Hill, Pennsylvania. There, she assisted physical therapists, viewing patients' treatment plans and preparing their exercises.
What she loves most about physical therapy:
"It can grow with you as you age. I'm super interested in women's health and pediatrics, but as I get older, geriatrics may become something more that I'm interested in," she said. "You can grow with this profession, and it's super creative as well. Each treatment plan for each patient isn't going to be the same. You get to figure out how to treat a patient and treat the whole person, not necessarily just the injury, which I find most rewarding."
Her defining experience at UD was being a student athlete. She was recruited to play as a midfield defender on UD's Division 1 field hockey team, an experience she said she'd been preparing for her entire life.
"I'm grateful for the experience that I got," she said, even amid the crazy schedule. "My schedule was unlike anyone else's. You go for a 20-hour practice week, then you have hours of homework on top of that, and class and coursework. Understanding how to balance my time and being able to do well in all my classes and do well on the field hockey field, and just being able to enjoy where I was at and realize, 'I can do all of this.' The idea that I accomplished that made me know I can accomplish so much more. I'll take that feeling with me."
This fall, Miller will head into the two-year physical therapy program at Arcadia University in Glenside, Pennsylvania.
"I just can't wait to interact with patients and treat them and watch them get better," she said. "They want to be seen as a person—not through their pain. It's cool to develop a relationship with them and celebrate the wins with them as they go through." 
Jane Stemmermann | Exercise Science Major
Three words to describe the UD CHS experience:
Proud. Enlightening. Rejuvenating.
Jane Stemmermann, a first-generation college student, always wanted to be a physical therapist.
Her time in high school as a cross-country and track athlete inspired her career pathway and her decision to major in exercise science at the University of Delaware's College of Health Sciences.
"Different injuries I've had, I was able to have an appreciation for the body for all that it can do and can't do, so I definitely want to be able to help people who feel a bit disconnected from their bodies," she said.
After graduation, Stemmerman is heading to the University of North Carolina, Chapel Hill, to obtain her doctorate in physical therapy.
"The University of Delaware has given me everything I need and more to get me on a path to become what I want to do and where I need to be so I can become the best clinician. I'm really, really happy with all that I've learned and all of the people I've met along the way," Stemmermann said.
Working with students as an orientation leader and resident assistant also helped chart her course.
"Soon thereafter, I'm hoping to pursue a Ph.D. in exercise physiology or anatomy so that I can teach physical therapy students, so I can be a part of the next generation of physical therapy."
Saskia Richter, assistant professor in the Kinesiology and Applied Physiology Department, who taught her anatomy class, has served as a mentor for Stemmermann, as she thinks about becoming a professor herself.
"She's been someone I'm trying to aspire to be. Maybe, I'll be teaching in the UD cadaver lab eventually."
She described her experience at UD as "rejuvenating" and "so much fun."
Samuel Huo | Human Physiology Major
Three words to describe the UD CHS experience:
Amazing. Humbling. Impactful.
Samuel Huo first enrolled in the University of Delaware's College of Health Sciences as an exercise science major but switched sophomore year to human physiology.
"It was a newly founded major for people who wanted to do pre-med but didn't want to do biology because the human anatomy piece was a lot more interesting," he said.
While also a part of UD's Medical Scholars Program, he credited his time in the anatomy lab with assistant professor Saskia Richter with inspiring his future career. 
"I've honestly learned more in her class in the past two months than I ever have," he said. "It's really hands-on, and you get to see the human body and appreciate what we are and who we are, it's a humbling experience."
What he's going to miss most when he leaves UD? 
"El Diablo," he joked. "It's great, I won't lie."
But really:
"A lot. A lot of the friends I've made, we're all splitting up, so definitely that. I'll also miss a lot of the professors, there's a couple I'll keep in touch with—they've been near and dear to my heart."
Huo is heading to Thomas Jefferson University's Sidney Kimmel Medical School this fall and aspires to become a pediatrician. 
Alyxandria Sisofo | Sports Health Major, Master's in Athletic Training
Three words to describe the UD CHS experience:
Fun and educational.
Alyxandria Sisofo knew in high school she wanted to be an athletic trainer. At St. Georges Tech High School, she took the athletic healthcare training program, so majoring in sports health, and ultimately, enrolling in the Athletic Training Education Program within the University of Delaware's College of Health Sciences was a natural fit.
"Working with athletics, when they win games and when you have an athlete that's injured and you see them back playing on the field, knowing that you helped them get to that point is one of my favorite memories."
In her first year of the two-year master's program, she called her training thus far, rigorous, but rewarding.
"When you're in the athletic training room, you have full confidence in what you are doing," said the Delaware native. "You get to work hands-on with those athletes from the moment that they're injured until they're back onto the field…you get to know them personally, who they are as an athlete, and help them go from one extreme to the next."
She hopes to continue her education by enrolling in physical therapy school with a goal of becoming a professor.
"I want to teach kids to do what I wanted to do," she said. 
CHS Class of 2022 Convocation Video
Some of the top graduates from the Class of 2022 talk about why they chose the University of Delaware's College of Health Sciences, what they loved most about their majors and their UD experience, and what lies ahead for their bright futures.
CHS 2022 Graduates: youtube.com/watch?v=ixhGdDebNls