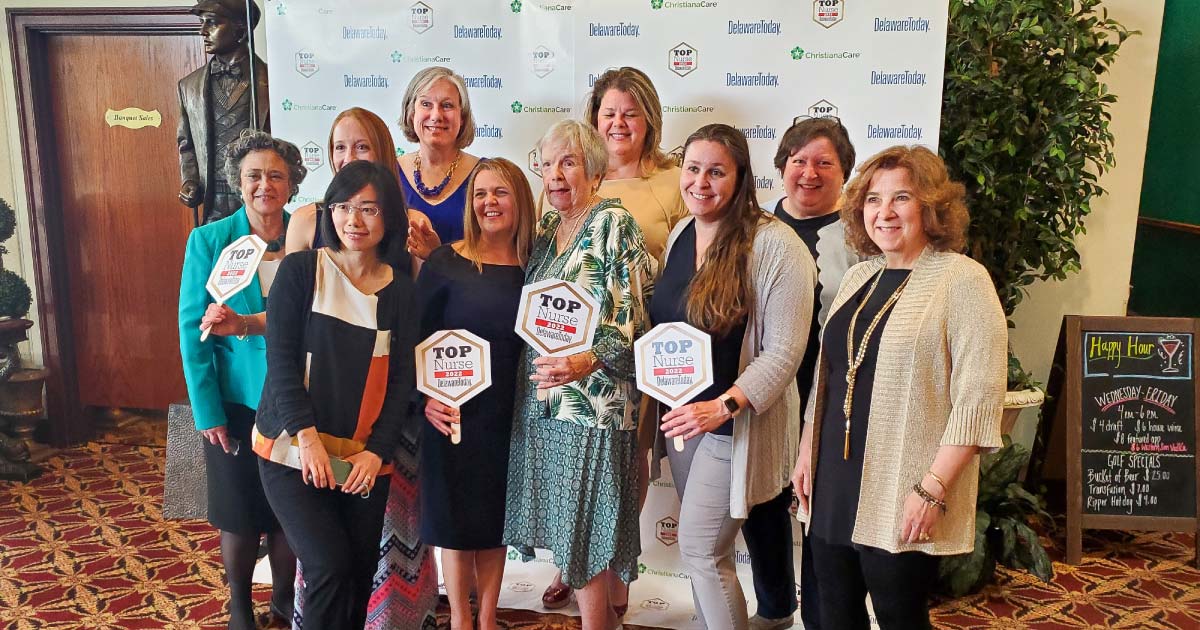 UD heroes in healthcare
June 23, 2022 Written by Colin Heffinger | Photos by Colin Heffinger
Nursing professionals throughout the state joined together for the 10th annual Excellence in Nursing event, held at the White Clay Creek Country Club. Four winners and ten honorable mentions were selected from the University of Delaware's School of Nursing faculty and staff in a variety of categories within the field of nursing.
The event was hosted by Delaware Today and 302Health to honor and celebrate the nursing community for its hard work and dedication. Winners and honorable mentions were selected through a survey conducted by The Delaware Nurses Association, asking nurses across the state who they considered to be best in various aspects of nursing practice.
This year, the event was held in person for the first time since the COVID-19 pandemic began. Participants were provided dinner, entertainment, and the opportunity to celebrate with their distinguished peers.
Xiaopeng Ji, assistant professor in the School of Nursing, received the Top Nurses award for the category of Academic Educator. Ji's research focuses on sleep health in community-based populations highlighting how sleep duration, midday napping, and circadian misalignment impact health outcomes such as neurobehavioral function, pain perception, and cardiovascular risk factors.
"I integrate my clinical and research expertise with inquiry-based teaching approaches," Ji said in reflection. "This prepares students' evidence-based practice and population health competencies as well as role transition after graduation. I am very honored and grateful to receive this award for doing what I love."
Jennifer Korkosz, associate professor in the School of Nursing, received the Top Nurses award for Volunteerism and Service. She is a Women's Healthcare Nurse Practitioner and an Air Force Veteran with a background of in and outpatient care, flight nursing and nursing leadership. Korkosz reflected on how she is "most gratified by her role in teaching."
"Whether it is teaching students or patients, I love to help them understand," Korkosz said. "We have a unique opportunity for students to experience different roles and settings while they are learning. It can help them stay motivated to figure out what they want to do when they graduate."
Kathleen Brewer-Smyth, associate professor in the School of Nursing, was recipient of the Top Nurses award for Rehabilitation and Long-Term Care. She also was awarded honorable mention in the categories of Academic Educator, Advancing and Leading the Profession, and Psychiatric Mental Health Nursing.
Brewer-Smyth has dedicated her research to studying adverse childhood experiences, lifetime abuse, salivary cortisol regulation, and neurological dysfunction primarily in connection to traumatic brain injuries through high-risk behaviors and health outcomes later in life. She is published on how these factors impact mental and general health aspects such as adult obesity, sleep, alcohol misuse, homicide, and other violent behaviors in at-risk populations.
"As a neurorehabilitation nurse, I always say never give up on someone with a brain problem," Brewer-Smyth said. "There is so much that we can do for prevention, resilience, and healing to promote optimal brain function. My new book describes how to do this, especially for those at risk after physical and emotional trauma."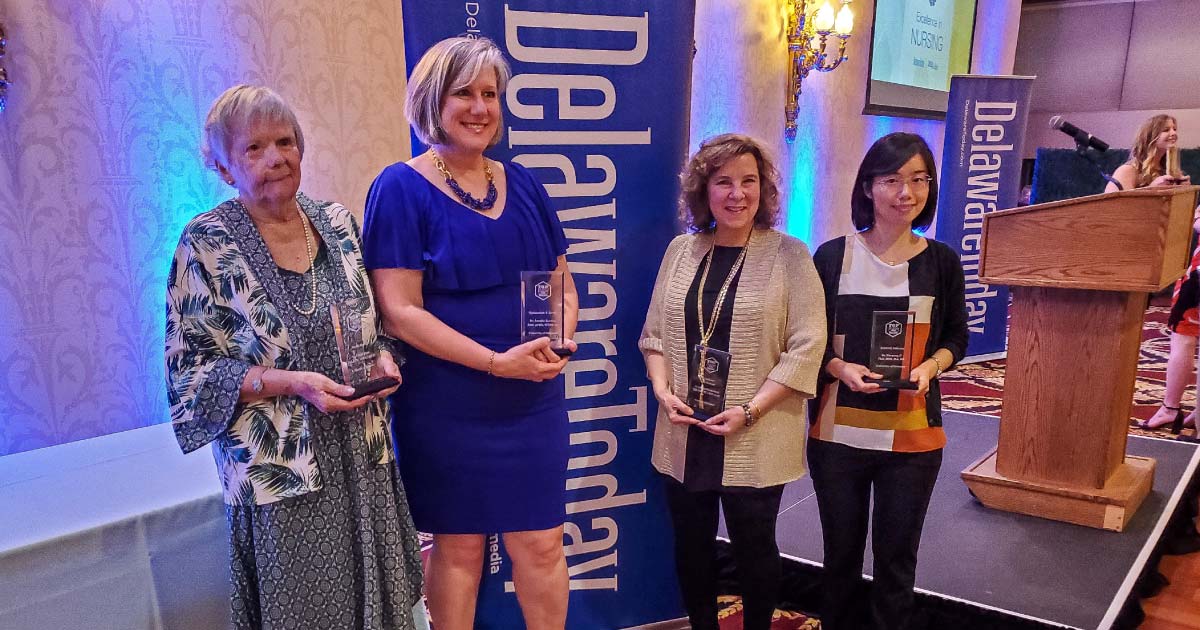 To honor and recognize her many outstanding contributions and dedication to the nursing profession, Evelyn "Lyn" Hayes, UD's Trustees' distinguished professor emerita in the School of Nursing, received the Delaware Nursing Legend Award.
At the award presentation ceremony, Hayes asked to share a few thoughts with the audience. "Each of us in knowledgeable and gifted," Hayes said. "We are all living in changing and challenging environments that call for and provide opportunities for innovation. Seize the opportunity to create new ideas and more. Use your passion to address a need and make the future brighter for individuals, families, communities, and beyond. The values of professional nursing have endured."
"Yes, I do remember my student days," Hayes continued. "On my first day my attention was drawn to a leaded glass plaque of The Good Samaritan with the inscription 'Go and Do Thou Likewise' and its teaching are always with me."
Hayes said that she was "surprised, humbled, and honored to receive this award" as recognition by one's peers is a high compliment.
"I am most grateful for my 57-year nursing career," Hayes reflected. "Numerous thank-yous are appropriate. Family and many friends have encouraged and supported me throughout my adventurous life. Of course, my mentors, colleagues, and students have contributed as well. And the patients and families I have had the privilege of serving; it has been especially rewarding to be part of many volunteer opportunities."
In retirement, Hayes continues to contribute to nursing and the community. She sponsors and plans the annual Evelyn Hayes Innovation in Healthcare Symposium at UD and is a volunteer with the Behavioral Health Consortium, Sean's House, Veterans and College Athletes Together, the Delaware Medical Reserve Corps, the American Nurses Association, Sigma, the Newark Morning Rotary Club, and many other local and national non-profit organizations.
In addition to the four Top Nurses winners, ten members of faculty and staff at the School of Nursing acquired honorable mentions in a variety of categories:
Advancing and Leading the Profession: Jennifer Saylor, Associate Dean of Faculty and Student Affairs
Advancing and Leading the Profession: Lauren Covington, Assistant Professor
Advancing and Leading the Profession: Melissa Minor-Brown, Clinical Coordinator for Graduate Services and State Representative for Delaware
Advanced Practice Registered Nurses: Julia Nutter, Family and Emergency Nurse Practitioner
Academic Educator: Catherine Heilferty, Associate Professor
Academic Educator: Diane Rudolphi, Senior Instructor
Academic Educator: Jennifer Graber, Associate Dean of Academic Affairs and Practice Initiatives and Associate Professor
Clinical Educator: Julia Nutter
Home Health, Hospice, and Telehealth: Susan Conaty-Buck, Assistant Professor
Informatics: Susan Conaty-Buck
Psychiatric – Mental Health Nursing: Caren Coffy-McCormick, Assistant Professor
Volunteerism and Service: Jennifer Graber
The event concluded with further appreciation to nurses and their devotion over the past year, throughout the COVID-19 pandemic, and beyond.