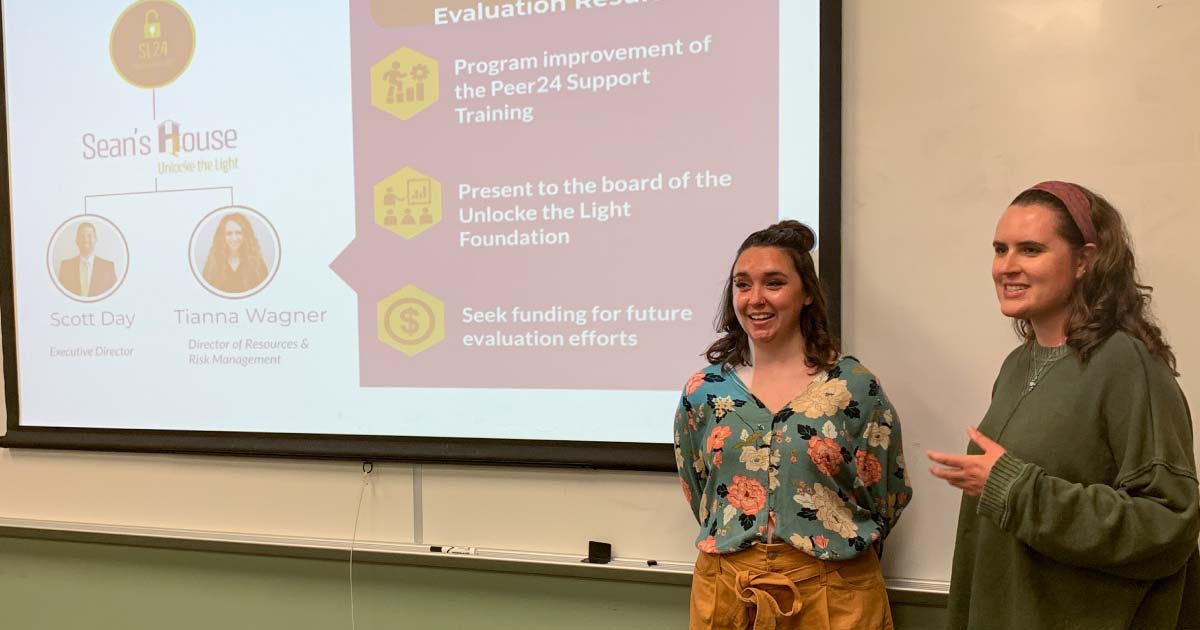 Engaging Students in Community Impact
June 07, 2022 Written by Colin Heffinger | Photos by Laura Lessard and Scott Day
At the root of great health within our local communities is the dedication of a variety of non-profit institutions that provide valuable resources, safe spaces, and skills to help individuals in need. One way that these businesses continue to grow their reach and impact is through partnerships with classroom programs that create real-world opportunities for students to be engaged in shaping the future of programs provided by these community-oriented businesses.
Laura Lessard, associate professor in the Department of Behavioral Health and Nutrition, recently completed her second spring semester instructing the Advanced Health Promotion Program Evaluation course, part of the graduate programs in Health Promotion. This course is constructed to provide students with skills for designing and implementing evaluation strategies in a variety of health behavior science and promotion settings in collaboration with a community-oriented business.
"Students work in partnership with a community-focused organization throughout the semester," Lessard said. "They identify an evaluation project that can benefit the organization and create logic models in real time. This lets students step out of the traditional research aspect of learning."
This year, one of the community businesses students worked with was Sean's House. Sean's House serves to educate high school and college students on mental health by providing a safe haven where students can seek help and support from mental health specialists. Sean's House was opened in September 2020 and created by the Unlocke the Light Foundation, a local non-profit.
Scott Day, Executive Director for Sean's House, explained how the collaboration with Laura's students helped "solidify the foundation" for both Sean's House and students it serves.
"Even though the peer support model itself has been around for decades, there is nothing else like Sean's House in the country," Day said. "This collaboration has been an excellent opportunity to evaluate what we're doing. It's important to us to make sure we support our visitors the best way we can. Laura and her students have helped us build this community even stronger."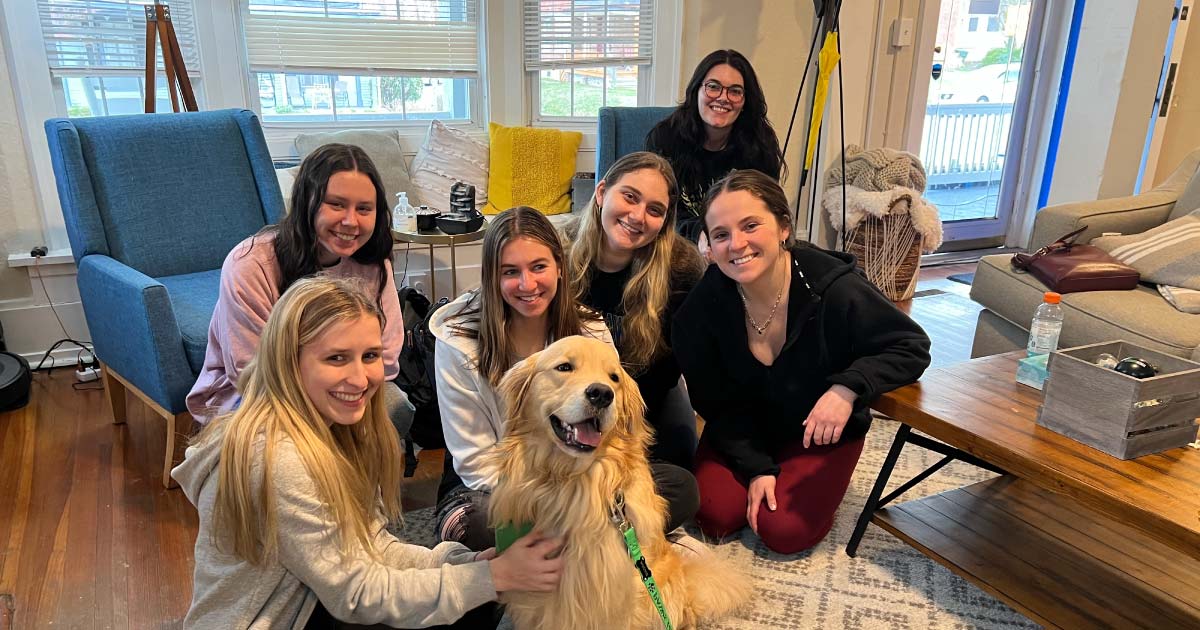 Sarah Albrecht and Caitlin Tharp, recent graduate students from the Department of Behavioral Health and Nutrition, worked with Sean's House throughout the semester. During this time, they were able to focus on Sean's House's Peer24 Support Training Program and create a report and logic model for evaluation of its overall impact. Following this, Tharp and Albrecht designed a presentation about their work to share with Sean's House and the class.
"Through our logic model, we reviewed short-term and long-term outcomes and sequences of events," Tharp said. "This helped us determine how Sean's House can further its mission through its resources."
Additionally, Tharp and Albrecht worked with Sean's House staff to create a survey consisting of multiple choice and short answer questions. The targeted group was mostly built up of peer support specialists within the student populations.
"We had 31 responses," Albrecht said. "Most of them filled out all the short answer questions in detail – which is often unheard of in surveys. This showed how important Sean's House is to students."
Looking forward, Tharp and Albrecht are grateful for how the experience has helped prepare them for their career goals.
"One of our largest missions here is to address mental health," Tharp said. "Understanding all the resources available and different ways we can address mental health to help reduce the stigma and better prepare future coworkers is incredible."
"Mental health is so important to me, but it can be difficult seeking out help because of anxiety or the stigma surrounding it," Sarah said. "What Sean's House is doing is amazing and provides a great resource for students."
Using the information learned from the evaluation, Sean's House aims to continue advancing its programs to best serve its students.
"I've seen the power of a community is undefeated," Day said. "We are meant to work together and that's why we are here. Working with Laura's team provided the opportunity for us to continue to build and better our service for anyone who walks in the door."
This semester, other students in the course worked with Mid-County Senior Center and the UD Partnership for Healthy Communities. Previous community partners include Black Mothers in Power and the Green Beret Project. Lessard states how she is hopeful the lessons learned from the class will have a "transformational effect on students and the community" surrounding UD.
"The students get excited about their projects," Lessard said. "Some will even be working with a business that they love. The kinds of people who work at these entities are so passionate that its contagious. It's amazing for students to see how the passion of these workers may align with their own."