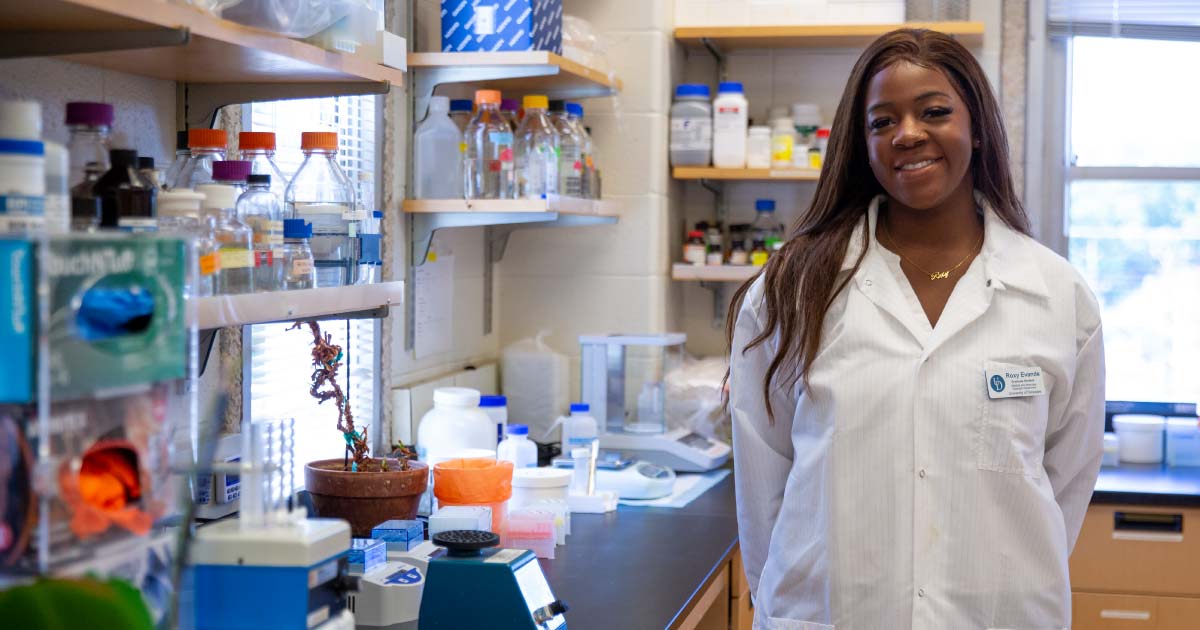 Reshaping the Fellowship Review Process
August 15, 2022 Written by Colin Heffinger | Photo by Ashley Barnas
Roxanne Evande, graduate student in the Department of Medical and Molecular Sciences, was recently selected as an advocacy trainee delegate by the American Society for Biochemistry and Molecular Biology (ASBMB). Evande was one out of ten students nationally chosen for this role.
As a delegate, Evande completes a three-month summer externship providing direct training as well as experience in science policy and advocacy. The externship creates opportunities to learn how science can be applied to policy for meaningful connections between fields. The intersection between policy and science plays a critical role into how society reacts toward rising issues such as the COVID-19 pandemic.
"COVID-19 has showed us how important it is for the government and private sectors to work together," Evande said. "It highlighted the need for scientists to be a part of policy for effective translation of scientific information to the government and general public."
With a background in policy and science by serving on the Graduate Student Government Executive Board and conducting research at UD, Evande explored career options outside of academia that appealed to her interests in leadership, government, and science. She was focused on finding a way to use her expertise to make a larger impact in helping others.
"Now that I've put myself into this position, I definitely believe this is a career opportunity I want to pursue going forward," Evande said. "My experience as a delegate has also helped me build a network in this field. If I decide to start my career with this, I have a network of people already in these roles who can empower me."
For her main project as part of the advocacy trainee program, Evande chose to explore ways to reexamine and improve the review process involved in the National Science Foundation's fellowships. Her goal was to determine new ways to effectively measure potential and merit to allow more individuals the opportunity to receive critical funding for their studies.
"In the past, potential has been measured through selection of more privileged applicants by how many publications they have, how many years they've conducted research or the institution they attend," Evande said. "We want to help those with potential have access and find ways for reviewers to be more equitable about how they select applicants."
Looking forward, Evande is enthusiastic for the annual opportunity to go to Capitol Hill and meet with government leaders as part of her program.
"We'll be meeting with our respective senators and representatives from Delaware," Evande said. "I'm focused on how talking with them can help bridge the gap between the perception of science and what it actually is."
"The biggest thing I learned from this experience is there are so many avenues outside of academia," Evande reflected. "This helped me see a way to use my expertise to help improve the intersection between policy and science."
In her research at UD, Evande studies the cellular mechanisms of the human papillomavirus E2 protein for future drug development.