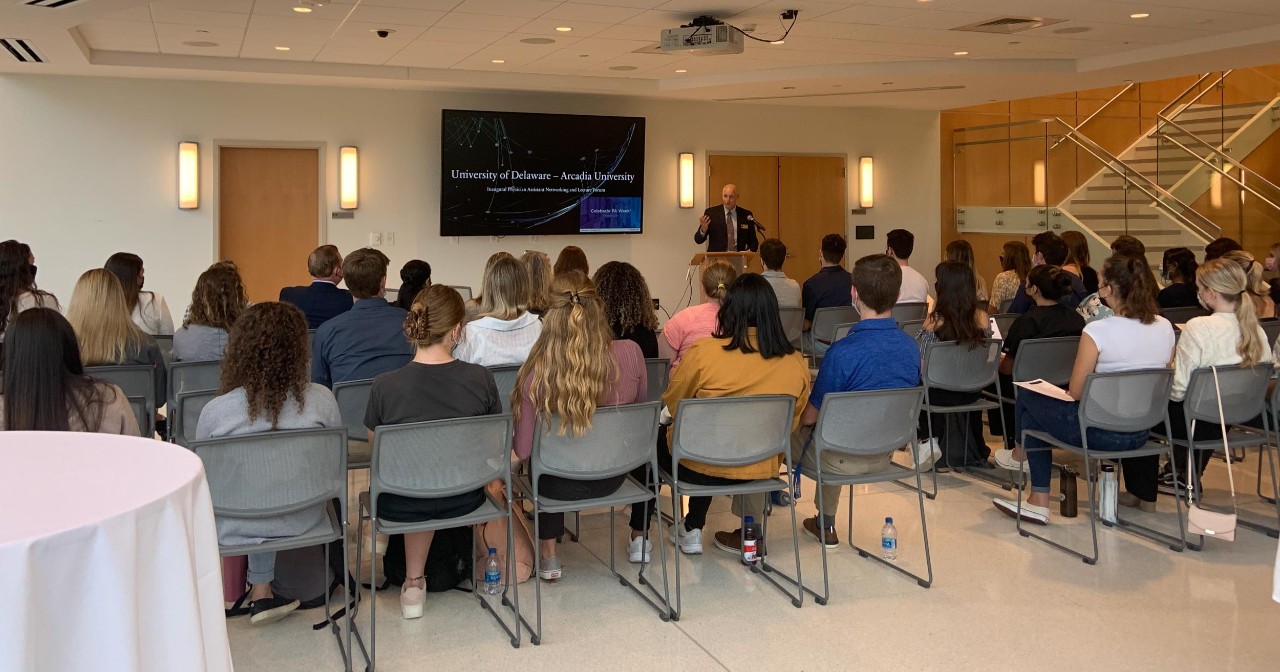 Opening Physician Assistant Forum
November 18, 2021 Written by Colin Heffinger | Photo by Karen Sunkler
The University of Delaware - Arcadia University Inaugural Physician Assistant Networking and Lecture Forum was held in the North Atrium of the STAR Campus on October 7.
In December 2018, UD's College of Health Sciences entered into an articulation agreement allowing Medical Diagnostics pre-physician assistant (PA) juniors to apply through a special route to gain assured admission for Arcadia's PA program on the Newark campus. The forum operated as a networking and lecture event allowing pre-PA students as well as students in other majors the opportunity to learn more about their future class requirements and career structures.
The event was attended by 63 students, faculty, and staff from UD's College of Health Sciences and Arcadia University's College of Health Sciences. The event consisted of three panel sessions, allowing pre-physician assistant students to ask questions to current certified physician assistants, Arcadia PA faculty, and Class of 2023 Officers of the PA Club at Arcadia.
Virginia Hughes, associate professor in the Department of Medical & Molecular Sciences at UD, said "the rapport and attendance involved was incredible" of the students engaged in the event.
"Students asked questions about acquiring patient contact hours and balancing challenging curriculum as well as access to critical resources. Additionally, in other stages of the panel, students were able to ask Arcadia faculty about their timeline for applying to PA school and other curriculum-based questions. It was our first experience hosting this event and it exceeded our expectations."
"I think the partnership we have cultivated with Arcadia is beneficial to our students in accomplishing their goals in attending PA school," Hughes continued. "It also fulfills the missions of both Colleges of Health Sciences."
Rebecca Craik, Dean of the College of Health Sciences at Arcadia University, stated that the event was "impressively put together and well attended."
"There was so much more to this event than discussing the UD-Arcadia assured admission program. Students were able to learn about the life of a current physician assistant student and heard about patient care challenges and opportunities from practicing clinicians. In the Dermatology lecture, for instance, students viewed examples of a variety of skin lesions to prepare them for their future careers."
"We are the only PA program in Delaware," Craik continued. "The Arcadia PA program curriculum is intense. I am impressed with how well UD's Medical Diagnostic program prepares the students for their future education as a physician assistant student. The students enter the PA program at Arcadia knowing their vocabulary, what to expect from labs, and asking the right questions to fortify their education. This collaboration provides an opportunity for students working hard at UD to come to Arcadia as physician assistant students and thrive."
Craik reflected on the impact of the program on faculty, staff, and students at both universities. "This collaboration inspires faculty members to see what next generation students are doing as well as attracting new students into the program. Existing students feel like they belong in this program from both universities. The departments have taken the original idea, nurtured it and created an excellent partnership. I see this relationship getting stronger each year."