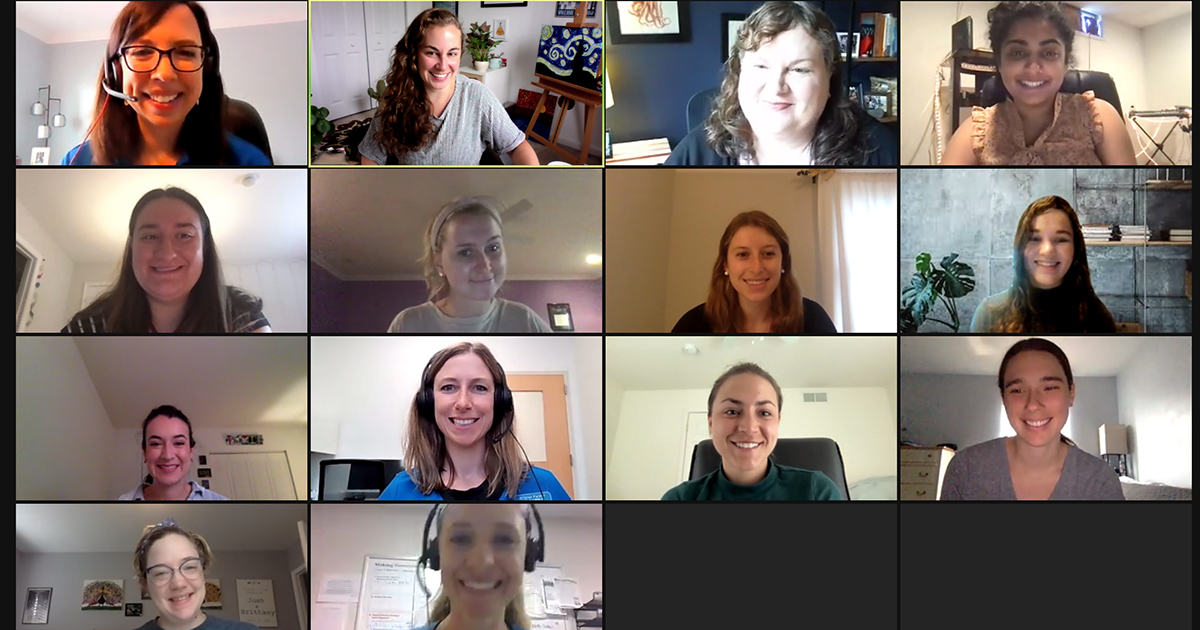 Aphasia Summer Intensive makes strides for stroke survivors in online format
July 16, 2021 Written by Ashley Barnas | Photo by Ashley Barnas
University of Delaware Speech Pathologists and graduate students gathered on Zoom each day for three weeks to work with their summer crew of stroke survivors as part of the UD Aphasia Summer Intensive program (UDASI). Aphasia is a communication disorder that impacts the ability to understand and express language, so participants in this program spend an intense, compact amount of time working with the clinicians on speaking, comprehending, writing and reading.
"This program really is designed to be mutually beneficial for both people with aphasia to receive intensive treatment, but also for our students to get immersed in assisting someone with aphasia," says Julie McCauley, UD Speech-Language Pathologist and coordinator of UDASI.
Survey results of national and international Intensive Comprehensive Aphasia Programs (ICAP) were recently published, and UDASI is one of eight in the nation and one of 14 internationally. According to the study, "ICAPs involve high dose intervention delivered in both group and individual settings, targeting communication across impairment, functioning, participation, and contextual domains."
Students in the Speech-Language-Pathology master's program divide into two groups: half lead large-group sessions and the half lead therapy sessions for an individual client. At this stage in the master's program, between their first and second year, students are generating therapy programs and writing post-session documentation independently.
"They're teachers, they're not students to me," UDASI participant John Simpson says. "They have done quite well in helping me remember stuff and pointing out stuff to me that I don't see. They tell me that I make certain moves that are working for me in the long-run. The one thing that I think I struggle on the most is finding alternative words to put in a sentence."
Simpson is too hard on himself, his student clinicians say.
"John is one of the most motivated people I know," says graduate student Aurora Reible-Gunter. "He shows up every single day with a great attitude and wants to be here and wants to continue learning and improving his skills. That makes our job so easy."
Meghan Kee, another graduate student working with Simpson, says he's modest about his progress and crushes any activity or task they throw at him. He turns down breaks they offer and powers through them to keep practicing. Kee says half the battle is having a positive attitude since participating in any support group can be intimidating, but Simpson does so with a smile.
Reible-Gunter also works with Brew Crew, a weekly coffee-and-conversation group, where Simpson describes himself as being in the middle of the pack – six to 12 people on any given day.
"With UDASI, I've seen John take more of a leadership role," Reible-Gunter says. "It has been so great to see him be a leader and work with other people with aphasia in UDASI, asking them questions, supporting them."
Simpson says the student clinicians are the best thing to happen to him.
Witnessing the impact UDASI has on its client participants is matched by the joy in watching the graduate students grow into independent clinicians.
"As clinicians working for years, we're regularly inspired and get the reward of working with our clients," McCauley says. "Part of that reward is really magnified when we get to see our students feel all those good feelings."
Kathleen Blumberg Zooms into UDASI with her son Steven at her side. He's her tech savvy support and helps her work with her newly acquired Augmentative and Alternative Communication device: a Lingraphica TouchTalk, a communication device useful for some people with aphasia. Blumberg navigates through selection screens to find an icon she's looking for to express what she's thinking. When the device says it aloud, she repeats it.
"Kathleen took off running," graduate student Claire D'Antonio says. "She was having therapy sessions before this. She took a break. And then when she started with us, it's just been this upward progress. I think one of the biggest things we've seen is Kathleen's been spontaneously saying these long sentences, and they've just been increasing every day since we've started."
Blumberg and her student clinicians have been working on how to ask for things in each different room of the house and what to order from a favorite restaurant. Prior to these therapy sessions, she wasn't able to verbalize those everyday needs.
Graduate student Kendall Wellauer says they celebrate each day's success with a dance party. She asks Blumberg what her favorite song is, so she navigates to the music page of her communication device.
"I want 'Boom Boom Pow,'" the device says before Blumberg repeats it. Steven chuckles at her Black Eyed Peas request.
When individual breakout rooms combine later in the morning, Rebecca Hunting Pompon, Assistant Professor and Director of the Aphasia & Rehabilitation Outcomes Lab, leads the larger group in a discussion about resilience skills: managing stress, working through adjustment and coping strategies, and considering ways to stay active and positive.
"It takes time for us to accept the big change that you've all experienced," Hunting Pompon tells the group. "'I have aphasia. Sometimes I need help.' I think that also means accepting who we are: Our strengths, the opportunities we have, our experiences, everything that makes up who you are. You are still you. I am still me."
Asking for help when we are used to being so independent is difficult, but Hunting Pompon reminds everyone that they are surrounded by a support system of family, friends, clinicians, student clinicians and their fellow aphasia support group participants.
"We might feel, 'I can't ask for help.' But we can," she says. "And we need to. And some of you are really doing a great job of asking for help."
Hunting Pompon reminds them that they have skills, talents, and beliefs that have shaped who they are – none of that has changed despite having a stroke.