Galvanizing Climate Justice
April 08, 2021 Written by Emily Farrell
For science. For action. For health. For justice.
Similar to how climate change is a long term, overarching issue that creates unprecedented consequences, climate justice in respect to public health is just that as well. The intertwined impact of health via environment, built or natural, is not always taken into account.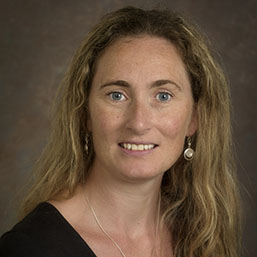 Dr. Freda Patterson, who began her career at Loughborough University in London, England, originally studied kinesiology and wanted to become a sports psychologist for elite athletes. During her undergraduate career, she spent her summers in Philadelphia at a summer camp for underserved children, particularly those in primarily poor neighborhoods. Already feeling hesitant towards her future career working with elite athletes, a newspaper article she came across regarding "health education" and "improving health and wellness for everyday Americans" gave her a sudden epiphany of where her passions resided. Dr. Patterson went on to pursue a Masters of Science in Health Education at Arcadia University, and a PhD in Public Health at Temple University soon after to specialize in human behavior and movement in everyday individuals. She is now an Associate Professor at UD and studies health disparities, cardiometabolic risk factors and interventions, and bio-behavioral rhythms.
Dr. Patterson's central focus of research, past and present, is sleep health and the environmental factors that affect sleep quality, including, but not limited to, household composition and crowding, bedroom temperature, neighborhood crime, air quality, and light exposure. Those of lower socioeconomic status are disproportionately more likely to be shift workers, in which they experience more household crowding, increased street lighting, increased noise, and more during their periods of time in which they dedicate to sleeping. These factors all contribute to sleep deprivation that, in turn, negatively affects cognition, emotions, relationships, and overall functioning. Dr. Patterson also touched on how "Maslow's Hierarchy of Needs" is less likely to be achieved for shift workers and those of lower SES because their environment discourages psychological needs and feeling safe. To conclude, Dr. Patterson feels an environmental intervention to improve overall sleep quality to alleviate long term health and overall functioning is necessary when looking to initiate climate justice for public health.
Ultimately, what does public health have to do with climate justice? Dr. Patterson explained how one of the most important factors of public health is surrounding environments. Whether it may be natural disasters, regarding prevention and response plans, or everyday aspects of the outdoors, poor environments disproportionately affect underserved communities. "Galvanizing climate justice" begins with targeting disadvantaged populations. Dr. Patterson went on to discuss the "American Dream," and how that is contingent on where an individual is born. While "Cinderella" stories of "rags to riches'' is often portrayed, the likelihood of remaining within the social class you are born into is significantly greater than moving up the socioeconomic ladder. Dr. Patterson describes how social and environmental justice needs to be achieved as a society, in order to raise the bar so individuals are not born into circumstances where they do not have access to basic human needs.
An individual's or community's surrounding environment is a key determinant of health disparities and quality of life, and those of lower socioeconomic status are more likely to experience health disparities than those of higher socioeconomic status. Key indicators, as foreshadowed by Dr. Patterson, include increased noise, air pollution, and poor air quality. Thus, as research and initiatives begin to take place in an effort for climate justice, we must take public health into consideration, especially lower socioeconomic status individuals, underserved communities, and the key indicators of health status.
Lastly, Dr. Patterson concluded that while there have been advancements towards climate justice, the University of Delaware can certainly improve. When it comes to physical improvements, UD could add multiple electric car charging stations to different areas on campus. Since the university only has one electric car charging station on the opposite side of campus to Dr. Patterson, she decided not to purchase an electric car. Thus, to accommodate faculty and students who are aiming to be more eco-friendly, the university should install more electric car charging stations. The university could also create more areas on campus for relaxation with plants, to improve aesthetics and generate clean air. In regards to future research and studies, the university (the College of Agriculture and College of Health Sciences, in particular) should encourage faculty to look into researching the environment as a determinant of health. All in all, Dr. Patterson reminds us that all Blue Hens (faculty, students, and alumni) can do their part to create environmental awareness as a prominent role in our school, and be dedicated to owning responsibility when it comes to climate justice.