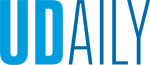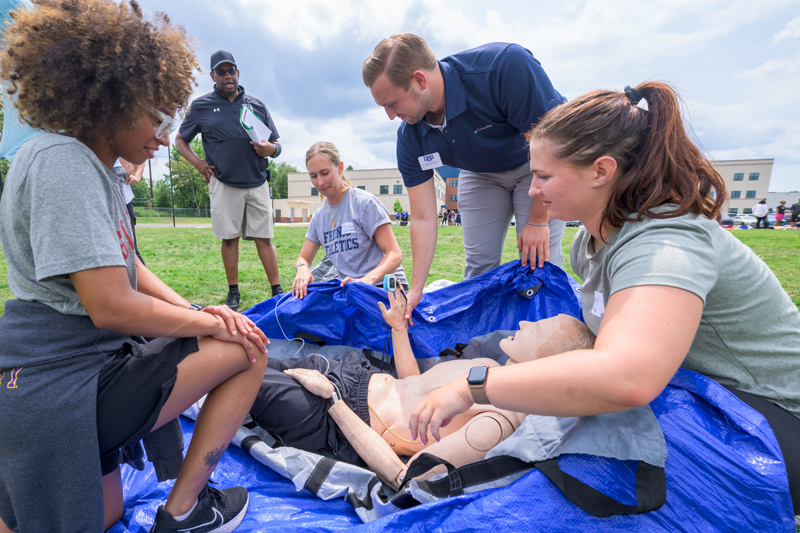 Athletic trainers in action
Article by Amy Cherry Photos by Evan Krape September 06, 2023
UD cohosts hands-on workshop for high school athletic trainers led by UD alumnus
A cross-country runner collapses at a meet as high school athletic trainers (ATs) rush to his side. Simultaneously, the coach, his parents and roommate, and someone from the stands hurried over.
"He's got to finish that race; he's going to PR," the coach yelled.
"Wake up! Honey, what's wrong?" Mom said, tears brimming as she tried to hold her son's head.
Certified high school athletic trainers in Delaware check vital signs, including his pulse and blood pressure to determine the next steps. After deciding the runner is suffering from exertional heat stroke, they move to quickly cool him through an ice bath immersion using a body bag — not a tarp.
"I'm a doctor, and I'm not sure you're doing that right. Has anyone checked his blood sugar?" asked the man from the stands.
"What kind of doctor are you?" asked one of the athletic trainers.
"I have a Ph. D. in history," the man replied.
"Sir, please step aside," said the athletic trainers, who continued their work around a host of distractions as the athlete's roommate hyperventilated and one of the ATs tended to her.
This is a scenario that high school and college-level athletic trainers could face at any moment as the fall sports season gets underway. It's also one of several simulations using high-fidelity mannequins that 65 members of the Delaware Athletic Trainers Association (DATA) faced in a recent hands-on workshop by Sports Medicine Emergency Management, a company co-owned by University of Delaware College of Health Sciences (CHS) graduate Darryl Conway and Ed Strapp, a Maryland State Police trooper, flight paramedic and athletic trainer. Conway, who obtained his undergraduate degree in 1993 in athletic training, went on to work for the University as an assistant professor and athletic trainer. He's now in his eleventh season with the University of Michigan athletic department as executive senior associate athletic director and chief health and welfare officer.
"Athletic trainers are vultures on a perch," Conway said. "We see incidents happen on the field, and we react. Our scenarios reflect that, so the athletic trainers get a real-life rehearsal of their emergency action plan.
"We expect them to take vitals; we expect them to use their equipment and call 911. If you call 911, somebody will act as the 911 operator. If you don't call 911, EMS never shows up. If you don't send someone to meet EMS, then EMS gets lost."
The workshop paired new athletic trainers with 30-year veterans to test their skills in the preseason boot camps held at Newark Charter Junior High School in Newark, in New Castle County and at POLYTECH High School in Woodside in Kent County.
In his 27 years as an athletic trainer at Salesianum School, Joe Szczerba, who obtained his bachelor's degree in health and physical education and master's in exercise physiology from UD, said he often sees musculoskeletal injuries and fractures but, at times, has had to administer CPR on spectators in the stands.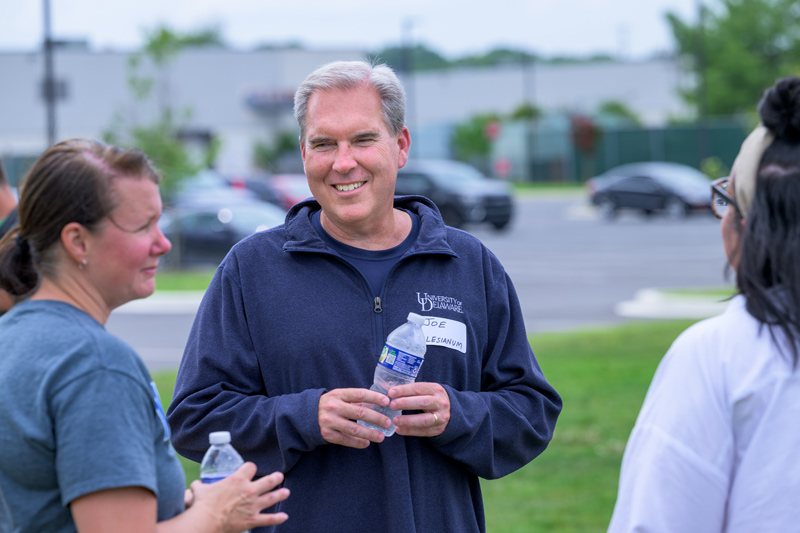 "This course is of the utmost importance as we head into preseason sports, and the emergency scenarios are fantastic," said Szczerba. "It's been an invaluable experience." 
Szczerba also learned new best practices. 
"There's been a huge movement toward the gold standard for heat illnesses and how to take core body temperatures," Szczerba said. "New research also suggests removing the helmet and shoulder pads before transporting an athlete with a suspected head or neck injury. In the past, we would only remove what we had to remove, but now there's an emphasis on the fact that ATs are the experts in removing sports equipment — not EMTs or physicians." 
Heather Heidel, who graduated from UD with a bachelor's degree in athletic training in 2009, has been the lead athletic trainer at Sussex Technical High School for 13 years. 
"Since I've graduated from college, standards have changed," Heidel said. "Practicing these skills and our emergency action plans annually helps us stay on top of best practices. I've never had to administer CPR on the field or deal with heat illness, but knowing the new gold standard and best practices will help me if I ever come into that situation."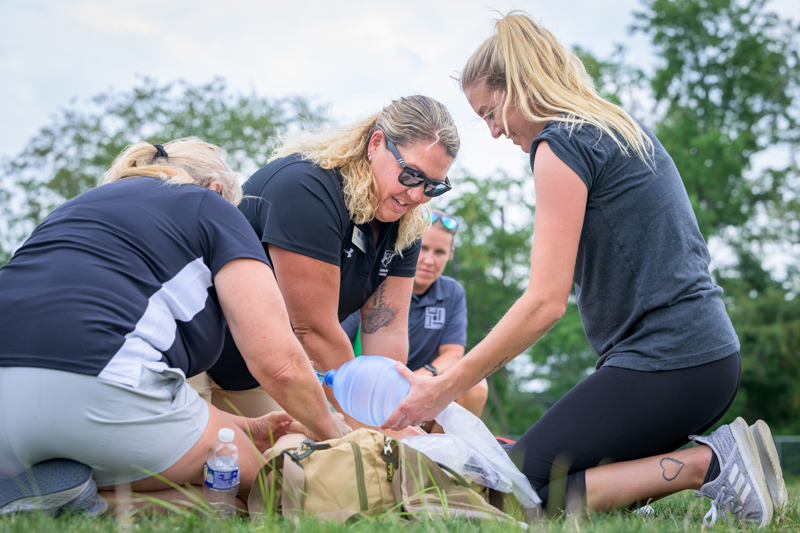 Other scenarios athletic trainers faced during the workshop included sudden cardiac arrest, opioid overdose, a cervical spine injury, an isolated head injury, a mental health emergency, and a mass casualty incident.
"Whether it's an active assailant, a bleacher collapse, a microburst or tornado, or a bus accident on the way to a game on a Friday night, we want to see how these ATs would immediately manage those scenes so that they can practice their leadership and triage skills," Conway said. "The first 10 minutes of a mass casualty scene, where athletic trainers must make calm out of chaos until more resources arrive, are vitally important." 
The mass casualty incident was a new type of training for Heidel. 
"We were never trained in wound packing," Heidel said. "But with increased school shootings and mass shootings, it was good practice for me. I had never put a tourniquet on until this workshop." 
Jeffrey Schneider, senior instructor of kinesiology and applied physiology (KAAP) at UD, spearheaded efforts to bring Conway back to Delaware to host the workshop in conjunction with his former student, Kathleen Kenney, who's now president of DATA, and Laurel High School's athletic trainer. 
"ATs are prepared to handle a wide variety of sport-related injuries including sprains, strains, fractures, and concussions on a daily basis, but they also must deal with the less frequent sudden collapse of an athlete," Schneider said. "This workshop will ensure our athletic trainers are practicing the best standards, and it ensures these skills are fresh in their mind so they can enter the high school sports season feeling confident."  
Kenney, who graduated from UD with her bachelor's degree in athletic training in 2011, has long envisioned bringing an interactive workshop like this to Delaware.
"I hope our athletic trainers feel like they learned something new regardless of how many years of experience they have on the job," Kenney said. "Practice makes perfect, just like playing a sport." 
Bethany Wisthoff, assistant professor of KAAP and director of athletic training education, stressed the importance of ongoing professional development and maintaining strong relationships with alums. 
"It's crucially important that our ATs are practicing regularly so they're prepared for the moments that hopefully won't occur," Wisthoff said. "Many of our UD AT alumni stay in the state and become athletic trainers. We want to make sure that the athletic trainers in the state that are exposed to our students continue their education and create collaborative relationships when it comes to emergency care skills practice. We hope our current students see Delaware high school athletic training jobs as desirable options post-graduation."
In recent months, Damar Hamlin's sudden collapse during a Buffalo Bills game and LeBron James' son, Bronny James' collapse on the court while practicing with the University of Southern California, have thrust athletic trainers into the spotlight when they usually play behind-the-scenes roles.
"Athletic trainers are among a school's most important hires because they make decisions that have life or death consequences," said Matthew J. Robinson, director of UD's Community Engagement Initiative (CEI) and professor of sport management in the Lerner College of Business and Economics. "In those cases, the athletic trainers were the people who were trained and stepped in to prevent a true tragedy." 
That's why Robinson, who has a joint appointment in CHS, eyed the workshop for funding. With generous support from CEI, athletic trainers attended the workshop for free. 
"We recognized the need in the community to help a partner host a workshop that's impactful for all student-athletes and athletic trainers in the state of Delaware," Robinson said. "ATs are often the most underappreciated member of a sports team, but their role is so important, so we were happy to make this happen and support that group of professionals. We'd also like to see this become sustainable, so it's a continued professional development training for all ATs in the state."
Conway welcomes that idea.
"Delaware is home and special to me. I'd love to come back every year," Conway said. "This workshop proves that Delaware's athletic trainers are skilled healthcare professionals, and this opportunity allows them to practice those low-frequency but high-fidelity skills — emergency skills they don't use often but when needed, they need to be done right to save a life."