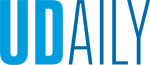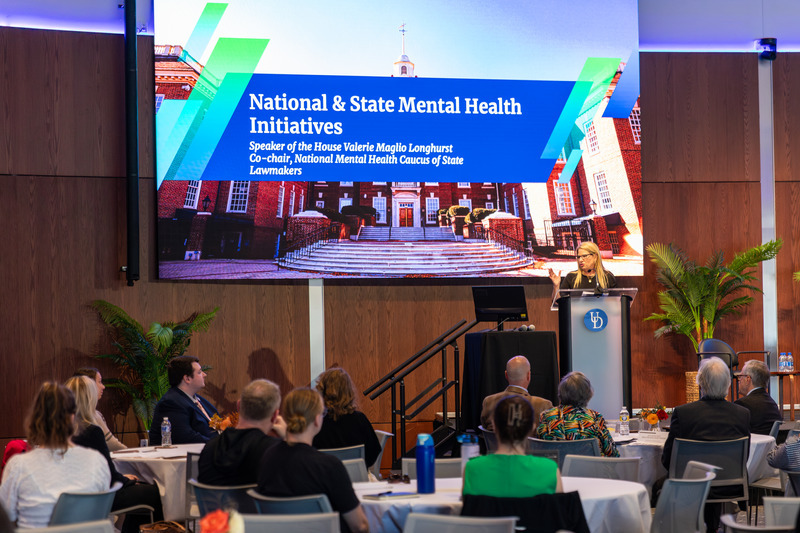 Putting mental health first
Article by Colin Heffinger Photos by Ashley Barnas November 14, 2023
At UD's Hayes Symposium, experts discuss mental health needs in Delaware and beyond
A panel of eight experts from backgrounds including politics, law enforcement, workforce development, women's health and more joined together with hundreds of attendees on Wednesday, Oct. 25, for the 10th year of the Evelyn R. Hayes Innovations in Healthcare Symposium, hosted by the University of Delaware's College of Health Sciences.
The Hayes Symposiums started in 2014 as a series to encourage conversation about advancements throughout healthcare, with prior symposiums covering topics such as suicide, substance abuse, diabetes, hypertension and Parkinson's disease. This year's Hayes Symposium was centered around innovations in care for mental health.
Evelyn R. Hayes, Trustees Distinguished Professor Emerita in the School of Nursing, sponsors the Hayes Symposiums and starts each with a call to action.
"It is here at STAR Tower that we see firsthand how research is translated into impact for patients in Delaware and beyond," Hayes said. "I ask that we all take the opportunity to reflect on our unique skill set for meeting the needs of these patients and improve health outcomes going forward."
Mental health initiatives
To kick off the symposium, Valerie Longhurst, co-chair of the National Mental Health Caucus of State Lawmakers and a Speaker of the House for Delaware, provided an update on national and state initiatives for improving mental health outcomes.
Since an interaction with a 14-year-old girl kicked out by her father, Longhurst has passed legislation such as bringing more counselors into schools, developing a mental health curriculum that spans K-12, and introducing a suicide prevention course for all educators and staff. She stressed the importance of each state having a mental health department, including accessible mental health experts in every school district.
"Before the COVID-19 pandemic, people weren't paying attention to mental health," Longhurst said. "Now the snowball effect is moving down the hill and we're working to develop infrastructure to make lasting impacts. It's important to start uphill, not downstream, to create access to services as soon as possible."
Mental health landscape in Delaware
Following Valerie's update, Joanna Champney, director of the Division of Substance Abuse and Mental Health in the Delaware Department of Health and Social Services, led a presentation entailing the current mental health landscape in Delaware.
"The NIH estimates 26% of Americans are living with a mental health disorder, while 46% will experience a disorder over their lifetime," Champney said. "156,000 Delawareans, or roughly 15% of our total state population, reported having a mental health illness in 2021 alone. Of those, only 143,000 received treatment."
To overcome this gap in mental health care, the state has digitized program quality assurance processes serving those who face serious and persistent mental illness, expanded use of behavioral health peers throughout channels of service, and launched a behavioral health care coordination platform, the Delaware Treatment and Referral Network (DTRN 360). This platform works to improve quality and coordination of care, reduce administrative burdens and increase access to public health services.
"We're treating more mental health cases than ever before," Champney said. "With new partnerships such as the Delaware Psychological Association, we've created easier access for patients to directly reach out to clinicians. As one of only four states without a Certified Community Behavioral Health Clinics (CCBHC), it's essential that we create options for healthcare providers to directly serve or outsource these services and fill in mental health needs across Delaware."
Mental health and workforce development
Doug Tynan, president of the Delaware Psychological Association, then gave a presentation titled, "Interprofessional Workforce Development and Mental Health in Delaware." Tynan explained how the next step forward is to collectively transform attitudes and approaches toward mental health, with the goal of creating and providing sufficient professionals to serve the mental health needs of our country.
"The United States is facing a shortage of mental health clinicians," Tynan said. "In total, there's only 763,500 clinicians spread across 334 million people. For us, that number is as low as 1,409 clinicians to serve over a million Delawareans."
Not only is the workforce of mental health clinicians severely limited, but as few as 60% accept insurance and most are distributed throughout New Castle and upper Kent counties, restricting access in southern Delaware. To ensure that patients can obtain care specifically when needed, mental health care requires innovations such as access to crisis stabilization on-site, a mobile crisis unit, mental health services in primary care, peer support and self-care through video guidance and apps.
"As we aim to fix primary care services throughout Delaware, it is critical that we include mental health," Tynan said. "Looking ahead, we can improve our state's mental health services by recognizing mental health small businesses, integrating care, creating these innovations for access and providing in-state training programs that serve all professions."
Community impact discussion
To explore different perspectives on how mental health innovations impact Delaware communities, a panel moderated by State Representative Michael Smith included insights from Meena Ramakrishnan, epidemiologist and public health consultant; Colleen Kearns, law enforcement for New Castle County Police; Teri Lawler, school psychologist; and Charles Webbs, director for the State of Delaware Office of Evidence-Based Practice.
"It all starts with the impact on maternity," Ramakrishnan said. "Half of our maternal deaths had a mental health diagnosis, and two-thirds of those were the result of substance abuse. There needs to be the right people available for patients to communicate with. Filling this gap is an opportunity for us to expand critical services to women during pregnancy."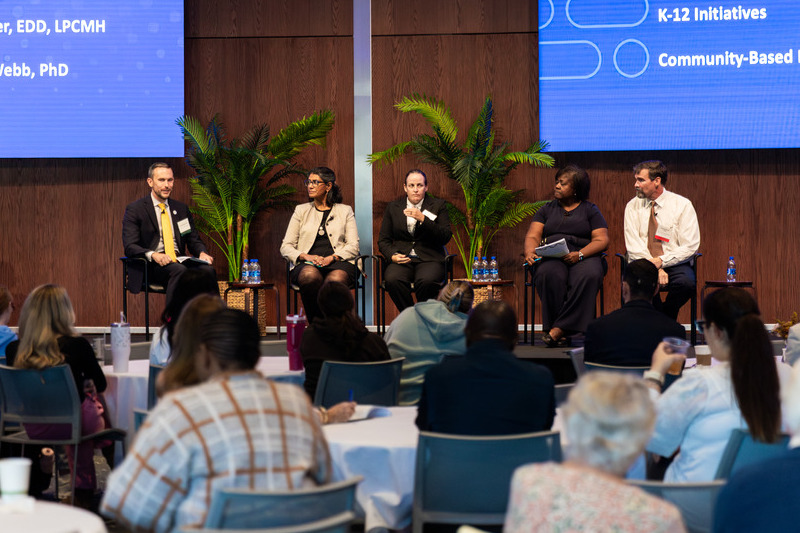 Kearns reflects on how the New Castle County Police have adapted to better serve the needs of clients calling 911 for mental health. 
"During the COVID-19 pandemic, we became integrated with community support services," Kearns said.
"Strengthening this integration further, schools partnered with communities to have follow-up contact with families after a traumatic call from 911," Lawler said. "We've also included mental health literacy across K-12 and have been committed to providing a sense of belonging and support to all students."
Webbs highlighted how the path ahead lies in implementation. 
"Implementing evidence-based practice is the key to moving forward," Webbs said. "We're collaborating with the Center for Training and Education as well as the Center for Drug Studies to apply the best methods for helping young people in the face of depression and anxiety, which has been in huge increase since the COVID-19 pandemic."    
Institute for community mental health
Ryan Beveridge, executive director of the Institute for Community Mental Health (ICMH) located at STAR Tower, offered a comprehensive update on their solutions to the mental health services gap. ICMH provides psychotherapy, diagnostic assessments and psychological evaluations to employ an evidence-based approach to mental care for all community members, including children, adolescents and adults.
"The problem is that over 60% of all U.S. counties don't have a single psychiatrist, leading to over half of Americans missing out on the mental health care they need," Beveridge said. "This is further exacerbated by current challenges of translating science and efficacy trials to implementing interventions directly into communities."
To address this issue, The Delaware Project, sponsored by the National Institute of Mental Health, integrates all steps of the intervention process together — eliminating stagnation and ineffectiveness. The Center for Training, Evaluation and Community Collaboration (C-TECC) contributes to this innovation by collaborating with stakeholders and training both providers and students to operate effectively in their community settings. From here, ICMH directly offers the high-quality care and capacity that is most needed throughout communities.
"Think about someone you know who is facing a mental health issue," Beveridge said. "Those people need us to come together and strategically confront these prevalent challenges in providing the best mental health care for our loved ones."
Freda Patterson, associate dean of research and professor in the Department of Health Behavior and Nutrition Sciences, encouraged attendees to think about committing their endeavors to address mental health needs in Delaware. 
"The only way we provide this essential care is if we work together to galvanize the ideas discussed today into action," Patterson said.
Resources
For any student in need of support or assistance, UD's Division of Student Life provides a variety of resources.
Students can connect with the Center for Counseling and Student Development at 302-831-2141. The UD Helpline is available at 302-831-1001 at any time, night or day, for students feeling anxious, overwhelmed, depressed or otherwise in need of counseling.
In addition, staff members in the Office of the Dean of Students are available to assist any student who wishes to talk. Call 302-831-8939 to schedule an appointment.
Mental health support for UD benefited employees is provided from ComPsych® GuidanceResources®. The link provides steps on how to access services or call 1-877-527-4742 for support.