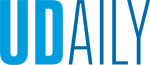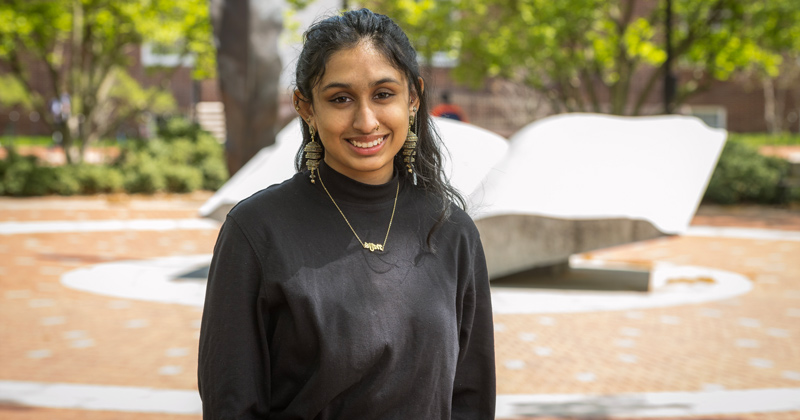 Truman Scholar
Article by Erica K. Brockmeier Photo by Kathy F. Atkinson May 19, 2023
A cybersecurity advocate, UD junior Shreeya Parekh is double majoring in computer science and political science
Shreeya Parekh, a University of Delaware junior earning a double degree in computer science and political science, has been named a 2023 Truman Scholar. This highly competitive national award recognizes outstanding leadership potential, a commitment to a career in government or the nonprofit sector and academic excellence.
Parekh, an Honors College student from Bear, Delaware, is one of 62 new scholars chosen from a nationwide pool of 705 nominated candidates. Parekh is UD's 22nd Truman Scholar.
"The University of Delaware has a strong history of finalists and winners of the Truman Scholarship, and we were named a Truman Scholar Honor Institution because of our record of winners and our support of candidates," said Kristin Bennighoff, senior associate director of the Honors College and adviser for the Truman Scholarship for the past 10 years. "We are so proud of Shreeya and look forward to seeing the impact she will make thanks to this scholarship."
Merging computer and political science
Parekh attended Appoquinimink High School, where she chose a computer science pathway because of how the knowledge could be "applied to virtually any field and any issue," she said. After enrolling as a computer science major through the College of Engineering with a minor in political science, she quickly realized that she wanted to study both fields in depth and added a second major in political science from the College of Arts and Sciences.
"There were a lot of news stories about cyber-attacks, and I started to realize that there's a huge connection between political science, specifically social justice, and computer science," Parekh said. "I wanted to understand how technology can either uplift and hinder marginalized communities, and how we can address that through policy."
Parkeh has long been interested in the technical aspects of cybersecurity, and she is also part of UD's Cybersecurity Scholars Program. While taking a class called Humanizing World Politics (POSC 409), taught by associate professor Matthew Weinert, Parekh said she began thinking more about the political implications of cyberattacks and how important it was to ensure that people around the world have a sense of dignity and know their rights in cyberspace.
"As I delved into the topic further," she said, "I was seeing more about how cyber security technologies like spyware have been used to infringe on human rights and human security, which is when the connection between computer science and political science really started merging."
Parekh had the opportunity to delve even further into this area while conducting independent research as a McNair Scholar during the summer after her sophomore year. Through this research, she evaluated how spyware threatens human security and rights around the world and provided several policy suggestions, including the need for more studies on cyber weapons and a call for a moratorium on the sale of spyware programs.
"We really need to focus on strengthening the link between digital technology and cyber security, specifically with spyware, to very clearly protect human rights and human security," she said about the findings of her research. "Because of the nature of digital technologies, everything is interconnected, so a human digital security concern for one person could cause a security concern to another person halfway across the world."
Weinert supervised her research.
"I was especially proud of the fact that Shreeya was grappling with a new threat to human security — one that the UN Development Programme, which introduced the human security framework in 1994, only began to consider in early 2022," Weinert said. "This is by definition avant garde scholarship."
Elevating and empowering underrepresented students
Outside of her academic achievements, Parekh spends her time elevating and supporting students from underrepresented groups, both at UD and in the local community.
Parekh is a member of UD's Computing Promotions Undergraduate squad (CPUs), a group of students from the Department of Computer and Information Sciences who are dedicated to addressing the needs of students by promoting a sense of community. They do this by hosting events, from social activities like game nights and e-sports competitions (and most recently the HenHacks hackathon), professional development activities including "Pizza with the Profs" and advising events, and connecting with prospective students during Blue and Golden Days.
"One of our biggest goals is to make our department and our program as inclusive as possible," said Parekh, whose role in the CPUs involves researching and promoting diversity, equity, and inclusion. "Being able to create that sense of community with people so that they know that they can take space, and they're empowered to continue on their path."
Debra Yarrington is an assistant professor and faculty adviser for the CPUs.
"Shreeya has worked continuously in all aspects of the group's activities to promote inclusion," Yarrington said. "She works to make sure that future students know that our department fosters an inclusive environment — an environment she has helped to create — and is passionate about making a positive difference and making sure everyone feels and knows they are welcome."
Parekh is also a co-founder of Students Thriving in Excellence and Purpose Delaware (STEP UP DE), a nonprofit organization whose goal is to empower low-income and at-risk youth. She and a team of volunteers work with local high school students through mentorship programs, workshops and hands-on educational activities.
Parekh is passionate about volunteering her time to support students from underrepresented backgrounds because of her experience growing up as a child of immigrants and who is now working in a field that still faces significant gender and racial disparities. "I tended to be one of the only women and one of the only people of color in my classes, so I was always worried about whether or not I would fit in or if I 'deserved' to be there," she said. "One of my main goals is to make sure that everyone, especially underrepresented groups, feel empowered to take up space. Essentially, my main motivation is to be the mentor that I wish I had."
'Change agent'
Parekh, who will attend the Truman Scholar Leadership Week in Liberty, Missouri, worked with Bennighoff on her application, selection of recommenders and interview preparation. Truman Scholarship interviews are notoriously difficult, so practice interviews are essential, said Bennighoff, who will join Parekh in Liberty for the end of week festivities. "Shreeya did an excellent job with her practice interviews, and I knew she was well-prepared for answering any questions and defending her points of view," Bennighoff said.
After graduation in 2024, Parekh hopes to combine her interests in digital technology and social justice through a technology policy graduate program. Her long-term goal is to conduct research on technology's impact on society to develop equitable algorithms and privacy practices, build policies and safeguards to help protect vulnerable communities and support equitable innovation in cyberspace.
"Shreeya is a change agent," Weinert said. "She is so deeply committed to understanding the world and affecting positive change, whether with regards to indigenous peoples, defending human rights by exposing the ways even 'democratic' governments undermine them, or redressing the negative effects of surveillance technologies on marginalized communities."
Yarrington added, "Shreeya is a genuinely nice, friendly, positive and inclusive person. She helps other students without ever showing off, yet at the same time is poised, confident, and quick to answer in a straightforward, competent manner. I really do think she can accomplish anything, and I'm so glad what she's passionate about is changing the world for the better."
Parekh said that her experiences at UD have given her the confidence to continue pursuing her interests in a way that excites her about what's to come. "And now, with the Truman Scholarship, I'll have that full sense of support with all these financial and academic networks and resources," she said. "Overall, I'm really grateful to everyone who helped bring me here — my family, my friends, and the professors who have supported me."
About the Truman Scholarship
The Harry S. Truman Scholarship Foundation was created by Congress in 1975 to be the nation's living memorial to President Harry S. Truman and national monument to public service, with a mission to select, support and inspire the next generation of public service leaders.
Truman Scholars are chosen based on their outstanding leadership potential, a commitment to a career in government or the nonprofit sector and academic excellence. They receive funding for graduate studies, leadership training, career counseling, and special internship and fellowship opportunities within the federal government.
The 62 new Truman Scholars for 2023 were selected from 705 candidates who were nominated by 275 colleges and universities. They were recommended by 17 independent selection panels (including distinguished civic leaders, elected officials, university presidents, federal judges and past Truman Scholarship winners) based on the finalists' academic success and leadership accomplishments as well as their likelihood of becoming public service leaders.
Additional reporting by Hilary Douwes