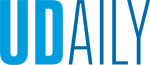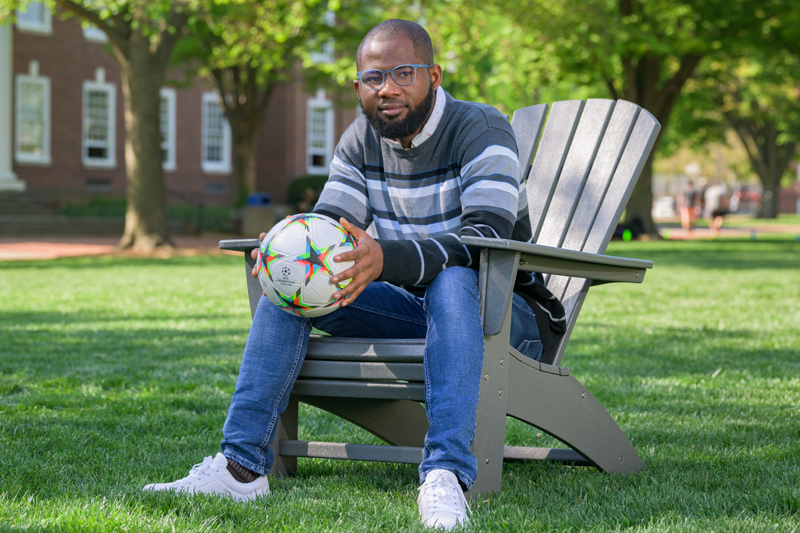 Outstanding in his field
Article by Erica K. Brockmeier Photos by Evan Krape and courtesy of Abdulmalik Yusuf May 12, 2023
Mechanical engineering graduate student Abdulmalik Yusuf receives 2023 Laird Fellowship
On any given weekend in the parks and sports fields across town, you're likely to find Abdulmalik Yusuf, first-year graduate student at the University of Delaware, out on the soccer pitch. He usually plays as a central midfielder, a position that requires players to have both versatility and stamina, acting as both defense and offense as they try to control the middle of the field.
Yusuf's versatility, stamina and skill also carry over into his life outside of sports, where he takes graduate-level courses and conducts innovative research, all while using his spare time to mentor students and support important causes back in his home country of Nigeria.
This outstanding and well-rounded scholar is now the latest recipient of the George W. Laird Merit Fellowship, an award that recognizes outstanding scholarship by a first-year graduate student in the College of Engineering who also has a variety of interests and talents.
"I am thrilled that Abdulmalik has been selected as a Laird Fellow. He joins a very special community of former Fellows who have gone on to achieve great things," said Ajay Prasad, Engineering Alumni Distinguished Professor and chair of the Department of Mechanical Engineering. "The Laird Fellowship recognizes more than just academic brilliance; it specifically looks for an individual who possesses qualities such as broad intellectual curiosity and imagination, and strong character. These are traits that Abdulmalik fully embodies."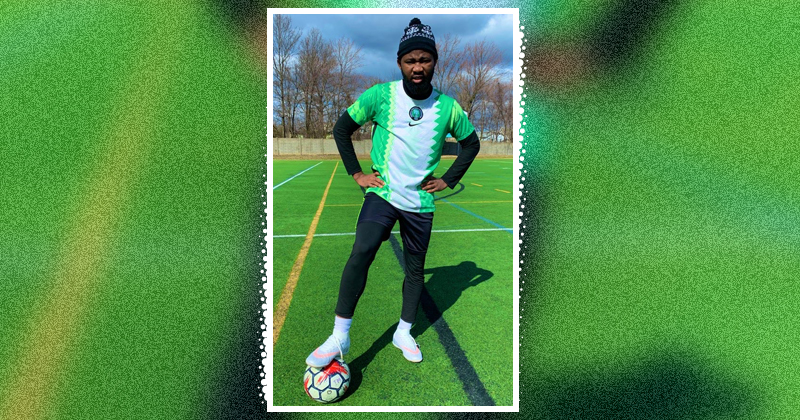 A passion for understanding and improving machines
Yusuf grew up in Ibadan, located in the Oyo state of Southwestern Nigeria, and earned a bachelor's of engineering degree from the Federal University of Technology, Akure, one of the top 10 universities in the country. Yusuf said he is motivated by his passion for understanding how machines work and, more importantly, how they could be improved. 
"I've always been a big fan of asking 'why' and understanding how things work, and that fascination brought me into mechanical engineering," he said. "I'm particularly interested in rotating machines, because they are the ones that fascinate me the most, and I'm also interested in how they can be improved in terms of safety and energy efficiency."
Yusuf is now a first year Ph.D. student and graduate research assistant in the Department of Mechanical Engineering and is working in the Materials Tribology Laboratory run by associate professor David Burris. Tribology is the study of adhesion, friction, wear and lubrication, which are key drivers in a machine's efficiency and durability. 
Burris explained that tribology is a challenging field of study because of the need to look at how materials interact with one another at incredibly small scales, such as the level of a single atom. 
"Our approach is to develop new instruments for doing this work, which gives us a lot of options that we wouldn't have if we were only using commercially available instruments," Burris said about his group's area of expertise in the field. 
Part of Yusuf's project involves using his lab's innovative equipment to study asperities, the surface-level imperfections in a material that can only be seen with a powerful microscope, in a specific type of polytetrafluoroethylene (PTFE, more commonly known as Teflon). To do this work, Yusuf is using a unique nanoscale tribometer to measure incredibly small forces (in the micro- and nano-Newton range) to see how interactions between individual asperities influences a material's wear and friction.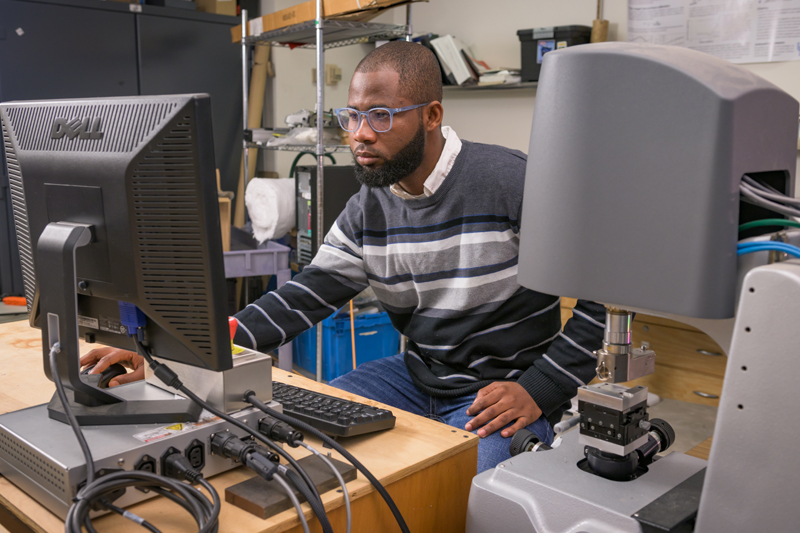 The work itself is very technically challenging, Burris said, from precisely calibrating the device to even just loading the samples into the instrument. 
"The spheres of PTFE are often less than a quarter the diameter of a human hair. That's what Abdulmalik is mounting onto a small piece of steel," he said. "Even just mounting these things and getting all the sensors aligned is difficult, and I've been amazed by how quickly he has gotten up and running with this work."
The long-term goal of this research is to gain a better understanding of the mechanisms of adhesion and friction at the atomic level, which can help researchers better understand how those small-scale impacts influence the downstream properties of a material. This project's focus on PTFE also has the potential to reduce friction in devices that use this material, with possible applications including improved battery efficiency. 
"Friction is an important topic in the energy world: If we can control friction, we can reduce the amount of energy we use," Yusuf said. "If we understand how asperities behave at a small scale, we can better predict and control the material's overall performance."
Strategic and supportive 
Outside of the lab, Yusuf regularly volunteers with two Nigerian nonprofit organizations, the Food and Genes Initiative (FAGI) and Get Educated Get a Skill (GEGAS) Africa, and supports their ongoing efforts around advocacy, outreach and mentoring in his home country. 
Founded in 2019, FAGI's goal is to provide sustainable, scalable and prevention-based solutions to combat drug abuse, malnutrition and non-communicable diseases in Nigeria. FAGI works in partnership with national and global organizations to coordinate outreach activities, host public awareness campaigns and to connect with young people across the country. 
Samuel Ogunsola, founder and executive director of FAGI and a Ph.D. student at the University of Manitoba, attended high school and university with Yusuf, whom he said has been instrumental in FAGI's activities since its founding. "Abdulmalik is a very hard-working, smart and innovative person, and he is great at developing strategies and is instrumental in the ways we plan out our projects," Ogunsola said. "He is great at thinking outside of the box on how we can improve the world and is overall a wonderful person to have on our team." 
Also founded in 2019, GEGAS Africa's goal is to improve education access for students in low-income communities. In partnership with local and international organizations, GEGAS organizes workshops to improve vocational skills, provides need-based scholarships for students, and hosts mentorship programs for those who need additional support. 
Oluwaseun A. Adekoya, the convener of GEGAS and a graduate student at the University of Cincinnati, also attended university with Yusuf and said that he is a very supportive mentor for the organization's students.
"He is not just an expert when it comes to physics and science, but also when it comes to life," Adekoya said. "One of his favorite sayings is 'if I can do it, they can do it as well,' and he's been a really beautiful and unflinching source of motivation." 
A well-rounded scholar
Whenever he needs a break, Yusuf enjoys taking pictures of his friends and the nature around Newark. He first became interested in photography while working as the official photographer in the National Youth Service Corps, where Nigerian university graduates work for the national government for one year. 
"I find it to be a great creative outlet," Yusuf said. "Whether it's capturing the beauty of nature or the energy of a city street, I love to explore the world through my camera lens."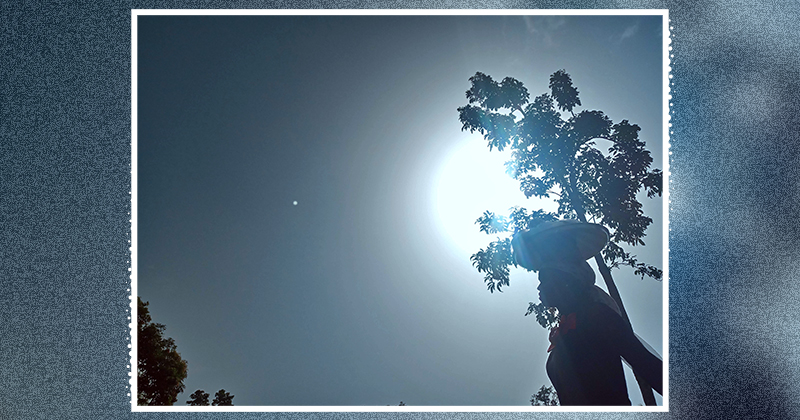 Yusuf also regularly uses sports, notably soccer and table tennis, to help him unwind and relax. 
"When I'm playing soccer, I forget everything around me — I don't think about academics, or work — I just take in the moment," he said. "Whenever I play, I feel revitalized and re-energized."
Yusuf added that being named as a Laird Fellow has energized him even further and has made him excited for what he can do next. 
"It's helped put me in a mindset that any big challenge I face is up to my league, that it's something I'm capable of. I tell myself that 'you can do it, you are the Laird fellow, you can attack things differently,'" he said.
Burris described Yusuf as "one of the strongest students I've ever mentored" thanks to his expertise in doing both the complicated and delicate hands-on work in the lab while having deep understanding of the technical concepts underlying his research.
"Usually you find somebody who is really good with their hands, or they're really good at doing literature reviews. Abdulmalik has really surprised me with his abilities in both areas," he said.
Whether it's attacking or defending during a soccer match, providing strategic insights into volunteer efforts, mentoring students remotely, or doing complex hands-on research while understanding the equally complex theories behind it, it's clear that Yusuf's versatility, stamina and well-rounded skill sets will continue to position him for success, both on and off the field.  
About the Laird Fellowship
The Laird Fellowship honors the memory of UD alumnus George W. Laird, who earned a bachelor's and master's degree from UD. After passing away in a tragic accident at the age of 35, Laird's family and friends established the fellowship fund. 
The Laird Fellowship is designed to encourage the recipient to become engaged in broad intellectual pursuits that can be outside of the recipient's chosen field of study. The Fellowship, which comes with $27,500 in tuition funding, has been granted annually since 1978.