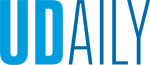 Protector. Provider. Champion.
Article by Karen B. Roberts Photo by Evan Krape | Photo illustration by Jeffrey C. Chase May 05, 2023
Julius Korley discusses his vision for accelerating innovation at UD
When Julius Korley was in the fifth grade, his mother, Walter Mae Korley, was diagnosed with Lupus, an autoimmune disease that affects 1.5 million Americans and causes the body's immune system to attack its own tissue.
Because of his mother's condition, Korley decided then that he wanted to become a medical doctor so he could treat her illness and eventually cure her. A future encounter with a biology professor at Clark Atlanta University expanded his career aspirations to include a doctoral degree, in hopes of combining his interests in medicine and research. But it would be a pivotal conversation with a mentor, Alan Crane, some years later that would help Korley understand that he didn't need a medical degree to have an impact on disease.
"I realized that coming up with a new drug, medical device or methodology for patient treatment could touch many more patients than I physically could reach. So, that is what pushed me towards invention," said Korley, who took the helm as associate vice president of the Office of Economic Innovation and Partnerships (OEIP) at UD in April 2022.
This realization poised the budding scientist, business leader and entrepreneur to change course in his quest to help others, ultimately leading him to launch a startup company, pursue technology development and work to commercialize the inventions of others in academia. With each role, Korley expanded his sphere of influence and his ability to make the world a better place.
Today, Korley is reshaping OEIP to better serve UD's community of inventors and entrepreneurs. As the nation celebrates National Inventors Month in May, UDaily caught up with Korley to discuss his vision.
Why do you think innovation and entrepreneurship are important?
For me, personally, it's about impacting the human condition and improving lives. I am certain that if we can get more University of Delaware technologies into the marketplace, we will change people's lives for the better.
What is your vision for the Office of Economic Innovation and Partnerships (OEIP)?
The vision is to grow OEIP. This starts with growing the technology transfer team and embedding them in the colleges to spur more innovations. We want to build relationships with our faculty members and industry, to make it easier to move technologies forward. This requires having the pulse of industry and the ability to readily share with faculty what problems industry are facing and where solutions are needed. One of the biggest failure modes for startups is when there is no market need. We're trying to help our faculty members and startup owners understand the market and what people care about.
The other part of my vision is for OEIP to deliver excellent customer service. We want to be a value-add to inventors developing technologies. This includes providing faculty members or researchers with access to robust due diligence, strategic market research and data-driven information that can help them have the best chance for success in translating inventions and ideas to the marketplace.
What does it take to create this type of vibrant entrepreneurial ecosystem?
The critical pieces of a vibrant entrepreneurial ecosystem aren't a secret. There are many components to this, and I think UD and Delaware have many of these features. At UD, we need great technologies and an office that is responsible for them. There needs to be great entrepreneurial training programs, like the National Science Foundation's I-Corps and Horn Entrepreneurship. There needs to be corporate engagement alongside government relations. At the same time, we've found that if we're going to do something in the state, we need our state and federal government to be involved. Delaware is unique in the way the state and federal government, businesses and academic institutions partner to support this entrepreneurial ecosystem. We know we can do a lot together. I think that model could be the secret sauce for greater influence in the United States and possibly the world. We show here in Delaware that when we collaborate, we punch above our weight.
Speaking of NSF I-Corps, tell us about your role with the Northeast Hub.
In addition to my OEIP role, I co-direct the NSF I-Corps Northeast Hub, a congressionally mandated program that focuses on accelerating the economic impact of federally funded research by building up the entrepreneurship skills of researchers from all backgrounds. In what I do now, I'm typically the only one at the table that looks like me. As a hub, we are working to change that. A Harvard business study showed that having diverse people in leadership is just smart business. Businesses that have diversity in the boardroom, more women, more people of color, have more perspective and they make more money. Representation can be a powerful motivator. I think we can do better business by increasing diversity and making sure that everyone feels included and heard.
What else is needed?
If we're going to really open the gates on innovation at UD, we need incentivized faculty. We need to refine promotion and tenure so that entrepreneurial activities that faculty pursue are recognized. The University is working on this. At OEIP, we want to make it easy for our faculty members to amplify their impact. So, we are leveraging our resources to create a robust innovation engine with the infrastructure, human capital and resources necessary to propel faculty ideas and inventions out of the university and into the community. But what's really going to drive this innovation ecosystem is more faculty disclosing more inventions and working with us to build on what they have started.
Are you an inventor?
Yes. I co-developed a tunable drug delivery system while at Case Western Reserve University that could be implanted or coated on a device to prevent infection. Our initial focus, or target market, was hernia mesh-repair infection. It was a big problem for surgeons. We began collaborating with Michael Rosen at University Hospitals of Cleveland, Ohio, to develop technology to load the mesh with antibiotics that could be delivered over an extended time period. For the hernia-mesh repair, delivering antibiotics over the first 30 days was important. Our tests in the lab and in animal models showed the antibiotic being released from coated meshes killed bacteria, successfully preventing infection. I ran the company from 2010 until 2017, when I joined UD, and then for an additional three years before finally sunsetting the company in 2020.
Describe your leadership style in three words.
Protector. Provider. Champion.
What do you want UD inventors to know about OEIP under your leadership?
OEIP is here to help. We're open for business, and we have the know-how to aid in the commercialization of your technology and expand the impact of your innovation.
In the coming months, Korley plans to take his message on the road, visiting each college to talk with faculty about how they can access OEIP resources to pursue technology commercialization.