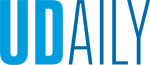 Video about the University of Delaware's Commencement Ceremonies for 2023: youtube.com/watch?v=ynvw1E-HFhQ
UD Commencement 2023
Article by Amy Wolf Photos by Kathy F. Atkinson, Evan Krape and Mikey Reeves | Video by Ally Quinn, Sam Kmiec and Paul Puglisi May 27, 2023
Former astronaut Mae Jemison advises graduates to, 'Look up and remember what inspires you, what you were doing this for and why you cared in the first place'
In the classroom, in research labs, on the athletic fields, in the community — and in ways both large and small — the University of Delaware's Class of 2023 is already changing the world.
Blue Hen pride was overflowing at Delaware Stadium as UD celebrated its newest class of graduates at the annual Commencement Ceremony on Saturday, May 27.
With a crowd of about 20,000 in the stands and on the field, UD President Dennis Assanis began by lauding the accomplishments of the Class of 2023 while also acknowledging the hardships they have faced.
"You've encountered adversity, and you've supported each other. You've spoken out against injustice and complacency to demand change. You generously gave your time and energy when you saw that others needed help," Assanis said. "As you leave the UD campus today, remember that there are no problems you cannot solve, no summits you cannot reach, no vision of a brighter future that is outside your grasp."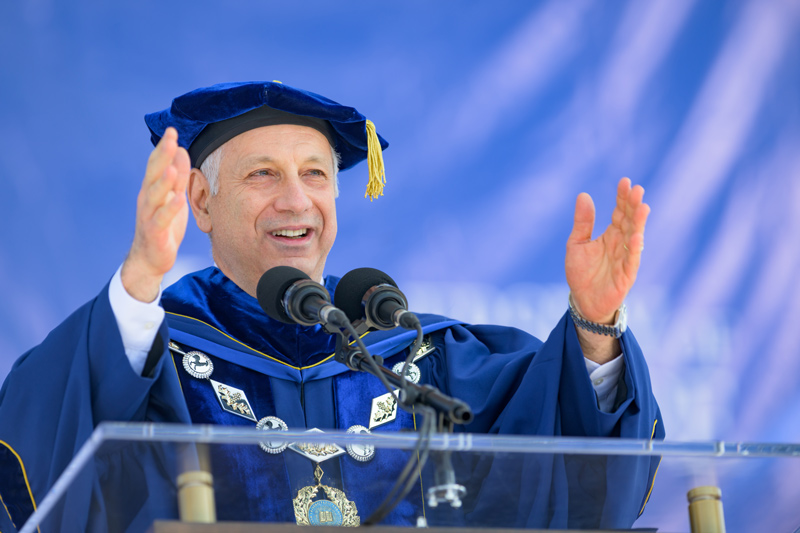 As UD's newest alumni, the Class of 2023 will join the rest of society in trying to solve many complex problems, including climate change, racial and economic inequality, and social and political polarization.
"These are incredibly difficult questions — far too difficult for artificial intelligence to figure out," Assanis said. "Answering them will require you to work together, drawing on your knowledge of science and engineering, the arts and the humanities, public policy, education, business — basically everything you've learned during your time at UD."
Even more importantly, Assanis said, the world will need the Class of 2023's ingenuity, innovative mindset, curiosity, creativity, persistence and optimism.
"I am extremely optimistic because I know that you — the amazing Class of 2023 — will be out there, continuing to change the world," Assanis said.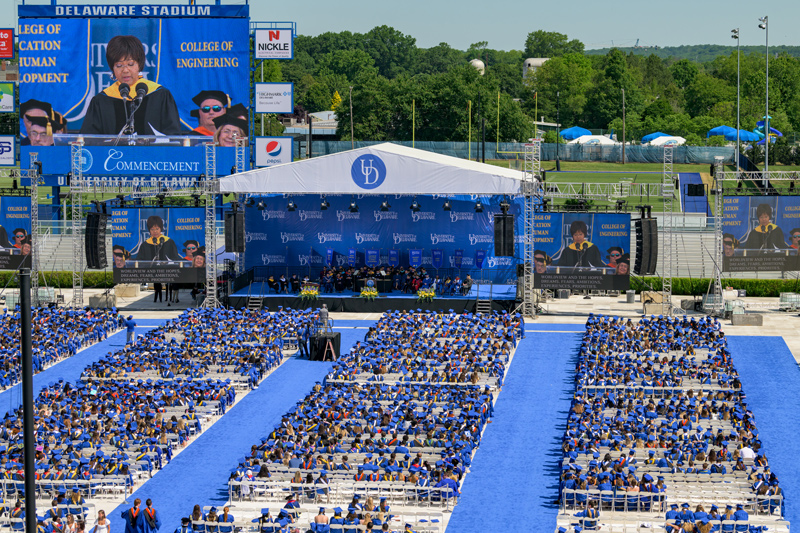 After receiving an honorary doctor of science degree, Commencement speaker Dr. Mae Jemison, thought leader and a former NASA astronaut and the first African American woman in space, emphasized that it is the choices that UD grads make that will effect change and beneficially impact the world.
"You can take action, and I know that you're up to the challenge, because you have the same resilience and potential that every child is born with. You, as a living creature, are both tenacious and fragile," said Jemison, who earned engineering, social science and medical degrees. "Make sure your actions are imbued and steeped in that understanding. Actions taken in the past have created the world today. The action we take today can build a beautiful world tomorrow."
Jemison encouraged graduates to look up from their devices and observe the world around them.
"Look up at the sky, the clouds, beyond the sun, the moon, the stars when you need to recharge your spirit," she said. "Let the gravity of Earth give you a warm hug. Look up and remember what inspires you, what you were doing this for and why you cared in the first place."
Indeed, Jemison said it was looking up beyond Earth — not down on it during her spaceflight — that sparked her recognition that she is a part of the universe "as much as any speck of stardust."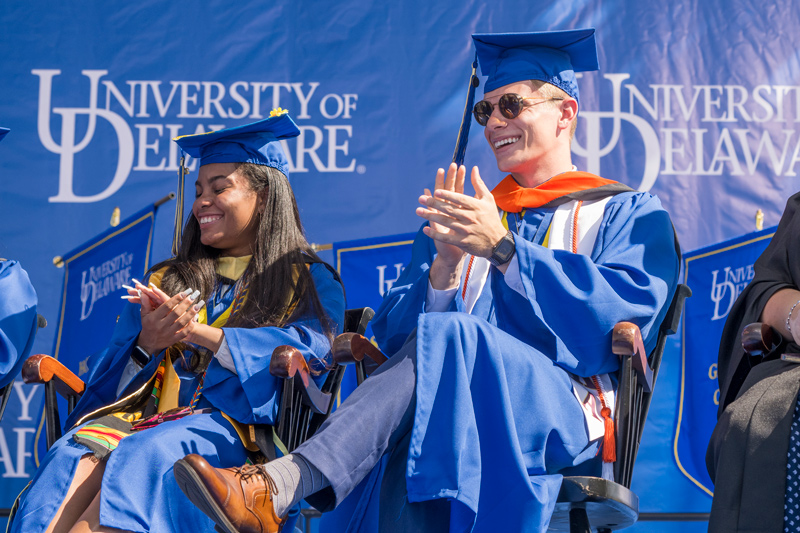 Assanis, Provost Laura Carlson, Board of Trustees Chair Terri L. Kelly, Delaware U.S. Sen. Chris Coons, University administrators, trustees, deans and distinguished students and faculty joined Jemison on the stage at Delaware Stadium. 
Saturday's ceremony was the largest of several festive events on campus this week, including UD college convocations and the Doctoral Hooding Ceremony, all designed to celebrate the accomplishments of the Class of 2023.
During the Commencement ceremony, Assanis recognized all graduates, including those who studied abroad, Blue Hen student-athletes, students who participated in service organizations and those who graduated with honors.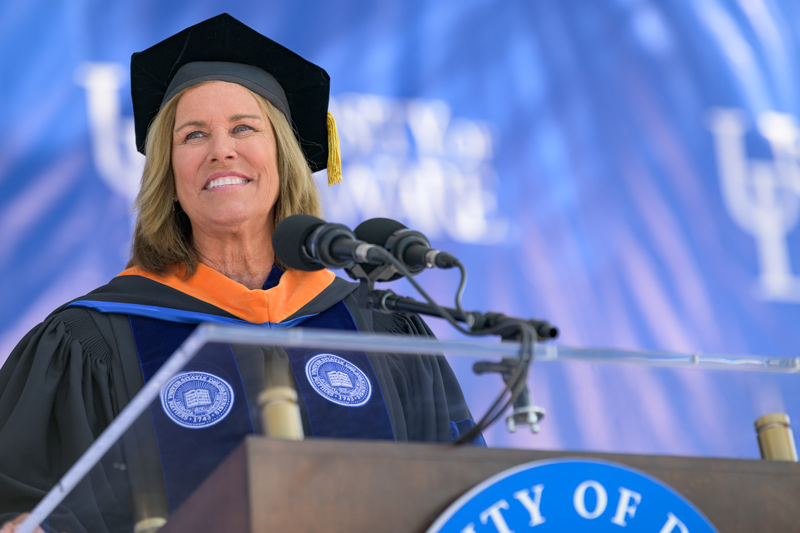 Some 6,186 graduates earned 6,347 degrees. Among them were Ishika Govil, who earned this year's highest grade-point index; Aniya Brown and Brenden Swanik, the recipients of the Warner and Taylor Awards for outstanding seniors; Willa Lane, who earned a Gates Scholarship; Govil, Rebecca Beswick and Renea Briner, who earned Goldwater Scholarships; 10 students who earned Fulbright Scholarships; and four who earned National Science Foundation Graduate Research Fellowships. Graduates spanned in age from 18 to 82 and hailed from 48 states and 89 countries.
"On behalf of your professors and the entire staff and administration of the University, I want to say how proud we are of you and how inspired we are by your indomitable spirit that has helped you overcome unprecedented obstacles during the past few years," Assanis said. "You have earned this moment to celebrate everything you have accomplished and to envision your future success as you begin this next chapter of your lives."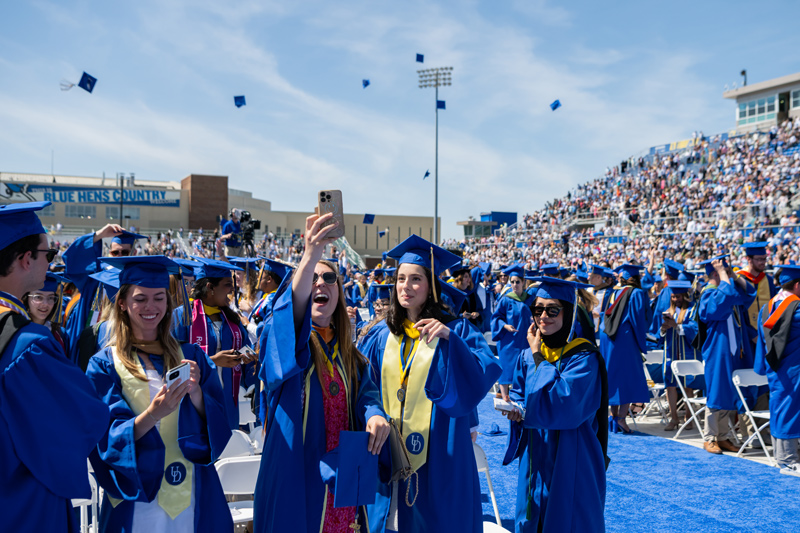 Kayla Jones, who earned a bachelor of science in medical laboratory science, said she was looking forward to turning the tassel — officially becoming an alumna — and celebrating with family and friends.
"It took a lot to get here, and I feel very proud," she said. "This has been a great experience. Just sitting here right now, it feels amazing because I know all my hard work and dedication was for this moment."
The ceremony opened with a procession that included alumni representing classes from the 1950s to 2022. At the conclusion of the ceremony, alumna Kerry Orendorf Halbedl, president of the University of Delaware Alumni Association, congratulated the graduates on joining the more than 200,000 Blue Hen alumni around the world and encouraged them to wear the Blue Hen pin they received with pride.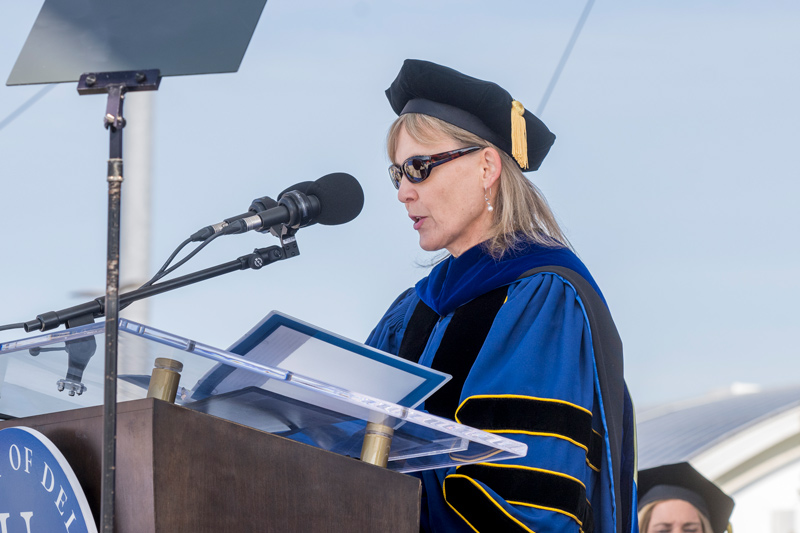 Four individuals were recognized with honorary degrees. The honorary degree, the University's highest accolade, is reserved for individuals who reflect, in their personal and professional achievements, the University's mission and who serve as exemplars for UD's students, alumni, the University community and the world.
The group of honorees, approved by the Board of Trustees at its spring meeting, included Jemison; Sally Ives Gore, a UD alumna and philanthropist focused on the advancement of women and girls in the U.S. and in developing countries; Rakesh Jain, a UD alumnus and now director of the Edwin L. Steele Laboratory for Tumor Biology at Massachusetts General Hospital; and Marichu Valencia, a community leader and philanthropist who serves on the UD President's Leadership Council and the board of directors for the Ronald McDonald House and the Boys and Girls Club of Delaware.
Amanda Leonhard, who earned a bachelor of science in medical laboratory science major, is from Newark, Delaware, and always knew she wanted to be a Blue Hen.
"It feels surreal to be here now," she said. "It's the culmination of all our hard work, and it's just so nice to celebrate all the hard work that we've put in."
Maxum Rhode, who earned a bachelor of arts in psychology, said he was proud of himself and his classmates for making the most of the, at times, tumultuous four years.
"It feels scary. It feels exciting — there are a lot of emotions," he said. "But overall, I'm just proud of myself for getting here."
More student reaction
Students share more of their joy and excitement in a second UDaily story and in the carousel of images below.