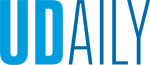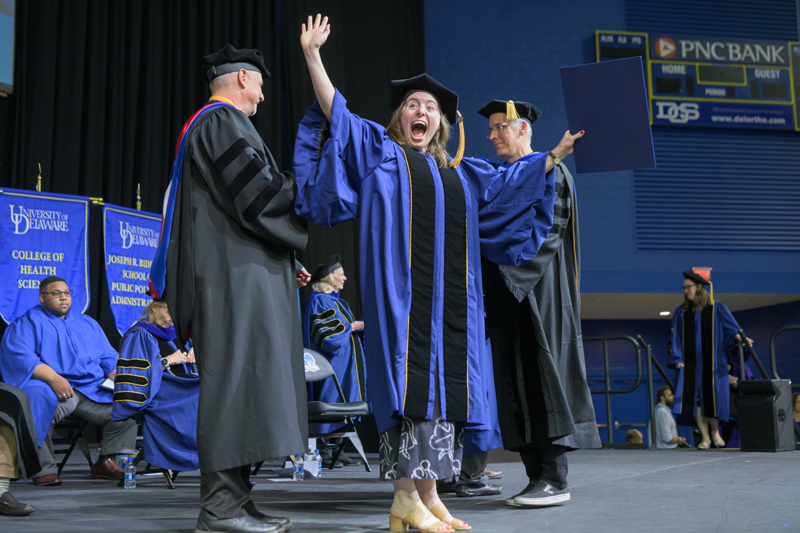 Raising a toast to UD's new doctors
Article by Beth Miller Photos by Kathy F. Atkinson and Evan Krape May 26, 2023
Doctoral Hooding celebrates highest academic degree
The University of Delaware added a new twist to its tradition-rich Doctoral Hooding Ceremony on Thursday, May 25, celebrating the more than 350 students who have earned their doctorates in the past year by raising a celebratory toast.
Almost 250 were in the house — the Bob Carpenter Center, that is — for the 2023 event, and an estimated 8,000 family, friends, mentors and colleagues were there for it, too, bearing witness to the network of support and connection this kind of endeavor requires.
Escorted by bagpipers Mark Hurm and Russell Johnstone, UD officials and deans led the procession into the arena, with the graduates and their mentors following. Teddy Austin, master of music in voice performance, then opened the ceremony with a stirring rendition of the national anthem.
While many convocations and graduations and celebrations mark the end of an academic year, the doctoral hooding marks a unique achievement.
The doctorate, academia's highest degree, is evidence that a student has broken new ground and created new knowledge in their field of expertise. They have found new evidence, created a new substance, seen or experienced something no one had seen or experienced before.
"You added a piece to this giant puzzle of continuous discovery that we are all trying to solve," UD President Dennis Assanis said. "In research and scholarship, we often only have theories about how those pieces might fit together, and we're constantly revising those ideas. Still, every piece you contribute helps to bring that big picture a little more into focus.
"This is true whether you work in basic or applied research, whether you work in the arts, the humanities, business or the sciences, whether you work in a lab or a classroom or the community, whether you remain in academia or whether you pursue a career in the private, government or nonprofit sectors."
Assanis urged the graduates to remember "the power of innovation and the promise of engagement" by continuing to pursue new insights and investing their knowledge in collaborative ways with others. No one is smart enough to address the world's complex problems alone.
Assanis pointed to the promise and peril of artificial intelligence (AI), so-called because it simulates human intelligence, feeding machines and computers all sorts of information and processes that they then draw on to make new computations, regulate functions, develop new insights or create new things.
"The innovations have been nothing short of astounding — and, quite frankly, a bit alarming," Assanis said. "Realizing the benefits of AI while mitigating its negative impacts will require even more innovation. We need the insights and ideas of those of you in political science and public policy, in education and economics, in communication and community development. It will take all of these fields working together — and many others— to ensure that AI and other emerging technologies remain human-centered and actually contribute to making our world a better place."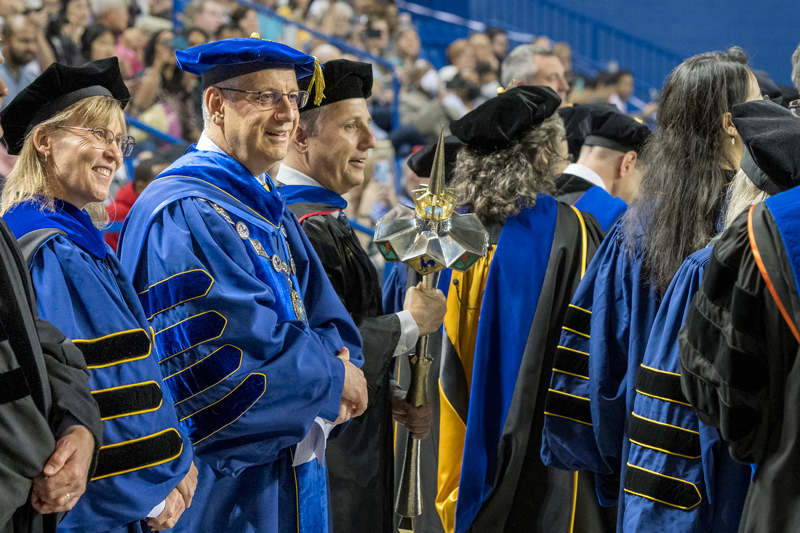 Provost Laura Carlson said the word "dissertation" combines two Latin words — one that means "apart," one that means "join together" — to form "a beautiful definition of creativity and an apt description of how you spent your time at UD, synthesizing all of the readings, the data, the observations and theories into something new that only you were able to see."
And while that achievement is outstanding, the symbolism of the act of hooding — when the faculty mentor drapes the doctoral hood over the graduate — represents the passing of knowledge, expertise and skill. It demonstrates the need for mentoring, training, guiding, advising. Carlson urged graduates to thank their advisers and urged all faculty mentors to do likewise, remembering those who had advanced their learning.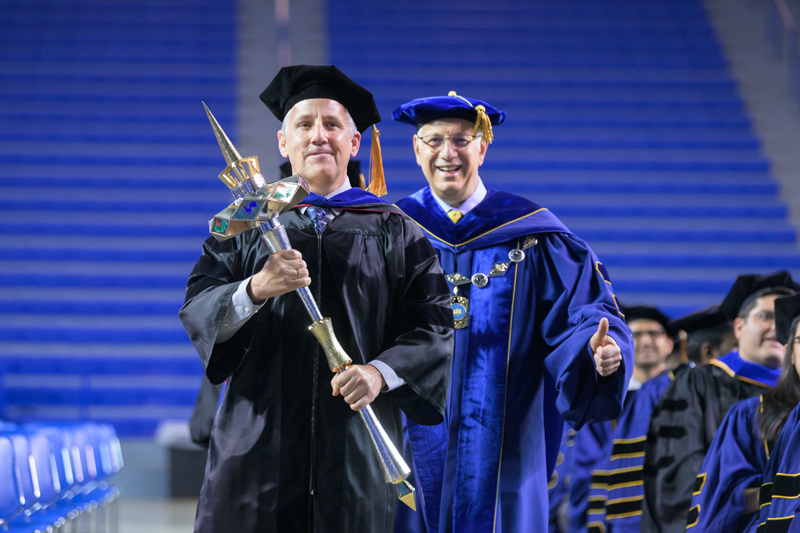 Louis F. Rossi, dean of the Graduate College and vice provost for Graduate and Professional Education, shared several examples of things UD's new doctors had done:
Developed a new silicon photonic component that will contribute to faster, more powerful devices that use less power.

Found a way to use digital twins in pharmaceutical manufacturing to speed the pace of safe and effective therapies

Found a new way to remove radionuclide pollution from oceans and rivers

Developed a potential new therapy for post-traumatic stress disorder

Created a framework for understanding how the right combinations of policy, self-governance structures and technology can lead to cleaner, better ways to live together.
The graduates had come a long way during their quest — some quite literally. UD's new doctors came from more than 30 countries, Rossi said, including every inhabited continent of the planet.
"And since we do not have any students from the Kerguelen Islands — which is the farthest inhabited land mass from Delaware — I believe the student who traveled the greatest distance came from Indonesia, which is over 10,000 miles away if you were to travel on the surface of the planet along a geodesic," he said.
"One student came all that way and joined many other students who made their own journeys to a tiny state where there is a medium-sized university, respected around the world for our knowledge, our expertise and our ability to produce outstanding scholars, scientists and thought leaders."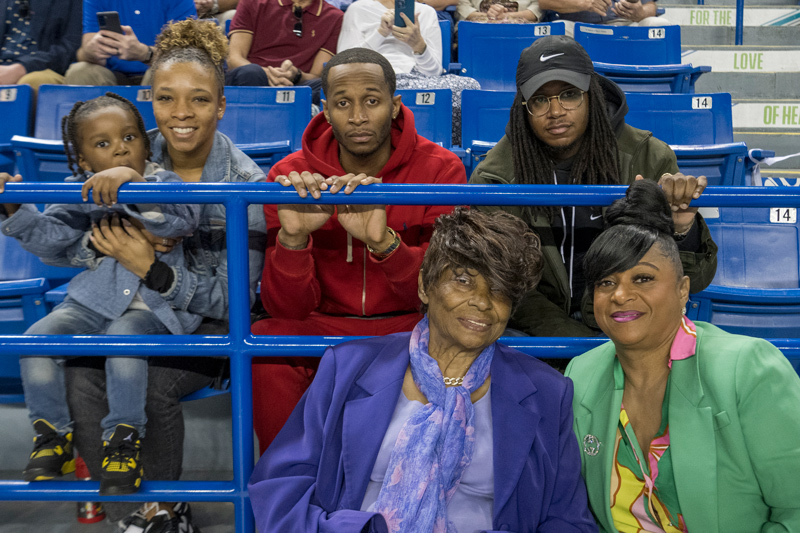 Clara Gaither came from Far Rockaway, New York, to see her granddaughter, Chanel Gaither, receive her doctor of education in educational leadership. Chanel's mother, Tawana Gaither, was there, too, along with Chanel's brothers, Lamar and Dyshaun, her 4-year-old nephew Gage and his mother, Gina.
Clara said she knew her granddaughter could accomplish this if she tried. She saw the hard work and hours Chanel put in.
"Books, books, books!" Clara Gaither said with a laugh. "I told her 'Every time you are here you are at the table with all the books!'"
Chanel Gaither had a traumatic encounter with a racist teacher when she was just in fifth grade. With the support of her family and others, she was able to rise above it and now is working to expand educational opportunities for others. She is launching a boarding school for Black male high school students — Ascend Legacy Academy.
"She is so passionate about helping children," Tawana Gaither said of her daughter.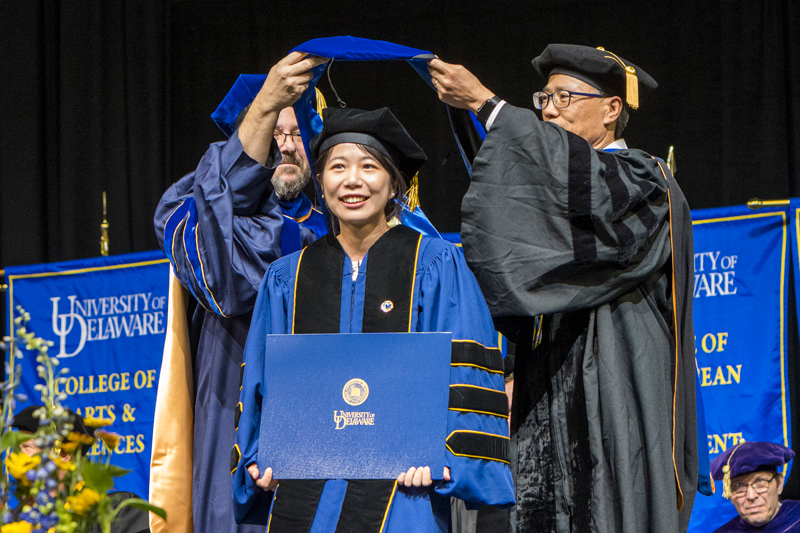 Comments from several graduates were read as they crossed the platform with their mentors.
"Out of tragedy comes triumph," was Chanel Gaither's statement. It referred, she said later, not only to that early trauma in school, but also to the loss of both of her uncles and her grandfather during her doctoral journey.
In his statement, Eric Wright, who earned his doctorate in computer science, thanked his adviser — Sunita Chandrasekaran, associate professor of computer and information sciences — "who believed in me even at the hardest points."
Several "firsts" were part of the ceremony this year, including:
The first doctorate in hospitality business analytics was awarded to Ling Ling, who was advised by Zvi Schwartz, professor of hospitality business management.

The first doctorate in epidemiology was awarded to Colten Strickland, who was advised by Jennifer Horney, professor and founder of the program.

The first student from the Graduate College to be part of a hooding ceremony. John J. Stout Jr. expects to complete all requirements for his doctorate in interdisciplinary neuroscience this summer. His adviser was Amy Griffin, associate professor of psychological and brain sciences.
Stout said his interest in neuroscience started during high school, when he learned of an infant named Emma, who had Krabbe disease, a devastating neurological disorder. He decided to do a music video for her to spread the word about the disease.
His interest in neuroscience grew from there. Along with skills he learned as an experimental neuroscience student at UD, Stout said computational studies have become his favorite part of research. He now has job offers in bioinformatics and data science.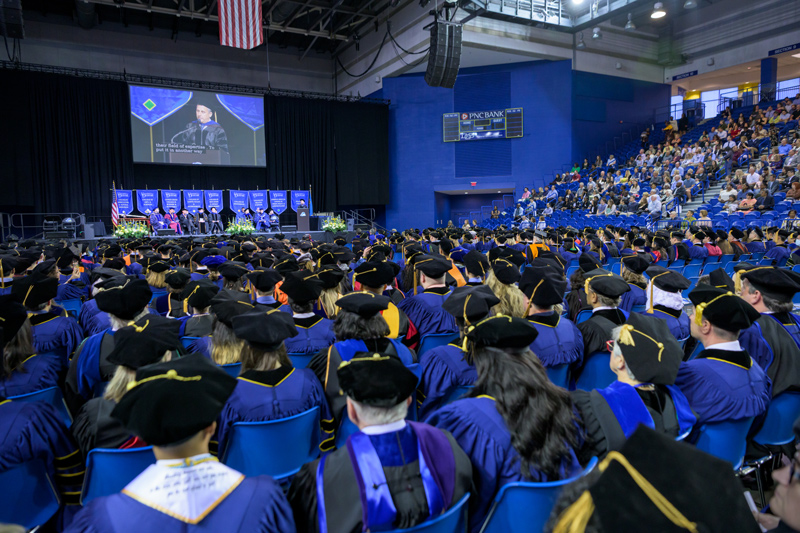 Mary Martin, associate vice provost for graduate and professional education and associate dean, explained what it means to wear the hood and some of the traditions around how such regalia is worn.
For faculty mentors, it is customary to wear the robes of the institution that awarded your doctorate. That provides interesting visual elements of diversity from around the world, including tams and caps of various configurations and beefeaters sometimes in the mix.
Jocelyn Alcántara-García, associate professor of art conservation with a joint appointment in chemistry and biochemistry, wore the distinctive octagonal cap of National Autonomous University of Mexico, where she earned her doctorate in chemistry. Alcántara-García and Karl Booksh, professor of chemistry, were co-advisers to Caelin Celani, whose doctorate was in chemistry and biochemistry.
William Matthaeus, Unidel Professor of Physics and Astronomy, earned his doctorate at the College of William and Mary. Thursday, though, he wore the robe of Mahidol University in Bangkok, which had recently awarded him an honorary doctorate. He was not able to attend that event because of the COVID-19 pandemic, but Mahidol shipped the regalia to him several months ago. Thursday's ceremony gave him an opportunity to put it on.
In the hustle-bustle of the end of the academic year, wardrobe crises can arise, creating no small amount of anguish.
Dion Vlachos had that experience Thursday, when he realized he had forgotten his University of Minnesota cap. Vlachos, Unidel Dan Rich Chair in Energy and professor of chemical and biomolecular engineering, knew he could not walk across the stage to drape the hood on multiple graduates without something on his head. So he persuaded colleague Raul Lobo, Claire D. LeClaire Professor of Chemical Engineering, to loan him his CalTech cap for a few minutes.
Mission accomplished.
"On the stage, everything was fine," Vlachos said with a grin.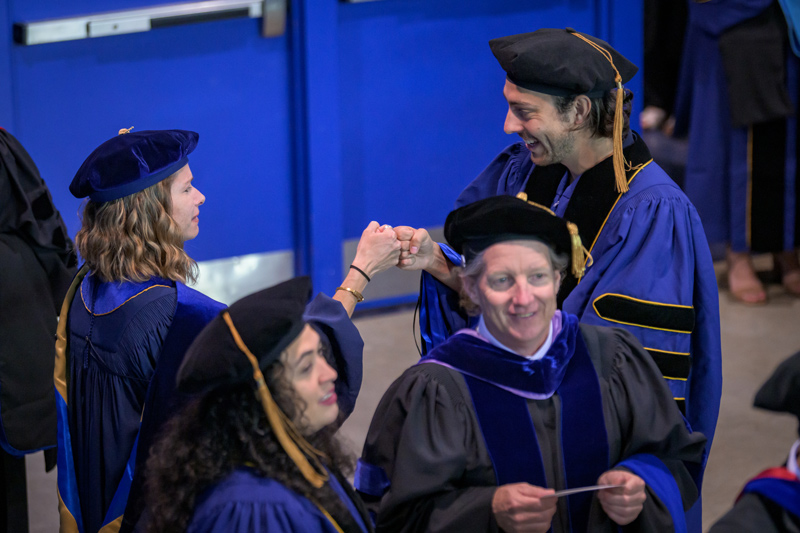 As the ceremony drew to a close, one new event capped off the celebration — a champagne toast. Graduates and mentors filed out of the arena, picked up a glass and returned to their seats.
With glasses raised, they listened as Rossi spoke.
"We are counting on you to lead our community, our nation and our world to a brighter future," he said. "We hope you will apply the wisdom you have gained with us to these challenges, using the work ethic that got you here along with the humility that comes from living in a small state like Delaware.
"We wish you continued success in all that you do and just as important, we hope that you will live a good and extraordinary life."
May it be so.