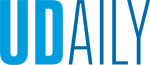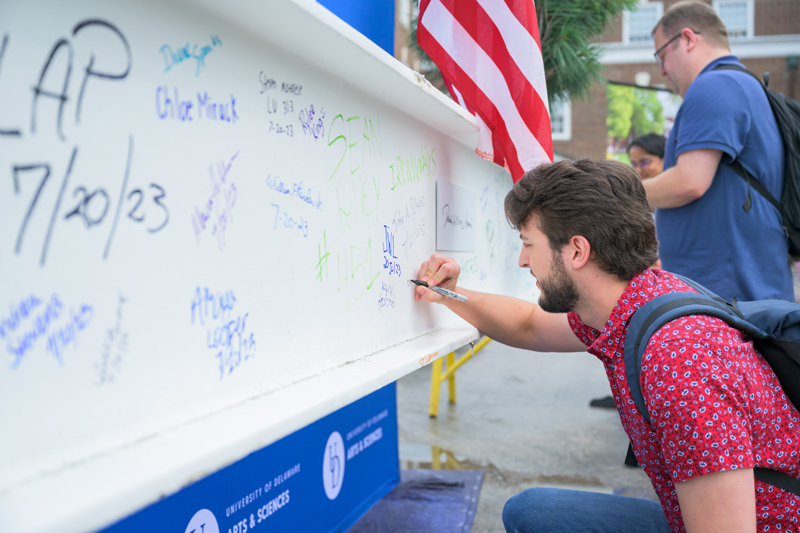 'Topping out' marks Building X milestone
Article by Beth Miller Photos by Evan Krape and courtesy of John Brainerd/Eye In The Sky Studios July 24, 2023
Last structural beam placed in UD's new 'science collider' laboratory
If you walked the 32-foot length of a 2,000-pound iron beam before the crane operator hoisted it into the air at the University of Delaware on Thursday, July 20, you would have seen scores of colorful autographs scrawled across the white paint.
The names bear witness to an army of workers and the breadth of knowledge, expertise and effort needed to take a project like "Building X" from the drawing board to what now is a skeletal structure, ready to emerge as a state-of-the-art "science collider" for psychology, neuroscience, biology, physics, quantum science and technology.
The names of University President Dennis Assanis and First Lady Eleni Assanis are there, as are the signatures of Delaware Gov. John C. Carney Jr. and Newark Mayor Stu Markham. Also putting their names on the beam were members of Iron Workers 451, Local 74 (plumbers and pipefitters), Local 542 (operating engineers) Local 313 (electrical workers) and others. UD deans, faculty, staff and students stopped by to add their names, too.
Building X has no permanent name yet. Its name is drawn from the mathematical "X" that stands for an unknown quantity, a placeholder that will one day yield to another name.
But it stands already as further testament to the strong partnership among the State of Delaware, the City of Newark and the University and especially to the way such partnerships can benefit many throughout the community and the world.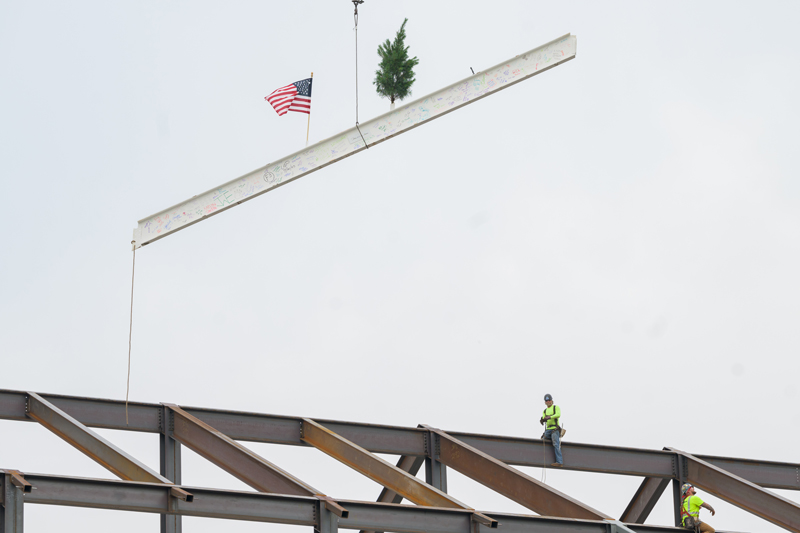 Carney, in his second term as Delaware's governor, has seen the transformative power of such collaborations many times.
In 2010, during a successful campaign for Delaware's seat in the U.S. House of Representatives, he stood in the parking lot of the vacant Chrysler assembly plant in Newark and predicted great opportunities would emerge from UD's recent purchase of the property.
Now — 13 years later — about 3,000 people work on UD's Science, Technology and Advanced Research (STAR) Campus, more than the number who worked at Chrysler when it closed. And opportunities at STAR continue to expand.
Carney announced last year that the state would support this new UD project along East Delaware Avenue with $41 million of its federal stimulus funding from the American Rescue Plan Act (ARPA). UD will cover the remaining cost, expected to be around $143 million, relying on fundraising that could prompt a name change for the building.
"Part of my job is to keep projects going, especially long-term," Carney said. "This is the future of our economy. It will help us develop that bioscience sector and provide workers for the economy of tomorrow. Some future governor will benefit from that."
Newark Mayor Stu Markham, who is a graduate of UD, along with his wife, son and daughter, agreed.
"This is a continuation of the University's commitment to the city and the students," he said.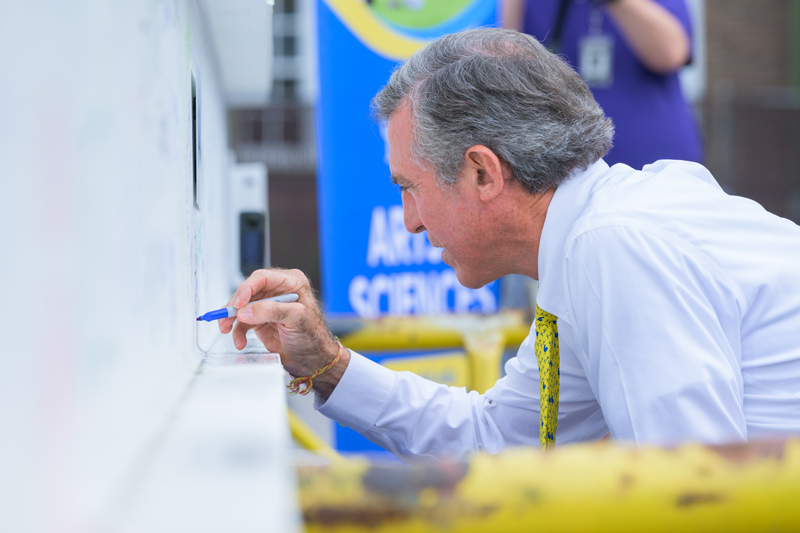 The Building X project already has provided work for scores of people needed to build the facility.
As of Thursday, when the "Topping Out" custom was observed and that last stretch of structural steel went into place, an average of 125 people were working on the site every day, according to Nick Carneglia, project manager for Brailsford & Dunlavey, a project management and development advisory firm that works on higher education campuses across the country.
Carneglia said 177,741 hours had been invested onsite so far. More than 28 million pounds of concrete had been poured and 254 pieces of structural steel had been placed.
"Our greatest challenge has been coordinating efforts between approximately five other projects in the area, especially when working on underground utilities that serve multiple buildings," Carneglia said. "The surrounding buildings contain sensitive scientific research that cannot be abruptly disrupted. Our teams provide great diligence in coordinating any utility shutdowns and road closures."
When it opens in 2024, Building X will help students build the skills and expertise needed for science and technology jobs of the future. It will be organized around three interdisciplinary themes — mind, brain and behavior; models and mechanisms of human disease; and quantum science.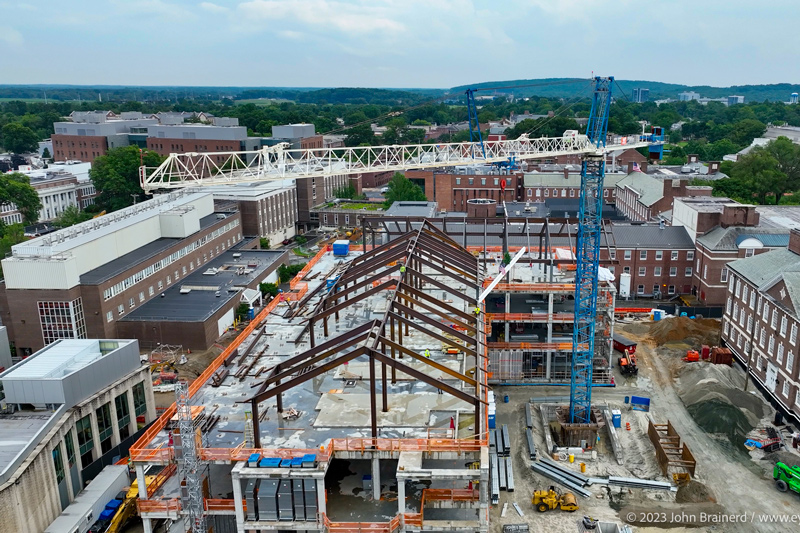 UD Provost Laura Carlson said the thematic plan for the building is exciting. Her research background is in psychology, with a focus on spatial cognition.
"There is going to be some magical work coming out of this," she said.
Building X was not on anyone's drawing board on August 9, 2017, when a fire broke out in the basement of McKinly Laboratory where renovation work was underway. McKinly was home to offices and labs of the departments of Psychological and Brain Sciences, Biological Sciences, Linguistic and Cognitive Sciences and Mathematical Sciences.
After the fire, many faculty had to move their offices elsewhere.
Robert Simons, chair of psychological and brain sciences at the time, said the fire brought an end to his research and his more than 40-year tenure at the University.
"I lost my entire laboratory and that facilitated my retirement," he said. "I got everything out of it that I could possibly get."
He returned to campus Thursday to sign the Building X beam, glad the department soon will enjoy a great upgrade in space and facilities.
"It replaces one of the ugliest buildings of all time," Simons said with a grin.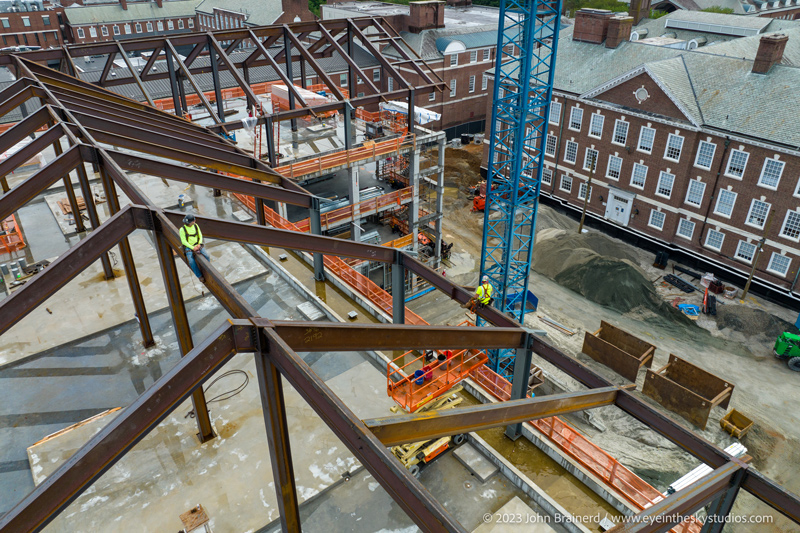 UD undergraduates Donna Price and Sarah Garner came out to put their names on the beam. Both are participating in UD's Summer Scholars research program, studying the biogenesis of proteins called cytochromes in the laboratory of Molly Sutherland, assistant professor of biological sciences.
At the same time, they have been watching the genesis of Building X — from the demolition of McKinly to the gradual emergence of what will be a new, brick L-shaped building that will house researchers in psychology, neuroscience, biology, quantum science, materials science, physics and biophysics.
"It will really allow us to move our work into the next generation and allow us to educate our students in modern biological techniques," said Melinda Duncan, professor of biological sciences, associate vice president for research and director of the Delaware IDeA Network of Biomedical Research Excellence (INBRE). "It will be a site where we can put in state-of-the-art equipment so that we can be competitive for large federal awards."
Edmund Nowak, professor of physics and chairman of the Department of Physics and Astronomy, signed the beam and exulted with a capital "X."
"Hooray!" he said. "It's most X-cellent to see the building taking shape and to feel the optimism and X-itement about the X-ceptional opportunities it will provide. Seriously, it will be immensely impactful for our students, faculty and the community. I am deeply grateful to those who have had a hand in making it a reality."
The bones of the building now are ready for all of the necessary embellishments. Opening day is getting closer.
"I didn't think this day would ever get here," said John Pelesko, a mathematician whose tenure as dean of the College of Arts and Sciences will end shortly. He  signed the beam just 12 days before beginning a new chapter as provost at the New Jersey Institute of Technology. "Hundreds and hundreds of people have worked tirelessly to get this to this point."