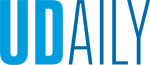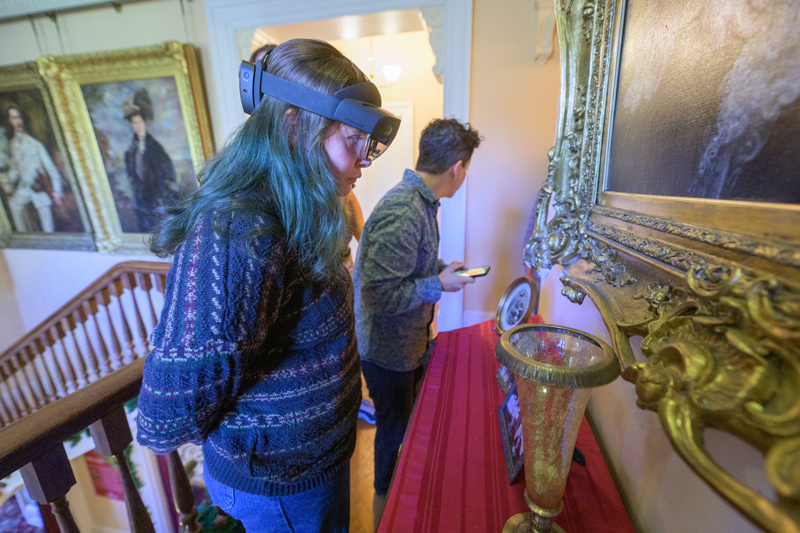 New technology for conservators
Article by Ann Manser Photos by Evan Krape January 03, 2023
Tests of augmented reality device show promise for professionals, students
Joelle Wickens was on the ground floor of a local museum, watching as two recent University of Delaware graduates worked on a project to assess the conservation needs of the historic building and its collections.
The two, both former students in UD's Department of Art Conservation, were three stories above Wickens, using an innovative type of technology called augmented reality to show her the signs of water damage in the attic. From the wheelchair she uses for mobility outside her home, the assistant professor of art conservation was intently studying a laptop computer screen as she explored various features of the technology and spoke with the students through their devices.
"I was so focused on testing out the device that I didn't immediately think about what I was actually seeing," Wickens said. "Then, I suddenly realized that, even though I've worked with this museum for a long time, I was seeing the attic for the first time. It was an amazing experience for me."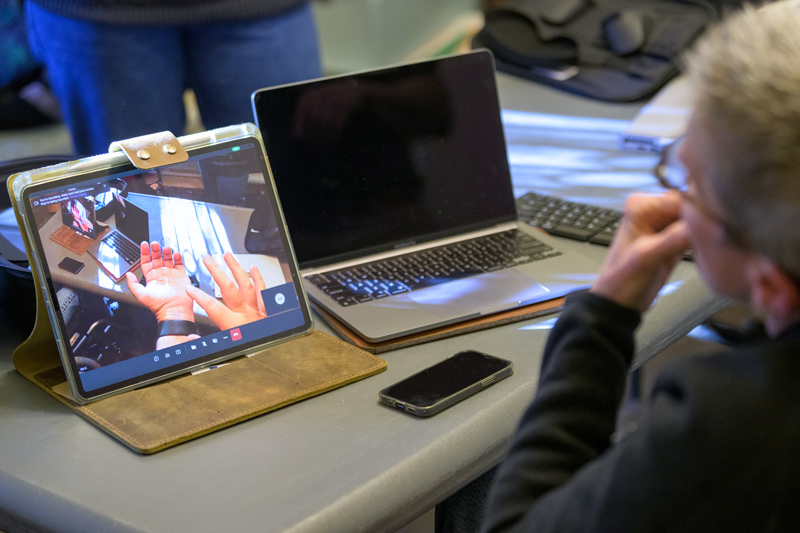 It's an experience that she thinks has a wide range of applications — not only for people with mobility issues or other disabilities and not only in the field of art conservation — that could benefit professionals, students and educators. 
Wickens and her team use a Microsoft device called HoloLens 2, in which a user wears a headset with a visor to access augmented or mixed reality. Augmented reality (AR) is something like the virtual reality often used in games and other entertainment, but it offers additional features and ways of interacting with the real world, including electronic screens arranged in front of the wearer's eyes.
"Augmented reality means you overlay the virtual world," said Eric Cantrell, director of college computing operations for the College of Arts and Sciences Information Technologies group. "The technology is interactive, and it's a clean, immersive interface."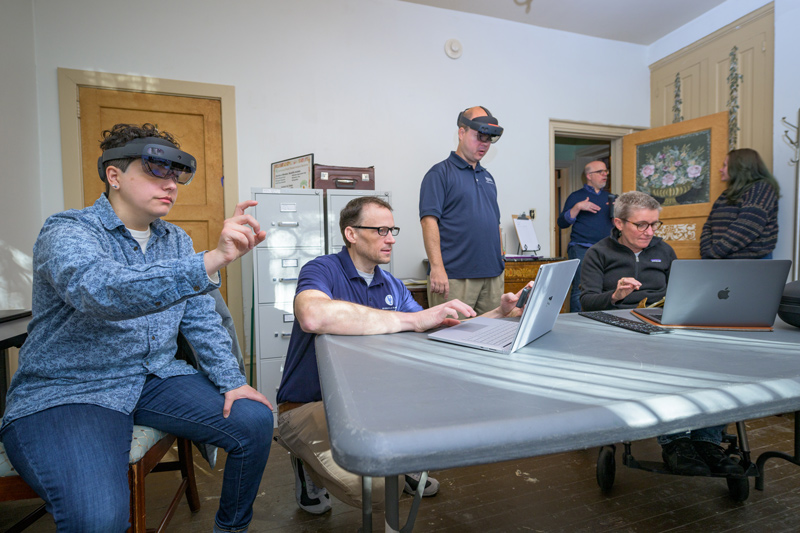 In their tests of the technology, former students Margalit Schindler and Morrigan Kelley wore HoloLens 2 headsets as they explored Rockwood Museum in Wilmington, whose director, Ryan Grover, has been working with UD to develop a conservation plan for the building and its contents. Schindler and Kelley were able to show both overviews of rooms such as the attic and close-up images of water damage to its wooden ceiling. They were also thrilled to discover that the lens can accommodate the addition of a magnifier, which allowed Wickens to distinguish between a 3mm piece of dust and a carpet beetle, an essential task in this kind of assessment.
A specialist in preventive preservation, Wickens says the augmented reality technology offers benefits beyond other types of remote access such as viewing still photos or video from a handheld tablet or phone.
"When somebody is wearing one of these, you see exactly what they're seeing, and in clear detail," she said. "If I see something I want to investigate further, I can immediately direct the wearer to move to what I want to see next."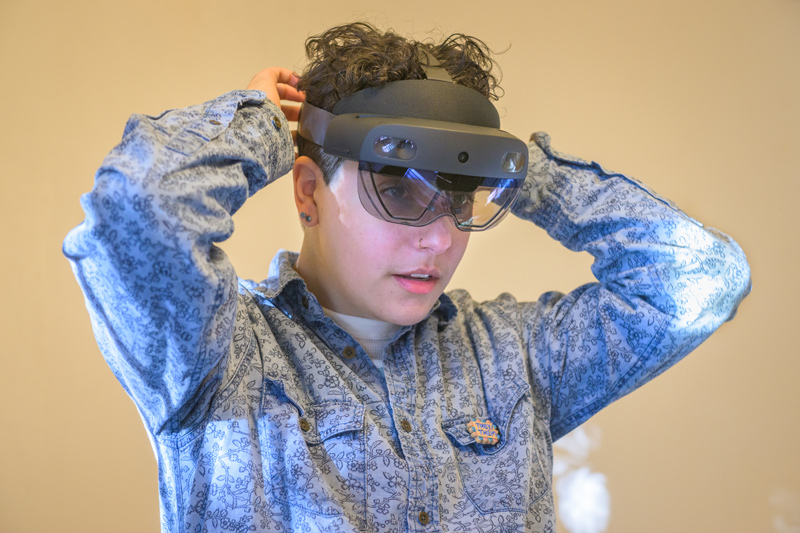 Wickens and the technology specialists at UD who are working with her to test and fine-tune the technology have brainstormed numerous possible academic uses, including more remote teaching and learning opportunities for prospective conservators or the ability for a chemistry student in self-quarantine due to COVID exposure to participate in an on-campus lab from home.
The COVID pandemic and the lockdowns it brought about first sparked Wickens' awareness of the technology. A conservation scientist friend told her how the British National Health Service had used headsets that allowed a single medical professional to don protective clothing and an AR device to visit a patient, while colleagues participated in the care and assessment from outside the hospital room.
"The pandemic made us all think about doing things differently — doing much more virtually — and this seemed like it could be very useful," Wickens said. Her first thoughts were of the time, money and environmental impact that could be saved by sending a headset, rather than a museum professional, along with a collection loan to survey and document the condition of the pieces when they arrived at the host institution.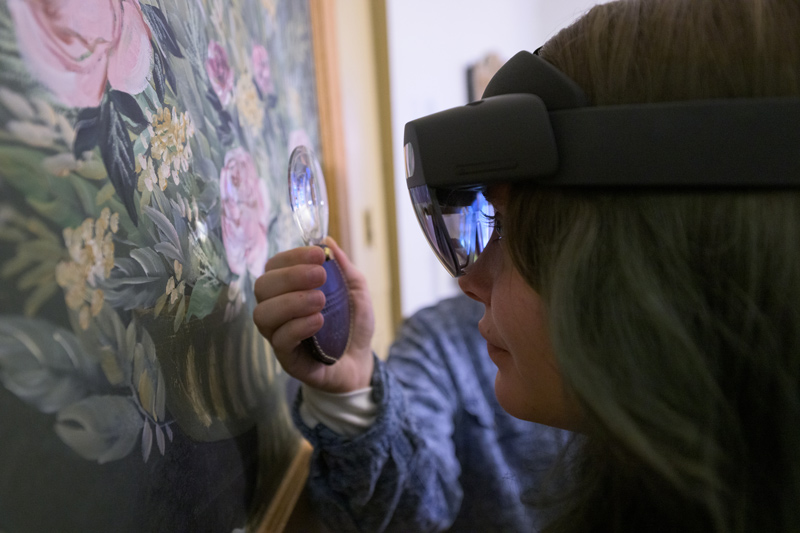 Her next thought was of the ways the technology could streamline her own work.
"My students and I have worked in many historic, multistory buildings with no handicap-accessible elevators, and I've used various work-arounds," she said. "But I realized that this technology could solve an immediate need for me."
Wickens ordered a HoloLens 2 device and conferred with Eric Cantrell, director of college computing operations for the College of Arts and Sciences Information Technologies group. Cantrell had been interested in the technology for some time and thought it had educational possibilities.
"I'm really happy that Joelle saw the potential and jumped right in," he said. "There are so many uses, beyond any mobility issues."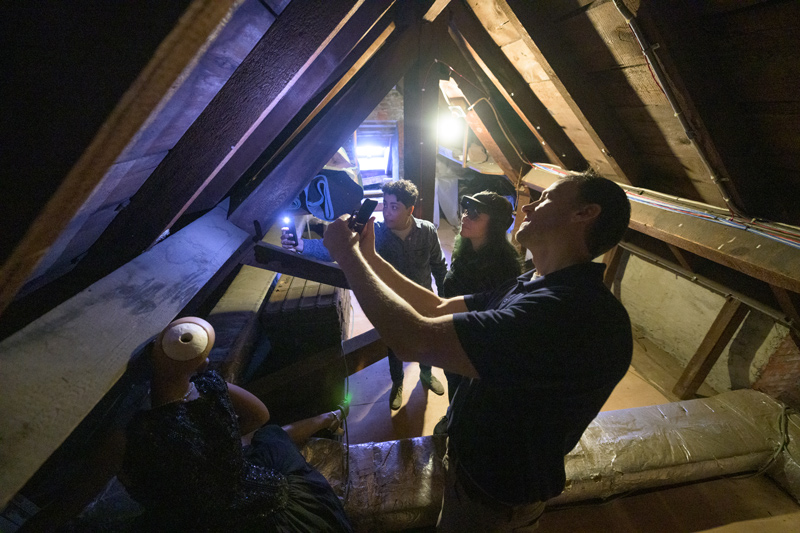 Wickens, who acknowledges that technology "is not my first love," said the support and enthusiasm from Cantrell and Tim Leefeldt, also of the college's Information Technologies group, has been invaluable.
Wearing the headset "takes some getting used to," said Schindler, a 2022 graduate of the Winterthur/University of Delaware Program in Art Conservation who is now principal conservator with Pearl Preservation. The device works best, the trial run demonstrated, when the wearer learns to move their head slowly and smoothly and adjusts their gaze to line up objects with the camera on the visor rather than their eyes.
But with those adjustments, "It's amazing to use," Schindler said.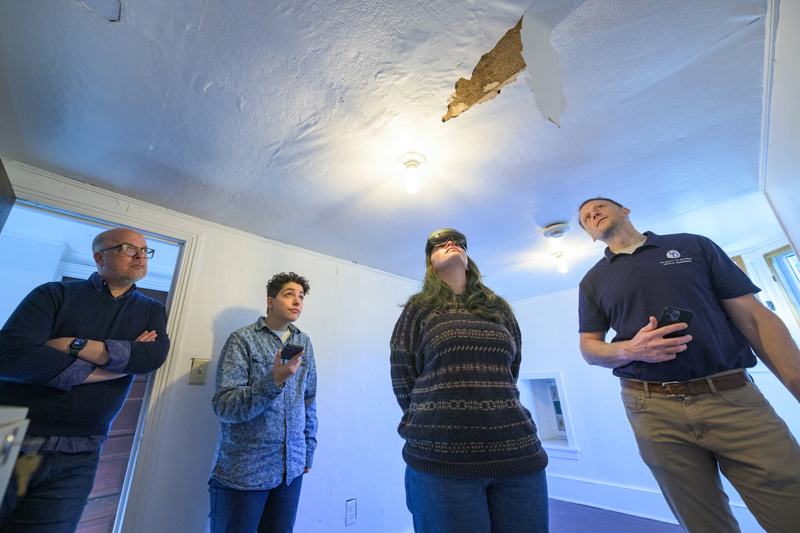 Going forward, plans are to collaborate with Microsoft to see if certain features — like specialized lighting that would be particularly useful in art conservation work — could be incorporated into the technology. 
Also interested in the project is Karen Latimer, an assistive technology specialist with the Delaware Assistive Technology Initiative housed in UD's Center for Disabilities Studies. Latimer is investigating the potential for adding an augmented reality device to the statewide library of technology that can be borrowed and used by people with disabilities. 
About Joelle Wickens and the project
Joelle D.J. Wickens is assistant professor of preventive conservation and associate director of the graduate Winterthur/UD Program in Art Conservation.
Preventive conservators work to protect cultural heritage, such as historic buildings and museum collections, from environmental damage. They often conduct assessments to help develop conservation and emergency preparedness plans.
Wickens' current work focuses on evolving the practice of the specialty to place social, economic and environmental sustainability at its core and to help broaden and diversify the field.
Rockwood Park and Museum in Wilmington is a 72-acre site owned and operated by New Castle County, Delaware. The museum is housed in a 19th century Rural Gothic Revival mansion that is listed on the National Register of Historic Places.