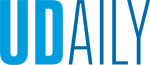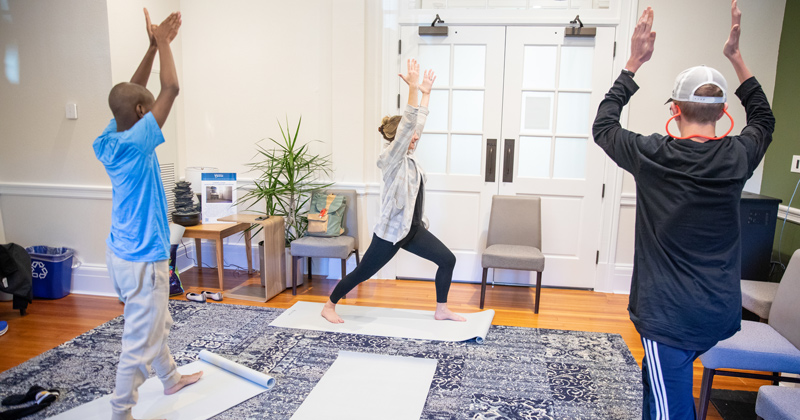 Relieving stress and supporting mental health
Article by Amy Cherry Photo by Ashley Barnas February 02, 2023
Pilot program aims to support mental health of college students with intellectual disabilities
Students with intellectual disabilities (ID) face unique challenges during the transition to independent living on a college campus. Issues of time management, navigating relationships and dealing with stigma are just some of the challenges they must confront.
Brittany Powers first realized gaps in the system working in the health and wellness unit for individuals with disabilities across the lifespan at the University of Delaware's Center for Disabilities Studies on campus. These gaps came to the forefront as the population of students with ID continues to rise across college campuses.
"While they're developing new certificate programs and independent living skills programs for students with intellectual disabilities to get the college experience and establish some career readiness, most colleges and universities aren't quite equipped to support the mental health needs of those students," Powers said.
The lack of support in place for these students inspired Powers, a fourth-year health behavior science and promotion doctoral candidate in the Department of Behavioral Health and Nutrition in the College of Health Sciences, to work to ease that transition and empower students with ID.
"I wanted to create a program that was less therapy-based, but more in the style of a group workshop focused on time management and stress in hopes the program can be replicated in the future, putting supports in place to meet the unique needs of students with ID," Powers said.
Powers focused her undergraduate studies on psychology at Providence College, obtained her master's degree in public health from New York Medical College and participated in a graduate fellowship in maternal and child health and disabilities through the Leadership Education in Neurodevelopmental and related Disabilities (LEND) program at the Westchester Institute for Human Development. For the past three years, she's been involved in the National Research Consortium on Mental Health in Intellectual and Developmental Disabilities.
"My Ph.D. studies have allowed me to marry together all my different passions around supporting mental health needs, working with people with disabilities and supporting their unique needs and their family's needs," Powers said.
As part of her dissertation, Powers conducted on-campus interviews with students and staff to gain a better understanding of the unique stressors and anxieties that students with ID face and to identify coping strategies already in use. Her interviews reinforced that students with ID face challenges around socialization and relationships.
"They must navigate changing relationships with parents or guardians who they were dependent on," Powers said. "They also face challenges with stigmatization and making new friends."
Students with ID identified a variety of healthy coping mechanisms from listening to music and watching TV to taking naps and exercising. But she also learned:
"The transition brings up issues around time management, involving the level of coursework and ensuring there's time to plan for meals and rest. They also face challenges with how downtime is spent," Powers said. "In some cases, when they're stressed, students with ID might shut down and withdraw, missing classes and assignments; they've also stopped talking to their mentors."
This feedback informed Powers' pilot intervention, the MIND/MOVE Yourself Program, that was tested during the fall semester among students with ID at UD, Villanova University and East Stroudsburg University. Students with ID, enrolled in UD's Career and Life Studies Certificate (CLSC) Program, met twice weekly with Powers in a group setting in Warner Hall over the course of six weeks.
Each week, students in the group focused on a different topic from understanding stress and self-reflection to time management and scheduling healthy habits, identity awareness and getting connected to campus resources.
"When you're talking about what causes stress and how you deal with it, it can be a sensitive topic," Powers said. "The students did a wonderful job engaging with each other. That spoke to the group setting being the right dynamic for this program."
Powers opened sessions by asking students to rate their stress levels. From there, she transitioned to mindful breathing exercises and meditation techniques. The final week of the program centered on connecting students to campus resources and setting larger goals for their time at UD.
"We want to make sure you get the most out of your campus experience and understand how important that is for your mental health to ensure you're connected to other students and each other," Powers told the group.
The program typically consists of 30 minutes of discussion and 30 minutes of yoga practice but has some flexibility.
"Because such in-depth discussions were happening within the UD group, we only did 15 minutes of yoga," Powers said. "I received feedback from students that these discussions and time to share their experiences were really important."
Powers, who's also a certified yoga instructor, hopes the program she's developed gives students with ID more tools to manage their stress.
"They're getting a sampling of different techniques and strategies that they can use," Powers said. "Yoga is not for everyone, but hopefully, they'll enjoy learning about breathing and relaxation as part of the practice. I hope they learned something new, found the program useful or thought the group setting was an opportunity to share, connect and build social companionship that can relieve stress."
Zach Simpler, a fourth year CLSC student, who participated in the MIND/MOVE Yourself Program, hasn't had too much trouble finding his home on UD's campus. He works on equipment needs for the Blue Hens football team.
"It's basically my third home because all the players and coaches know," Simpler said. "Ever since my first day on the job with the football team, I felt as if I wasn't being judged and I was accepted into the UD Blue Hens football family."
He found the yoga portion of the program most helpful. He loved it so much he built a yoga studio inside his dorm in Caesar Rodney, where he's floor captain and organizes pizza and movie nights to bring students together.
"Yoga brings me into a different mentality and lets me go to a part of myself that I haven't charted or explored before," Simpler said. "When I do yoga, I feel out-of-this-world amazing … it puts me in that mindset of peace."
He also learned enhanced coping mechanisms.
"When I feel stressed, I focus on breathing techniques or listen to my records. I also use a planner to schedule my day hour-by-hour," Simpler said.
Post-graduation, Powers said she would love to test the MIND/MOVE Yourself Program on more college campuses, evaluate its effectiveness, refine the program and ultimately, implement the curriculum at other colleges and universities.
"Brittany's research will show not just if the MIND/MOVE Yourself Program reduces stress and anxiety in college students with ID, but her assessments of autonomic function and daily perceived stress will suggest how the program works as well," said Freda Patterson, associate professor of behavioral health and nutrition. "Her results are expected to directly inform and improve stress prevention and management programs for college students with ID. We're thrilled by the positive impact Brittany is having on her field."
Simpler said he would recommend the MIND/MOVE Yourself Program to any student.
"A person would be crazy if they turned down the opportunity because it's worth it," he said.
But his participation in the program centered around making a difference for fellow students with ID.
"I always wanted to feel like I was a part of something that helps change the world to make individuals with disabilities feel more accepted on campus," Simpler said. "Participating in this program made me feel like I'm making a positive impact on the student body."