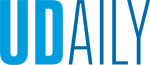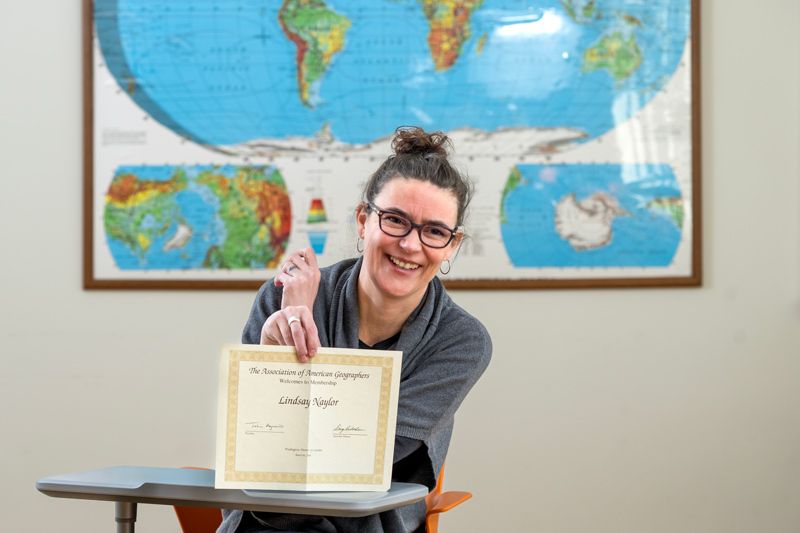 Notable geographer
Article by Adam Thomas Photo by Kathy F. Atkinson February 17, 2023
Lindsay Naylor named fellow for the American Association of Geographers
For someone who got into the field of geography late in her academic career, University of Delaware Associate Professor Lindsay Naylor is making up for lost time. With a bachelor's degree in political science and a master's degree in international development, Naylor had not studied geography until she took a class in cultural geography at Portland State University.
Once she took that class, however, there was no looking back. She enrolled in the doctoral program in geography at the University of Oregon and has been advocating for geography ever since.
Now, Naylor has been recognized by the American Association of Geographers (AAG) for her significant contributions to advancing geography by being named an AAG fellow.
According to the AAG's website, being named an AAG fellow is a recognition for geographers who have made significant contributions to advancing geography.
Naylor said the award is a huge honor and it feels rewarding to be named a fellow to an organization that she has been active in since her days as a graduate student.
"I'm very excited to have been honored because I'm being noticed as an up-and-coming mid-career scholar. That is thrilling to me that I'm actually having an impact in my areas of study," said Naylor, who is part of the Department of Geography and Spatial Sciences and graduate director for the department's geography and climatology programs. "I'm very happy to be selected in this particular pool of geographers that were named this year. It's a nice mix of senior folks who have made longstanding contributions and early career folks who are doing some incredible work."
Having originally studied international development, Naylor said she chose to switch to geography because of the way the discipline allowed her to work with people.
"In geography, we think about how people are interacting with space, with their environment and with each other. It is so much more humanizing. It allows for a more holistic perspective of the world," said Naylor. "I also really like the scalar character of geography where you can scale up, have these conversations on a global scale but also think about how the local is being impacted and how it moves through these different scales all the way down to the scale of the body. I love that I'm not confined to one single space."
As a political geographer, Naylor has studied everything from climate change with indigenous people to fair-trade coffee and development — having written an award-winning book, Fair Trade Rebels: Coffee Production and Struggles for Autonomy in Chiapas on the subject — to the rights of mothers in neonatal intensive care and their ability to provide their newborns with human milk. Naylor said she thinks about her work as studying topics using her feminist political geography lens but uses food as a way to ask questions about power and resistance and things of that character.
Looking back on her origins in geography, Naylor said it's funny to think about how, at first, she didn't consider herself to be a political or feminist geographer.
"If you had asked me in my first or second year of graduate school how I felt I fit in the discipline, I probably would have become a puddle of tears because I was being trained by a feminist geographer and a political geographer and I didn't feel like I was either of those things," said Naylor. "Now, I'm both: a feminist political geographer."
Starting with AAG
Naylor became a member of the AAG as a graduate student in 2009. In the organization, there are 75 smaller groups known as specialty and affinity groups. After being involved as a member of the political geography specialty group, Naylor wanted to look for a group in AAG that was more focused on food geography but one didn't exist. To remedy that problem, Naylor and Daniel Block, a professor of geography at Chicago State University, co-created the Geographies of Food and Agriculture Specialty Group.
"That was my first kind of getting to know the AAG staff and how the organization works," said Naylor. "This was before I even advanced to candidacy, I was digging around in the AAG trying to make a scene."
Now, the group is thriving and Naylor said it is rewarding to see some of the people whose work she admires greatly go through as board members.
When she arrived as a faculty member at UD, Naylor changed her regional affiliation within AAG from the Pacific Coast Geographers to the Middle States Division, which includes Maryland, Pennsylvania, New York and Puerto Rico. She said the Middle States Division is a nice space for smaller programs, community colleges and folks that might not usually attend the annual, national meeting.
One day, while sitting in her office, she got an email from the late (2017) Robert Mason, professor of geography at Temple University, who was trying to get Delaware more involved in the Middle States Division and suggested that she run for a regional counselor position. After being elected as regional counselor, Naylor sat on the board for the region and represented the region at the national council meeting, which she said changed her career trajectory.
"It was the best networking and mentoring experience of my career," said Naylor. "I have created lifelong friendships and mentoring relationships through sitting on council, and I sat on council for four years. It was an incredible and empowering experience. When I arrived, I was the only pre-tenure faculty member on council and I began to encourage other early career geographers to consider running — and they have — which has allowed for new perspectives and opportunities for our flagship organization."
While on council, Naylor served as the co-chair of the publications committee and was in charge of the hiring of editors for the AAG's four journals.
Since being named a fellow is a lifelong appointment with AAG, Naylor said that she is thrilled to be able to continue to advocate for the importance of geography in this capacity.
"Geography matters and I feel like it's a big deal to be a fellow," said Naylor. "I tried to be very involved with the AAG and I can't stop waving the flag for geography. I think that's the main reason I was named a Fellow because I am living and breathing it."