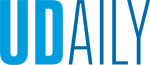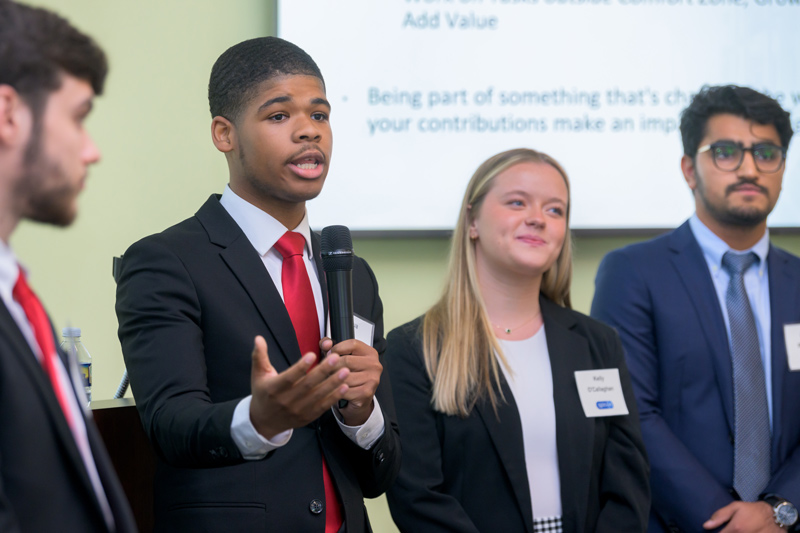 The power of 'Spin In'
Article by Beth Miller and Vanessa Manges-Spence Photo by Evan Krape August 28, 2023
Students' creative collaborations offer strategic support for entrepreneurs
The idea behind the University of Delaware's Spin In program is pretty simple: Put teams of students with a variety of skills and perspectives together and let them loose on a problem an entrepreneur or startup company is facing.
Lots of good things are likely to happen along the way. Students get firsthand experience working on real-life problems, learn to work with many kinds of people and see firsthand the power of collaboration. Entrepreneurs and business owners get a fresh, knowledgeable perspective on the challenges they face and in most cases gain valuable information to move their ideas and/or innovations forward.
We probably all could use a Spin In team in our lives.
It's a tried-and-true approach developed and refined by UD's Office of Economic Innovation and Partnership (OEIP), which founded, trademarked and manages the program, bringing students and entrepreneurs together.
Each Spin In team is interdisciplinary and includes students with skills in a variety of relevant majors. Some are studying computer science, mechanical engineering, the arts, marketing, public policy, fashion and design. Some are analyzing data, developing new materials or looking at systemic barricades.
For a few months, these students devote brainpower to the challenge at hand. They study, they probe, they brainstorm, they debate, they test new options. What if we …?
In that way, obstacles of the past become steppingstones to the future.
"The Spin In program brings three great powers together — the assets of the University, the innovative thinking of our students and the opportunities inherent in the entrepreneurial community," said Amalea Rassias, senior assistant director of OEIP.
"At the University, students get top-tier instruction," she said. "Spin In shows them how that knowledge translates to real-world settings. They learn to communicate with people in other disciplines and they are part of a team that contributes to real solutions. The entrepreneurs come away with innovative new approaches to business, technology and commercial opportunities.
"These connections make many unique experiences possible for students and help them gain the critical skills they'll need as they move into the workforce."
Now in its 12th year at UD, Spin In continues to impress. More than 200 students have participated in the program and 38 companies and entrepreneurs have sent projects through the Spin In cycle in that time. Jobs have been found, startups have been launched and new doors have opened for students, researchers and business leaders.
"Beyond the technical skills I learned, this experience taught me a lot about my future career path," said Joshua Artis, a computer science major who was part of a Spin In team working with X-Biomedical. "It helped me identify my strengths, weaknesses and interests and gave me a better understanding of what I want to do in the future."
Eric Gottlieb, CEO and co-founder of Lignolix, a 4-year-old company that has developed sustainable processes for turning plant waste known as lignin into useful products, can attest to the power of these collaborative projects. Lignolix was launched at UD and Gottlieb has been part of UD's network of innovators.
He came to Spin In looking for the best market for Lignolix and he was glad he did.
"It was great working with an interdisciplinary student team that was up for the challenge of an open-ended business problem," he said. "... They were a fantastic asset as we were tackling questions around the strategic direction of our company."
During a recent event hosted by OEIP, four teams of UD students explained how they approached problems as part of a Spin In team. The annual Spin In Showcase is the culmination of each team's work and experience, giving students an opportunity to present their solutions and recommendations to an audience of peers, experts and community partners.
In addition to the market question brought by Lignolix, other student teams worked on these questions:
* What can we do to reduce the enormous amount of textile waste piling up around the world?
* How can we make valuable financial products more accessible to populations who typically have been left out of such opportunities?
* How can we give dental surgeons access to portable, affordable imaging equipment?
Extraordinary new ideas emerged. See for yourself.
DelaWear Discovery Learning Lab
Old clothes, hand-me-downs, tired T-shirts from days gone by — who wants them? Must they all just pile up in landfills?
It's a heavy burden for planet Earth. Americans toss out 17 million tons of clothing and other textiles every year, according to the U.S. Environmental Protection Agency. Globally, that number mushrooms to 100 million tons per year. And tons are tossed here in Delaware, too. A 2017 report from the Delaware Solid Waste Authority put the number then at 32 tons of discarded fabrics each year.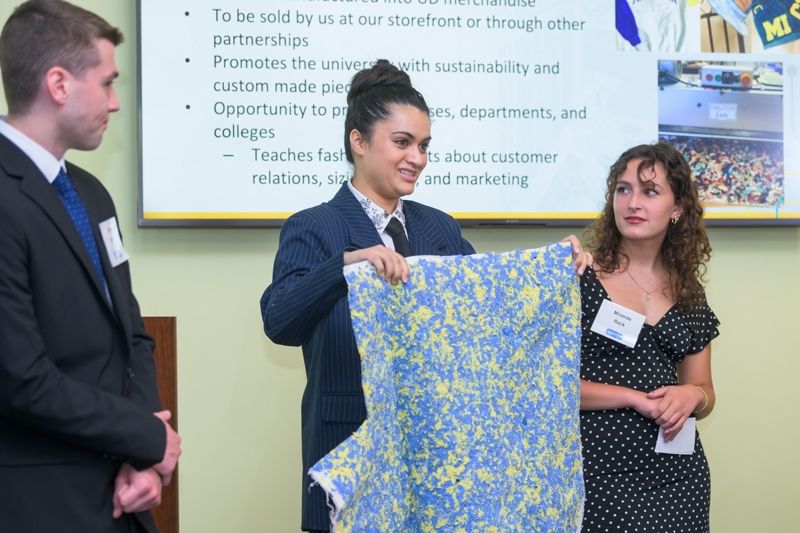 It's a problem Kelly Cobb, associate professor of fashion and apparel studies, has been studying extensively. She aims to extend the life of these textiles and support a "circular economy" in which materials are valued and reused in many ways.
That's the opposite of today's "fast fashion," where inexpensive clothes, made of poor quality materials, appeal to consumers with short-lived trendy styles that are tossed aside long before the materials are exhausted.
But how can these castoffs find new life? Cobb brought the question to a Spin In team.
Students proposed three strategies:
Recycle fabrics and use those textiles to create new garments for new owners.
Promote sewing clubs, "sip and sew" events and training opportunities to help people learn about sewing and the value of extending the life of clothing. Ideas include makerspace sewing labs, community clubs and summer camp programs for learners.
Create UD-branded merchandise from recycled textiles to extend the lives of fabrics, expand awareness of the problem and promote use of recycled clothing.
Building on UD's partnership with Goodwill Industries of Delaware, the goal is to add a retail component that would both extend the textiles' lifespan and provide experimental, cross-discipline experiences that enrich UD's fashion curriculum.
The DelaWear Discovery Learning Lab aligns well with UD's commitment to strengthen sustainability practices. It also connects students with youth, the greater community and other UD students across disciplines.
The team also proposed a unique label for DelaWear merchandise as a resale option and suggested developing partnerships with corporations or other universities who wish to develop similar programs.
"I personally never knew what went on behind the scenes of making or designing garments," said Anh Phan, an economics major. "All the measurements, material and just the labor itself — it was really eye-opening to me as a business guy that I was not the only one messing around with numbers."
Veepra Mishra, a fashion design and product innovation major, said the project demonstrated what it takes to build a business from the ground up.
"This experience has broadened my internship and job search from design to more business and research-related activities," Mishra said. "It has made me less nervous to start my fashion label upon graduation."
Other students on the team included Michelle Yatvitskiy (apparel design, fashion merchandising and management); Aiden Ferreira (accounting), Miranda Rack (fashion design and product innovation); and Kieran Singley (economics and sports management).
"What I was most surprised by was how our finance and business students deepened and strengthened the project by asking questions I did not even know were questions," said Cobb. "Then to watch the fashion students contextualize and/or push back or bring more data to any issue during our meetings, I thought — wow. We are going in uncharted territory. This is exciting."
They were mentored by Darius Brown (international business) and Elyce Hall, business advisor with the Small Business Development Center.
RAIStogether 
The economic tools that help small businesses find traction are often unavailable to those who need them the most. Underserved populations encounter higher interest rates and higher risk assessments — obstacles that prevent equitable access to financial instruments.
Addressing this problem is the mission of RAIStogether, co-founded by UD alum Don Ainsworth.
Ainsworth asked a Spin In team how to make it easier for individual investors to find good projects to support.
Students developed a prototype of a mobile application and website that provide a catalog-like platform, where interested investors can explore the projects and businesses entrepreneurs hope to develop. The information is drawn from onsite partners.
No guaranteed returns are promised. But the app could make microloans much easier to facilitate and administer.
"Investors know this comes with risk," Ainsworth said. "The only thing guaranteed is the potential for social impact."
Investors have the option not to charge interest if they wish to extend the impact of their support.
Field trials are underway in eastern Uganda.
"The skills learned throughout this semester with the Spin In group regarding teamwork will certainly carry over for the rest of my career," said Matt Searfass, computer and information sciences major. "The entire program was a fantastic learning opportunity. Working for a startup is fast-paced and full of exciting challenges. I would recommend it to all majors."
Other students on this team included Ishaan Thakker (computer science, economics); Prateek Gupta (business analytics and information management); Naveen Bharadwaj (electrical and computer engineering); and Dileep Reddy Nimma (computer and information science).
They were mentored by Vijaya Rao, technology executive and entrepreneur, and Darius Browne (international business).
Lignolix
The challenge for the Lignolix Spin In team was to find the best market for the company's methods of extracting and processing lignin.
Lignin is a natural polymer and a renewable resource, found in abundance in the cell walls of woody plants and plant stems. This biomass has historically been a waste product, though, because of the difficulty, cost, nasty smell and toxic chemicals required to extract the lignin. Lignolix has developed new, cost-effective, environmentally friendly methods of extracting the polymers and making them available for new uses.
The Spin In team identified potential products and the market potential for options that presented the best business scenarios for Lignolix. Marketing research was done to identify challenges and position lignin as a sustainable and safer alternative to traditional petrochemical-based adhesives used in construction materials and other products.
Vasudev Tangry, a chemical engineering major, said the experience gave him new perspectives on many other disciplines.
"Through collaboration with the team from diverse backgrounds, I have gained valuable insights into areas such as branding, consumer behavior and user-experience design, which have enriched my understanding of engineering principles and helped me develop a more holistic approach to problem-solving."
Andrew Brown, a business and financial analysis major, would agree.
"Coming in as a financial analyst, I had little background on conducting research in terms of technical or marketing aspects," he said. "Having to shift my focus from financial research to gathering technical or marketing information has definitely helped me improve my reporting skills and techniques."
Seeing the impact of their work is an important part of this work for students, too, said Jordan Frisby, a business analytics major.
"The work we are doing is serious," he said. "This is more than just a school project. We are contributing to an actual business and through the many hours of research and hard work we hope that our contributions will help the company progress significantly in the future.
"Overall, this experience has given each of us a great amount of insight on exactly how much hard work it takes to operate a small business and just to make what might seem like a small decision in a small business. It really makes you realize how intricate everything is. Nothing is simple and every move must be calculated."
Other students on this team included Casey White (fine arts); Avery Cohen (marketing and operations management, advertising); and Andrew Brown (finance).
Mentors included Michael Blaustein, director of commercialization strategy for OEIP, and Darius Browne (international business).
X-Biomedical
Dentists have struggled with a high incidence of ergonomically triggered injuries, specifically musculoskeletal injuries sustained while doing surgeries that require large pieces of imaging equipment.
To address these issues, the firm X-Biomedical created a device trademarked as the GoScope, a compact, high-magnification, high-illumination microscope. The instrument is adjustable and lightweight and allows for better positioning than is possible with larger equipment. The GoScope includes GoGlasses that wirelessly collect 3-D documentation.
The X-Biomedical Spin In team was asked to help finalize a go-to-market plan, support for business operations and back office challenges and assist with technical updates of the software/technology.
The team developed a plan for technical documentation, verifying multiple requirements for medical industry regulation. The team also proposed new product packaging development and shipping requirements, assembly instructions, equipment training requirements, patient education materials, marketing materials. The team also assisted with ongoing work to advance the software, enabling better data collection and operation.
"This experience has helped me as an engineering student understand many different sides of the startup world," said Harrison Silverston, a mechanical engineering major. "Although my role was very centered on the engineering side, it gave me exposure and interest in other majors and engineering disciplines…. The work I did felt like it really made an impact and I was able to work closely with other employees at the company who had different projects. It helped me feel a strong sense of responsibility and eagerness to perform, since I could see how my actions and project was directly influencing the growth of the company.
Other students on this team included Joshua Artis (computer science); Usama Mahmood (computer science); Kelly O'Callaghan (international business studies and marketing); and James Palmeri (finance).
They were advised by Jenn Cole, president and CEO of X-Biomedical, and Matt Maltese, co-founder and chief engineer of X-Biomedical.
About Spin In
Spin In is a unique UD offering funded by the National Science Foundation's Experimental Program to Stimulate Competitive Research (EPSCoR) and the U.S. Economic Development Administration's University Center Economic Development program to advance workforce development in the state and region.