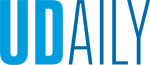 UD researchers explore ways to reduce textile waste, spur local economy: youtube.com/watch?v=9Y0_3mYtfIE
Keeping it local
Article by Karen B. Roberts Photos by Evan Krape | Video by Sam Kmiec April 19, 2023
UD researchers explore ways to reduce textile waste, spur local economy
Editor's note: The University of Delaware is joining the more than 1 billion people, governments, institutions, and businesses who participate in Earth Day — Saturday, April 22 — to recognize our collective responsibility and to help accelerate the transition to a brighter, greener, and more equitable future for generations to come.
Americans are throwing away clothing and other textiles at an alarming rate. According to the U.S. Environmental Protection Agency, 17 million tons of textile waste is generated annually in the United States. That's the weight equivalent of around 47 Empire State Buildings or 2.8 million male African elephants each year.
Globally, this number is much higher at nearly 100 million tons per year.
It's a problem that researchers at the University of Delaware hope to have a hand in solving. Kelly Cobb, associate professor of fashion and apparel studies, is leading a collaborative team exploring ways to develop a hyper-local, second-generation textile supply chain. The idea has the potential to reduce textile waste while creating a circular textile system, where materials stay in use rather than being discarded. The one-year project is funded with $745,000 from the National Science Foundation's Convergence Accelerator, with the potential for an additional $5 million in follow-on support over two years.
"Our hope is to cross-purpose post-consumer fashion waste into new products, keeping clothing out of landfills, generating revenue from existing waste streams and reducing the need for virgin materials," said Cobb, project principal investigator.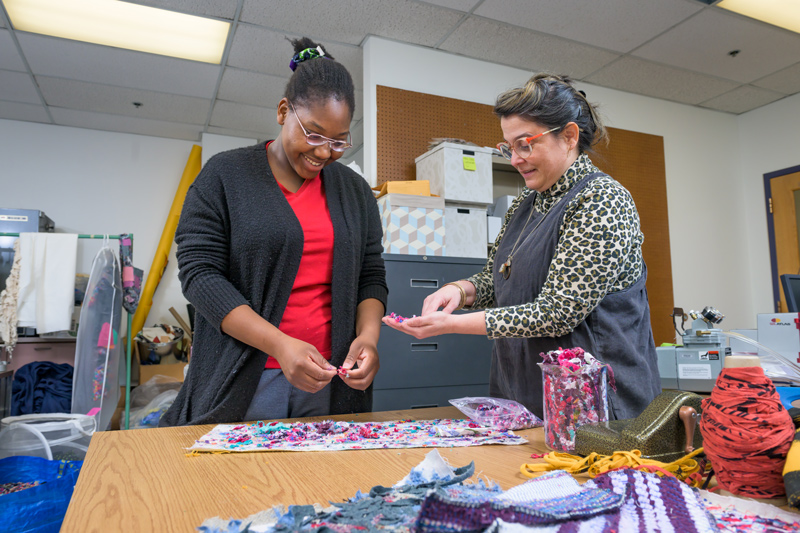 The funding is part of an $11.5 million investment by NSF to advance the circular economy, which the EPA said "keeps materials, products and services in circulation for as long as possible." The UD-led group is one of 16 interdisciplinary teams addressing wide-ranging research aimed at improving the circularity of materials including sustainable plastics, electronics, textiles, concrete, photovoltaics and green hydrogen.
Co-PIs in the work include Huantian Cao, professor of fashion and apparel studies and co-director of the Sustainable Apparel Initiative and Kedron Thomas, associate professor of anthropology from UD, and Abigail Clarke-Sather, associate professor of mechanical and industrial engineering at the University of Minnesota Duluth and former UD faculty member. Other project partners include Goodwill Industries of Delaware and Delaware County, Inc., and representatives from industry, government and policy agencies. 
Keeping it local and regional
How will it work? Cobb envisions creating an ecosystem for repurposing the fibers from textiles donated or discarded by consumers into something new, like the way recycled materials from plastic bottles are sometimes converted into park benches or plastic bricks.
"We're not going to be making new clothes, rather we are kind of cross-cycling … looking at spaces that need textiles outside of apparel," said Cobb.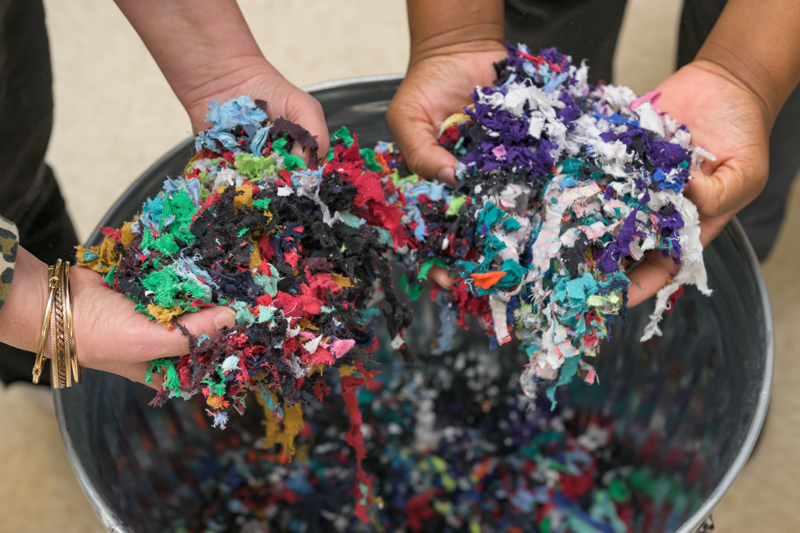 Most consumers are unaware of what happens to the mounds of clothing, towels, tablecloths and other post-consumer textiles after they are removed from homes. While some of these items are donated or resold locally, many items end up in trash bins and landfills, locally, nationally or internationally. 
"We're exporting waste to other countries, so that it's ending up in landfills in other places around the world where it can have environmentally damaging effects and negative impacts on local industries," said Kedron Thomas, a cultural anthropologist and project co-PI. "We have to start dealing with our own clothing waste."
The research team said that taking a hyper-local approach to the problem of post-consumer clothing and textile waste can change this, while contributing to the local economy. The team's approach is to prove the viability of a holistic model where textiles are collected, recycled and reused all within a single region, catalyzing a circular economy. As part of the project, dubbed the Recycled Textile and Apparel Manufacturing Ecosystems project, or RETAME, the researchers will look at the waste streams and the specific material resources that are available in the Delaware region to consider what and how materials can best be repurposed for new life.
Textile scientist Huantian Cao explained that textiles have different technical properties, such as material strength, absorbency or biodegradability that may lend themselves to new uses. 
"Textile properties play an important role when we decide the next application of recycled textiles," said Cao. "For example, we can develop agricultural textiles such as weed-control mulch mats from recycled textiles that are biodegradable. After biodegradation, these mulch mats may enrich the soil."
Testing and documenting the material properties of different textiles is an important part of the process. For instance, if a recycled textile is not biodegradable, using it for agricultural purposes could lead to soil contamination or contribute to microplastic pollution. Knowing this information in advance will help identify where materials aren't suitable for a given purpose.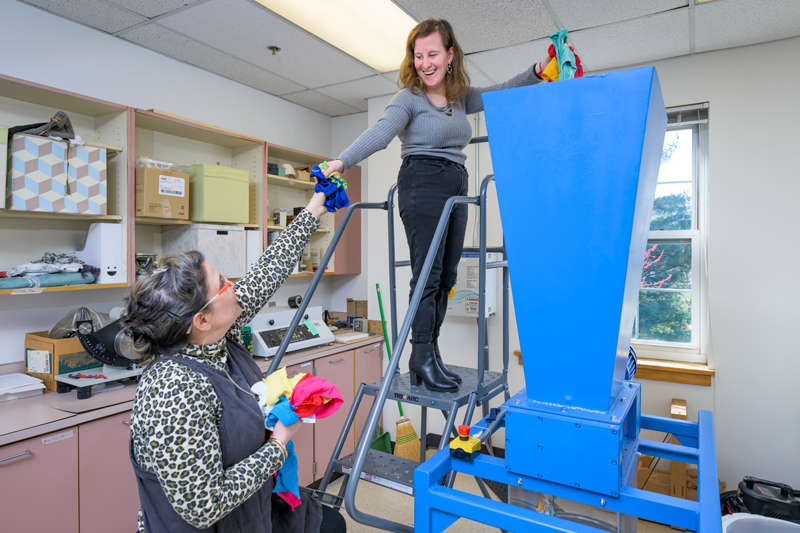 The research team will design and test a prototype system for gathering, sorting, mechanically recycling and remanufacturing textile products in the Delaware Valley region, in partnership with Goodwill, a nonprofit that provides job training and placement programs for people with disabilities and disadvantages in part with funds raised through the sale of items donated to its retail stores. They also plan to develop equipment to convert unsold donated clothing from Goodwill's retail stores into reusable fibers. 
Cobb, Cao and students involved in the Sustainable Textile Research through Applied Discovery (RAD) Lab at UD already have experience in this area. Since 2015, the researchers have been exploring ways to create new products from textile waste that will appeal to consumers, using a desktop system to deconstruct and reconstruct the materials into new non-woven fabric. The process also can be used to make materials for insulation, soil improvement, erosion control blankets, landscaping fabric and more.
As a first step, the UD team is working with Goodwill to quantify how much and what kind of textiles are donated each year. This data will inform what types of products might be created from these textile fibers.
According to Thomas, this hyper-local approach can leverage the consumption patterns in different parts of the U.S. For example, maybe recycled textiles from Delaware are best suited for turning into landscaping fabric, while recycled materials sourced in Duluth, Minnesota, are appropriate for making erosion blankets.
"We can tailor our recycling model to deal efficiently and effectively with materials in a particular region and to look at unique applications that can keep the materials and fibers out of landfills and waterways," said Thomas.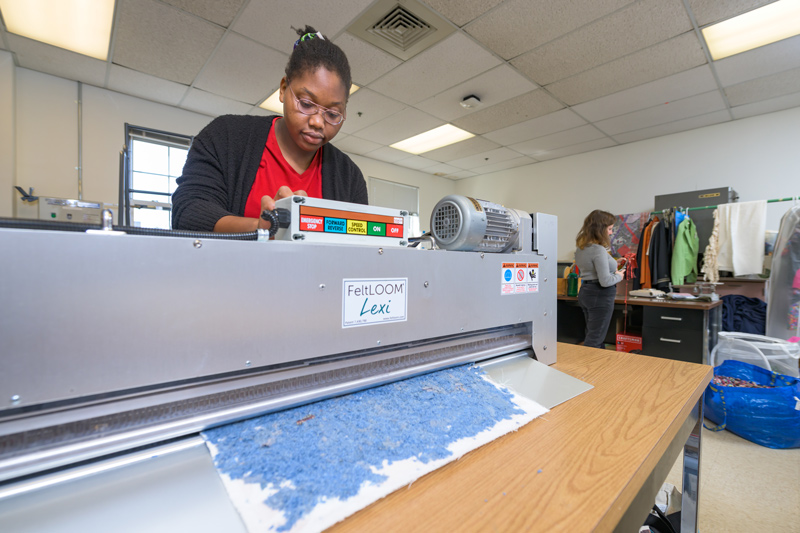 As part of the project, Thomas and her students will collect and analyze data and document the team's process and prototypes, to ensure that the system is reliable and replicable in other parts of the country and other world regions. Thomas also plans to collect data about how the participants work as a team. Enlisting the support of partners with expertise in behavioral analysis, waste management and economic development will help ensure the team's methods have practical application.
Green jobs of the future
Beyond removing textiles from waste streams, the project also could open doors to new types of green jobs and opportunities to train and educate a future workforce. For instance, each piece of the second-generation supply chain will require labor, which folds nicely into Goodwill's mission of job training.
Additionally, Cobb envisions building a fashion microfacility at UD for students to explore various stages of the textile lifecycle and learn how to scale sustainable solutions for fashion and textile waste. She pointed to the UD Creamery and Vita Nova as existing models on campus of this type of hands-on student engagement.
It's exactly the type of environment that appeals to Michelle Yatvitskiy, a current graduate student in the RAD lab who earned her UD undergraduate degree in fashion and apparel studies in 2022.
"Developing new ways of recycling textiles is my dream job, but I'm not quite sure yet how to get there," said Yatvitskiy.
This isn't the first time Cobb has heard this. She teaches graduate and undergraduate courses on sustainability in the fashion industry. Cobb said that while students used to talk about how they were pursuing fashion because of how much they loved to shop, today they are asking really hard questions about the environment, labor, inclusivity, and social justice and fashion. 
Instead of feeling daunted, Cobb is invigorated about the potential of this generation — and this project — to effect real change in the fashion industry, which in addition to textile waste is one of the largest contributors to global carbon emissions and water contamination.
"It's not just about second-generation textiles. It's about shifting that consumer mindset for a better world," she said.