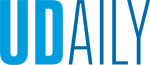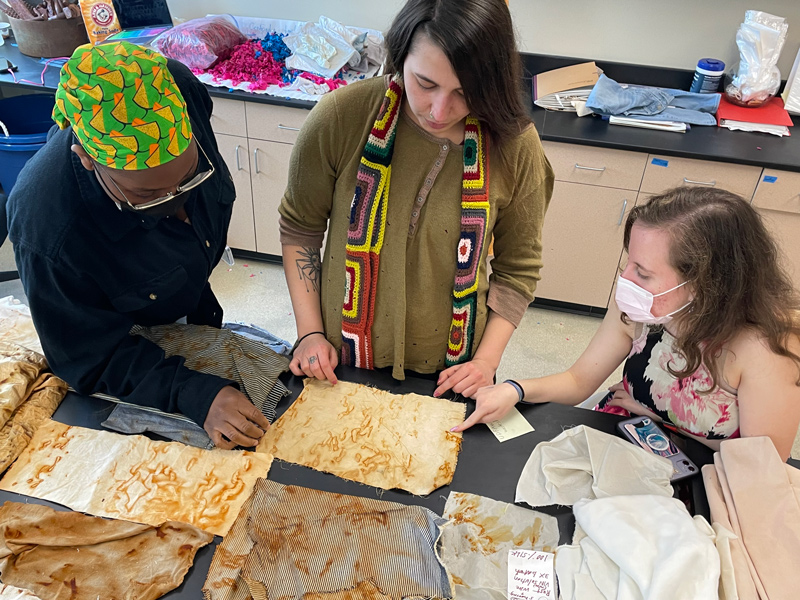 From trash to treasure
Article by Ann Manser Photos by Michelle Yatvitskiy and courtesy of Kelly Cobb May 06, 2022
Research at UD explores ways to transform, reuse textile waste
Kelly Cobb stands on a stepstool to reach the square opening atop a tall blue machine in the Sustainable Textile Research through Applied Discovery (RAD) Lab at the University of Delaware.
Carefully, she feeds in lengths of fabric that have been left over from the process of making clothing. The machine chews up the scraps, creating a multicolored pile of shredded cloth known as "shoddy." (You can see the machine in action in this Instagram post.)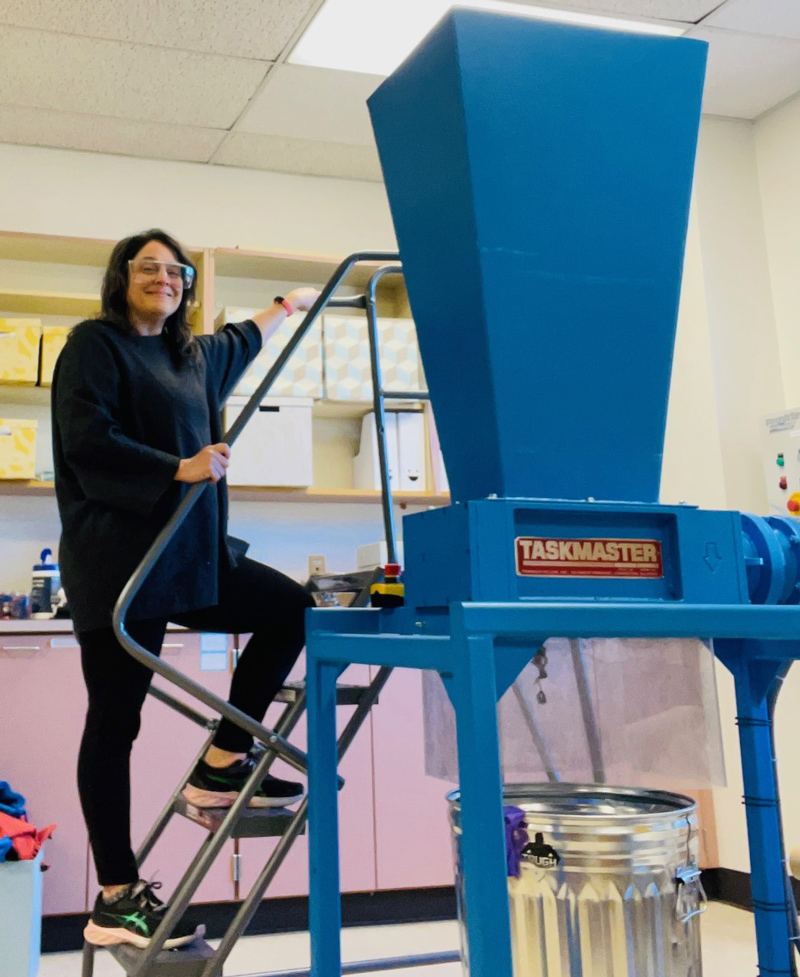 In most apparel manufacturing, these scraps would have gone directly to a landfill, but in this case, Cobb and the students who make up her research team, working with research collaborator Professor Huantian Cao, are finding ways to interrupt that environmentally harmful process and turn the shreds into something new and usable.
"The scale of waste in the apparel industry is huge," said Cobb, associate professor of fashion and apparel studies. "We've been working since 2015 on remanufactured textiles, in a community partnership with Goodwill of Delaware and Delaware County, so I've now brought these various projects together under the umbrella of the RAD Lab."
The research has a number of goals — among them, to help manufacturers become more sustainable, to investigate how waste products can be used to create items that will appeal to consumers, and to reach out to the community to raise awareness about the benefits of recycling, reusing and remanufacturing. Undergraduate and graduate students assist with the projects, from surveying restaurants about their food waste to finding innovative ways to use the shoddy that the shredding machine produces.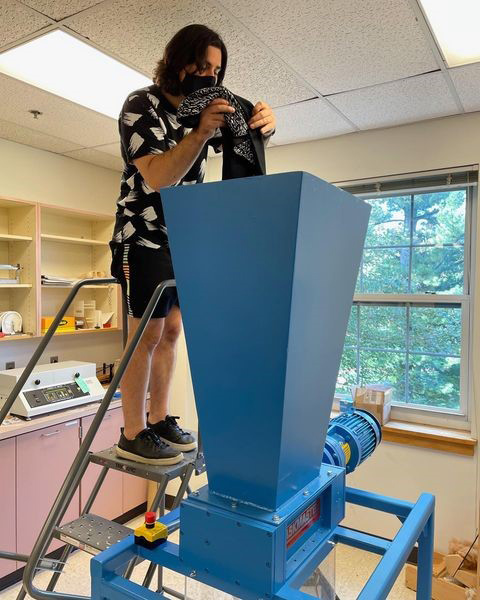 "We want to combine education, research and remanufacturing, and the students working with me on all these projects have been great and have guided us toward truly unique solutions," Cobb said. "Some examples are from senior researchers Michelle Yatvitskiy, whose senior collection is made out of remanufactured textiles, and Shae Woodruff, whose collection focuses on eco-coloration with iron oxide."
The fashion industry has a large environmental footprint, with 75% of the materials used in production either destroyed or sent to landfills. In addition to this waste from manufacturing, very little of the 70-80 pounds of clothing and shoes that an average consumer throws away each year is recycled. According to the Environmental Protection Agency, the main source of textiles in municipal solid waste is discarded clothing.
At UD, the Department of Fashion and Apparel Studies has developed a focus on social and environmental responsibility. Sustainability is part of core classes for all fashion students, and the department offers a minor in sustainable apparel and textile innovation and a graduate certificate in socially responsible and sustainable apparel business.
The sustainable textile research includes the kinds of projects that students "would have been thinking about anyway," Cobb said. "Sustainability is really top of mind for all our students."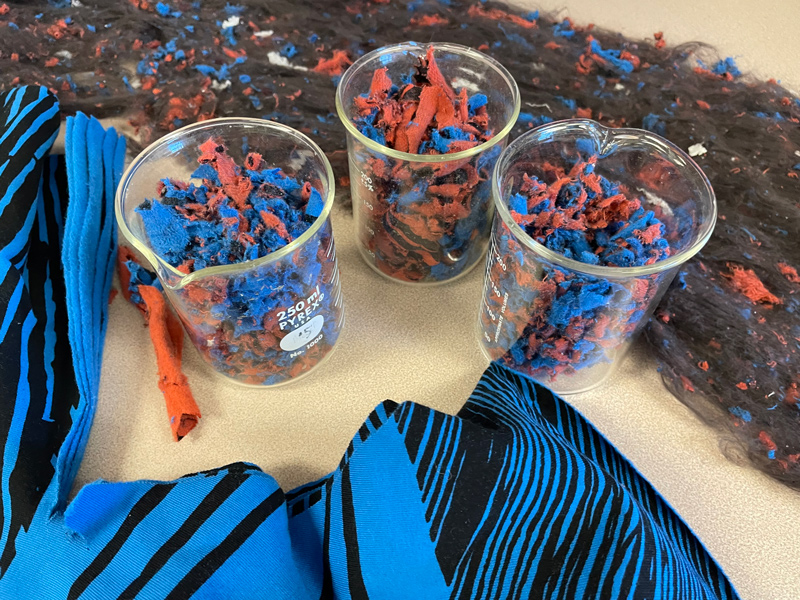 Cobb's and Cao's research and the RAD Lab projects have this same focus, working with what she terms "textile innovation through applied materiality, [which is] a way of thinking about material and how it might inform how we relate to each other and the world around us." 
For Savannah Goff, a junior majoring in energy and environmental policy, her work as a research assistant in the lab has included a range of topics, from factory pollution to waste from commercial dyeing processes.
"With this information [collected by researchers], we can better understand how to combat some of these issues on a localized scale, like the UD campus," said Goff, who calls sustainability "the most crucial issue of our time" and is especially concerned about the fashion industry's contributions to global greenhouse gas emissions.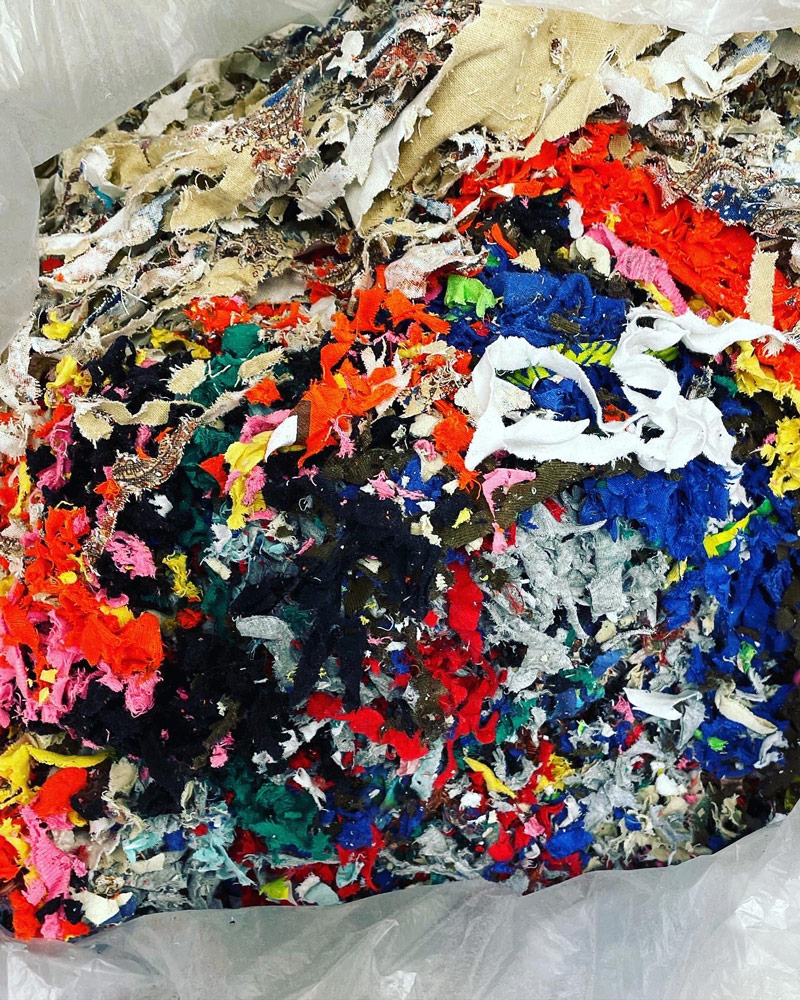 Ongoing material research guided by Cao in collaboration with Cobb includes work funded by a trade organization grant looking at remanufacturing cotton waste. In that project, students experiment with ways to use the shoddy produced by the shredding machine, including as stuffing for toys and quilts, attaching it (with another special machine) to backing to create tufted material that can be used in making purses and new pieces of clothing, or weaving it into rugs or tapestries.
In a new grant, in collaboration with the Department of Plant and Soil Science, Cao and Cobb are exploring ways to recycle waste material into landscaping fabric or geotextiles — sheets that are often made of plastic and spread on the ground to control weeds and help soil retain moisture. 
Some of the RAD Lab projects are partnerships with small companies in the Delaware and Philadelphia area that want to become more sustainable. At Lobo Mau, a Philadelphia designer of printed knitwear, textile waste from manufacturing is being shredded in Cobb's lab at UD for the company to use in other products.
"Instead of trashing our fabric scraps, we started researching ways in which we could downcycle or reuse these leftovers," the company said in a Facebook post announcing the partnership with Cobb's lab, adding that it is striving to be a zero-waste manufacturer.
Lobo Mau is just one example of how Cobb thinks the research from her lab can be widely used.
"We're lucky that we have a lot of small companies that are focused on sustainability in the region," she said. "We're defining a sustainability model. It's the process of discovery in the research lab, but it's also discovery in the community."
In addition to the work with shoddy, students in the lab are experimenting with environmentally friendly ways of dyeing fabric and with reusing waste from food, agriculture and construction. 
"We're really trying to look at every facet of textile use — apparel and beyond apparel — from creating second-generation textiles and products to engaging the community," Cobb said. "And we want to be hyper-local, to demonstrate that local production [using waste] can be a sustainable development strategy with economic, environmental and social benefits."