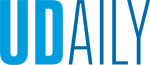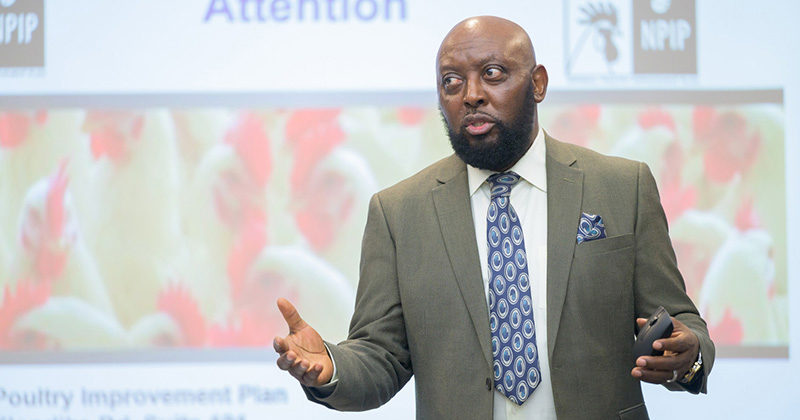 Helping the poultry industry
Article by Lisa Walenceus Photos by Evan Krape August 30, 2023
UD Poultry Health System quality assurance program a model for global diagnostic testing
As the world faces the largest avian influenza outbreak on record, with 59 million birds in the United States already culled to control the spread of the disease and more than 131 million domestic poultry lost worldwide, networking to build the capacity to curb the disease is critical. The 2023 Veterinary Diagnostic Laboratory Quality Assurance (VDLQA) Symposium brought veterinarians and laboratory diagnosticians from 20 countries to the University of Delaware for a five-day intensive summer program to learn the fundamentals of quality assurance in laboratory testing that are vital to early detection and control.
The event is the latest to share UD's widely recognized expertise in testing for the prevention of catastrophic poultry disease. Organized by the UD Poultry Health System (UDPHS) in the College of Agriculture and Natural Resources and the Division of Professional and Continuing Studies (UD PCS), it was funded by an International Technical and Regulatory Capacity Building (ITRCB) grant by the U.S. Department of Agriculture Animal and Plant Health Inspection Service (USDA APHIS). ITRCB grants support the USDA APHIS International Services goal to enhance global health and U.S. biosecurity through the development of science-based regulatory systems and policies around the world.
UD has long been considered one of the nation's leading poultry science research centers, and safety protocols developed here are used across the globe. The Delmarva region is an "ideal" context for the development of a model system for highly accurate and responsive diagnostic testing, said Brian Ladman, senior scientist and quality manager for UDPHS.
"There are almost 600 million chickens grown on the Delmarva Peninsula each year — that's about 400 chickens for every person who lives here. These chickens represent a $5 billion industry in our region so you could say we're 'chicken-centric' in Delaware," Ladman said. "Sussex County alone is the most population dense producer of broiler chickens in the U.S., and if you put that together with fact that the Delmarva Peninsula is a major migratory stopover for wild aquatic birds on the Atlantic flyway, what you have is a large collection of commercial flocks, a reservoir for bird influenza viruses and humans in close contact. The pressure is there to make effective avian disease surveillance a priority."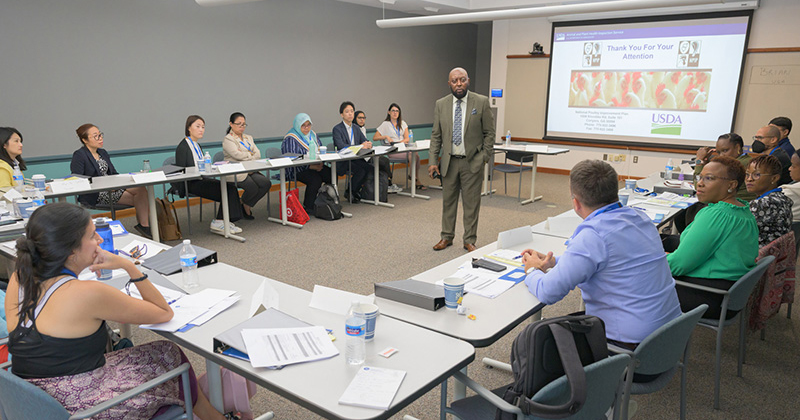 Symposium participants visited the two National Laboratory Health Network (NAHLN) laboratories maintained by UDPHS, the Charles C. Allen Biotechnology Laboratory in Newark and the Lasher Laboratory in Georgetown. These labs are at the center of the "Delaware model" that combines state-of-the-art facilities and testing with university research and industry, state and federal partnerships to produce a comprehensive system for rapid responses to outbreaks. To be a member of the NAHLN, labs must hold an internationally recognized accreditation that mandates intensive quality assurance work.
It's the approximately 8,000 accredited diagnostic tests for all avian species that UDPHS runs each year and its close cooperation with government and industry that make the VDLQA a meaningful teaching event.
"In my country, we are still working toward national testing standards," said Cherylann Wharwood, veterinary officer for the Ministry of Agriculture, Land and Fisheries in Trinidad and Tobago. "So, I really appreciate the practicality of the information that has been presented. I feel we have been given a realistic picture of the implementation issues that come with establishing an accredited quality assurance program for testing and that prepares me to help create a system that will work for my country."
Marcela Villarreal Silva, who works for the Mexico-United States Commission for Prevention of Foot-and-Mouth Disease and other Animal Exotic Diseases (CPA), one of the three labs in Mexico that makes avian flu vaccines, said that what she learned about handling samples is an important takeaway. "I work with both government administrators and the operatives who do sample collection in the field," she said. "I will have a lot to share with them about techniques for sample collection, handling and tracking that I learned here."
Fidelis Hegngi, senior staff veterinarian for avian health with the USDA APHIS Aquaculture, Swine, Equine and Poultry Health Center, emphasized the importance of sharing what has already been learned about practices that work as he presented the U.S. National Poultry Improvement Plan, a highly successful cooperative testing and certification program. "We can respond to diseases much more effectively and quickly across the world if we take what others have done already that we know works and adjust it to meet local needs," Hegngi said. "We can be respectful of local customs and cultural traditions and still introduce best practices that make food production safer for us all."
Over the past eight years, 117 people from 51 countries have attended a VDLQA Symposium, from places as different and far apart as Albania and Vietnam, to learn from UDPHS practice in emergency poultry disease response. The five-day certificate program introduces participants to the International Organization for Standardization (ISO) 17025 standard, an accreditation used to prove the competence of testing and calibration in laboratories. The Allen and Lasher laboratories have held this accreditation for nine years.