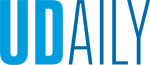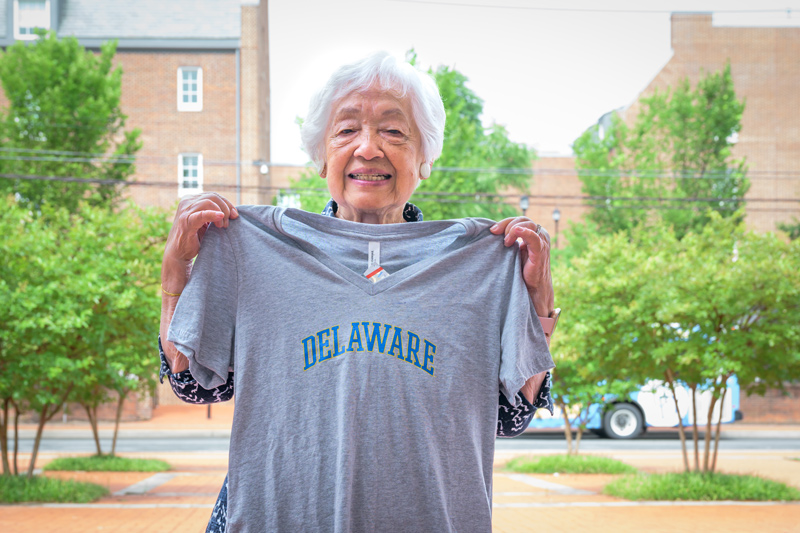 Living history
Article by Artika Casini Photos by Kathy F. Atkinson August 11, 2023
Olive Hong, one of UD's first Asian American students, returns to campus with her family, tours the new Center for Intercultural Engagement
Celebrity sightings are rare in Newark, but when 95-year-old Olive Hong walked into the University of Delaware's Center for Intercultural Engagement (CIE) earlier this summer, there was a palpable, contagious, undeniable buzz.
"It is such an honor to meet you," squealed junior Dulcine Stephens, practically leaping over the front desk to hug Hong, whose story first captivated Blue Hens when it was published on UDaily earlier this spring.
Here was a nonagenarian who had survived World War II, walked 12 straight days from Hong Kong to mainland China, and sailed to America to attend UD at a time when few Asian Americans did. A math whiz, Hong majored in the traditionally women-dominated field of home economics and spent a career in education, though her own questions of passion and purpose lingered. "Maybe I'd be among the first women engineers from UD," she wondered aloud in May. Hong's advice to the next generation — Stick to what you think is good for you, good for the country, good for the world. Don't let people talk you out of it. — resonated.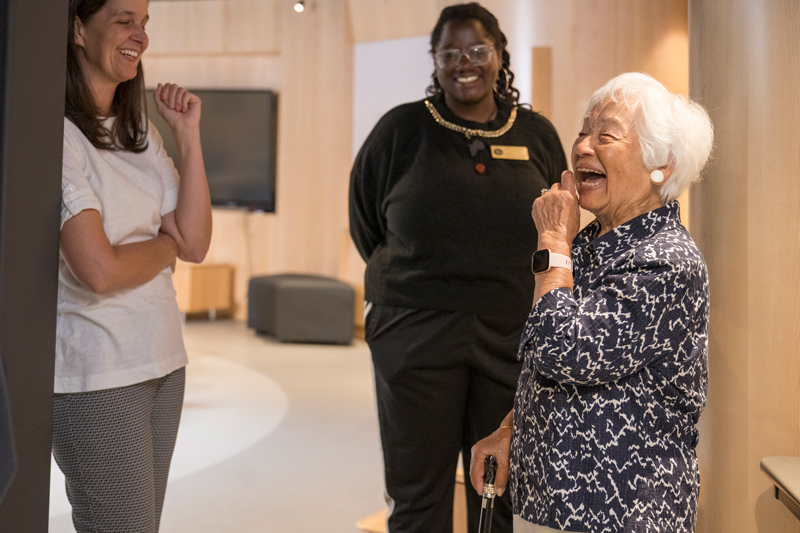 "It's not every day that you have a 95-year-old who also happens to be one of the first minorities to graduate," said Stephens, an Africana Studies and sociology double major who works part-time as a student associate for the CIE. "To have someone who essentially defied the odds and then did it again by sending all her children to college is really special. I don't take that lightly." 
Hong's campus visit was spurred by a family reunion. The 1958 alumna made the trip from her hometown of Rock Island, Illinois, to the East Coast to relax in the Pocono Mountains with her loved ones, including nephews Gordon Chin, Class of 1973; Raymond Chin, Class of 1972; and Raymond's wife, Mary Chin, Class of 1972. 
"While I'm here, we have to visit UD," Hong told her fellow Blue Hens. "We all wanted to know how the campus has changed."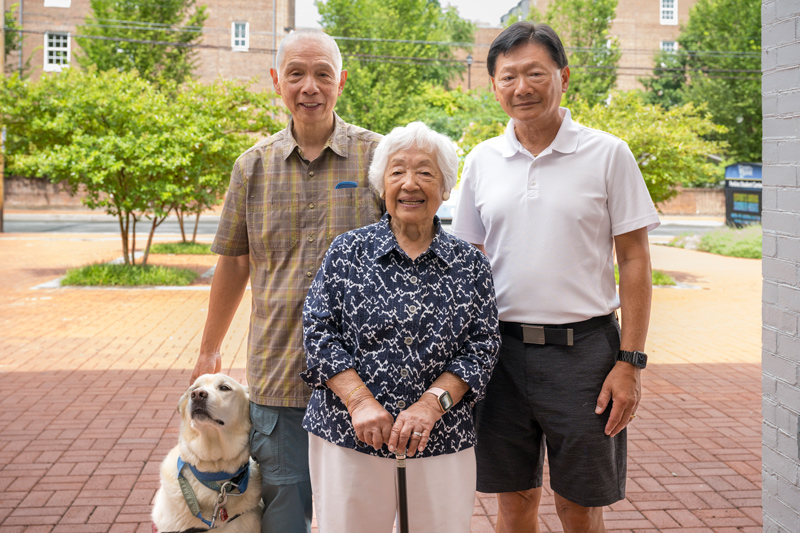 It was her first trip back to Newark in decades, and the campus had changed significantly. Case in point: the second floor of the Perkins Student Center, home of the freshly renovated CIE. 
With meeting rooms for student groups, the CIE also includes a food and supply pantry, clothing coop with free professional and gender-affirming attire, interfaith meditation and prayer room and more. 
Taurence Chisholm Jr., a program coordinator for Student Diversity and Inclusion, marveled at some of the conversations he had with Hong and her family. "I was so impressed by her tenacity," Chisholm Jr. said. "We should look to our elders more as they can give us an idea of how far we have come, how far we still need to go and how we might be able to achieve everything in between."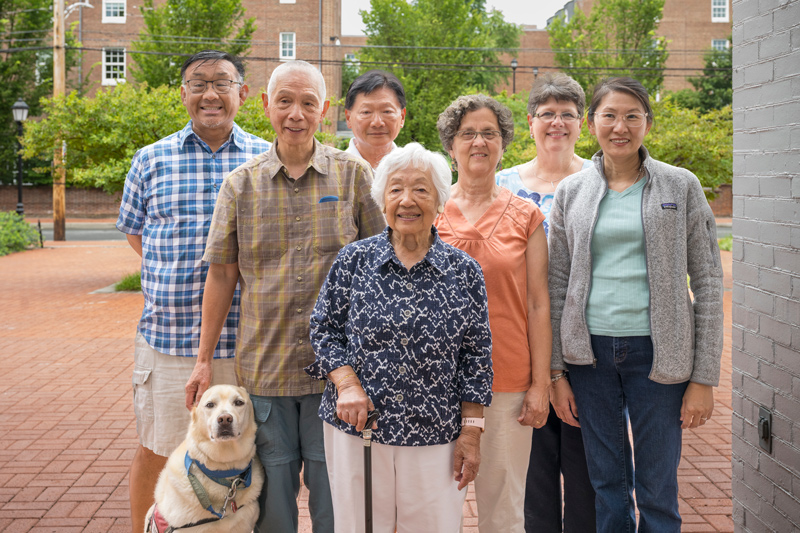 He and Hong also spoke about the Clothing Coop, with Hong noting that "she would have definitely used it."
Her nephew, Raymond, recalled eating at the Perkins Student Center. With his service dog, Dasher, by his side, Chin commended the University on its commitment to diversity and inclusion. As a clinical neuropsychologist who works heavily in the DEI space, he added that the CIE is a great model for other institutions. 
"More colleges need to have a place like this," Chin said. "It's one thing to have programs but to create space and allocate funds is incredible."  
It is the very goal of the Center, according to Rachel Garcia, director of Student Diversity and Inclusion. "We wanted this to be a space where people are able to find community across their intersectional identities," she said. "It has been great to see the history of UD as experienced by one of the University's first Asian American students. And to fast forward to 2023, when we have a space like this, is pretty remarkable."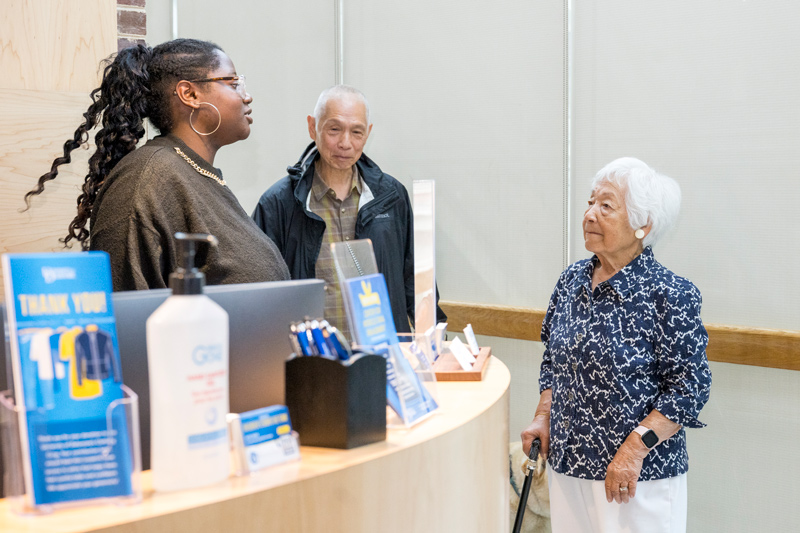 For Hong, the CIE is, in some ways, a fitting feature of a University that welcomed her some seven decades ago. 
"People often ask me if I experienced discrimination on campus," she said, shaking her head softly. "I tell them no. That came in the workforce." In one of her earliest jobs working with children with disabilities, Hong recalls going to lunch with a group of colleagues, including a Black coworker, and not getting served. 
But when Hong reflects on her student experience in the mid-1950s, she remembers the "D" she received in English, and how her professor (whose name she can't recall) tutored her each Thursday. "He'd assign me an article and then correct my grammar." There was another professor, an art teacher, who asked Hong to consider changing her major. "I think you have talent," said the woman, saving Hong's work as an example for her students. 
"UD has changed," she said, while touring the CIE and admiring the services that currently exist for today's students. "But I've changed, too."