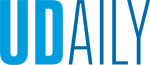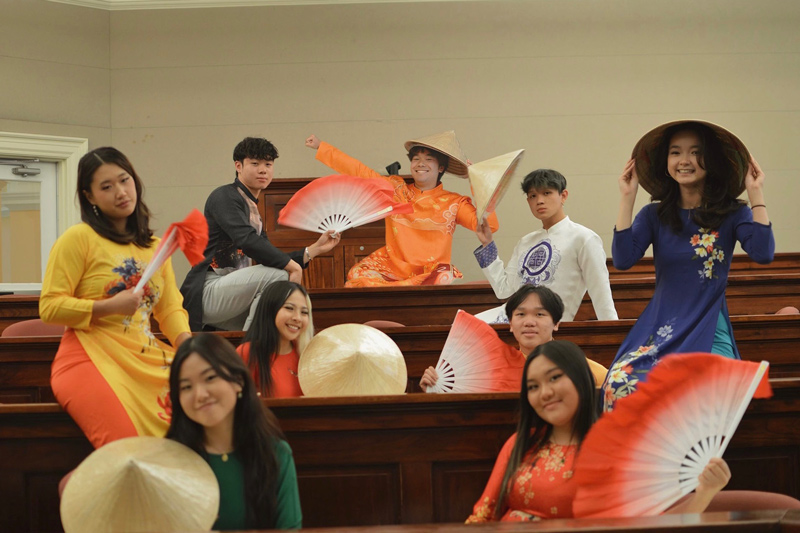 Hola, bonjour, konnichiwa
Article by Artika Cassini Photos courtesy of registered student organizations August 24, 2023
UD's globally focused student organizations help foster unity and celebrate cultural diversity on campus
Want to eat Italian biscotti? Learn an Irish jig? Study the water distribution systems of Cameroon?
There's a registered student organization (RSO) for that. The University of Delaware boasts more than 300 of these special interest groups — around 50 of which have an international angle.
"This allows students to travel beyond Delaware without getting on a plane or navigating that expense," said Alex Keen, associate director of University Student Centers. "It's a comfortable way to broaden your perspective on the world."
The Anime and Manga club explores Japanese pop culture. The Indian Student Association brings the colors of Holi and lights of Diwali to campus. And the Delaware African Student Association celebrates the rich heritage of a fantastically diverse continent.
Through these efforts, Blue Hens from all over the world "become more to each other than pins on a map," said Keen. "They become fellow students — fellow humans — to engage with and understand."
As the University celebrates the 100-year anniversary of its pioneering study abroad program, read on to learn more about some of the globally focused RSOs that make UD a more vibrant, culturally diverse community.
"The Caribbean Student Alliance (CSA) serves an important role in representing the Caribbean community on campus. Our organization is dedicated to increasing Caribbean cultural awareness and enhancing diversity and culture at the University of Delaware by celebrating, promoting and hosting inclusive social, educational and cultural events that are open to all UD students.
Our events provide a welcoming environment in which students, regardless of their backgrounds, feel embraced, appreciated and respected. We host events like Game Night and Paint N Sip that allows students to relax, eat delicious Caribbean cuisine, and learn about Caribbean culture via music and open conversations. We also host CSA WEEK, which celebrates the rich diversity of the Caribbean diaspora and allows students from all backgrounds to come together and learn more about Caribbean culture. This CSA week ends with our annual event: Rep Ya Flag party, where each student represents their country's flag and vibes to the rhythm and beautiful tunes of Caribbean music with their friends.
The Caribbean Student Alliance encourages more Caribbean students to attend our events, while also fostering unity and appreciation among the broader UD community, so that we can all excel in a welcoming environment that allows us, students, to freely express ourselves in any room that we enter."
— Georgiann Walker, CSA president, psychology major with minors in human development and family studies, and cognitive science
"The Muslim Student Association seeks to cultivate a spirit of unity among the diverse Muslim community on campus. Our objective is to establish a welcoming environment through insightful dialogues, collaborative learning, and communal prayers. We're excited to host engaging events that bring Muslims together, and extend an open invitation to all fellow students to partake in this shared journey of faith and knowledge."
— Mahdi Al Ismail, MSA president, chemical engineering major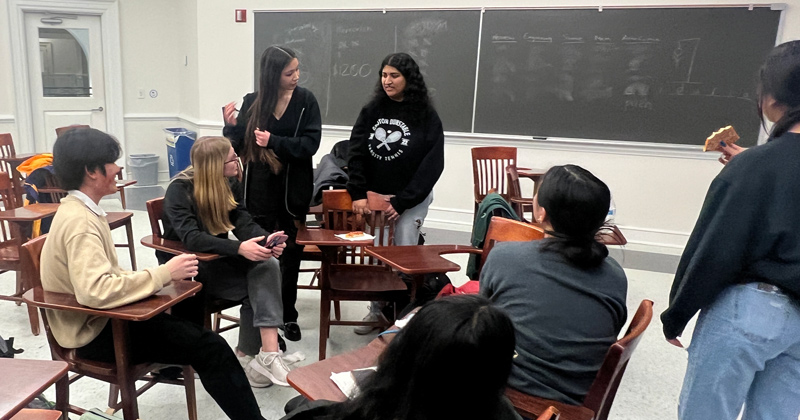 Society of Asian Scientists and Engineers 
"The Society of Asian Scientists and Engineers (SASE) dedicates itself to preparing Asian heritage scientists and engineers for success in the global business world. Many members have obtained internships and full-time offers from various reputable companies through the SASE network. Our members do not have to be Asian or even scientists or engineers. We are a welcoming community and will be glad to support and mentor anyone on their college journey. Examples of our meetings include: resume, networking and interview workshops; social events like Secret Santa, game and movie nights; and dinners. 
This year, we are starting a mentor/mentee program for incoming international or exchange students. This is a great way to make friends, travel to popular tourist destinations and get help with classes. SASE also holds two conferences. One in the fall and the other in the spring. This is an amazing opportunity to attend interview and resume workshops, networking events and panels with alumni and employees in STEM fields."
— Hannah Burrowes, SASE president, psychology major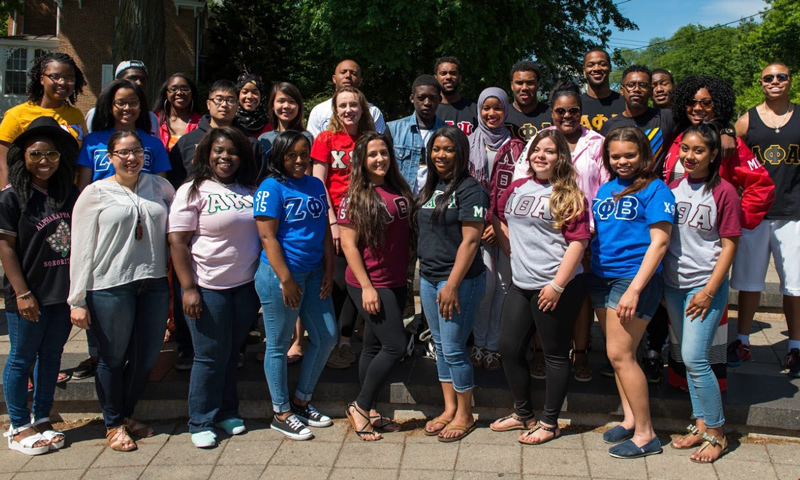 "Located in 015C Perkins, the Multicultural Greek Congress (MGC) is the umbrella council for all cultural and ethnic based fraternities and sororities at the University of Delaware, including those organizations that are a part of the National Association of Latino Fraternal Organizations (NALFO) and the National Pan-Hellenic Council (NPHC)
The MGC at UD works to: enhance the development of all its member chapters through mutual respect, leadership, honesty, professionalism, and education; provide a forum for the governance and regulation of chapter affairs; enrich Greek life on the campus; act as a liaison between member chapters and the university administration; and promote unity among all Greek-letter organizations." 
— Alvaro Ayala, MGC president, economics major with a minor in business administration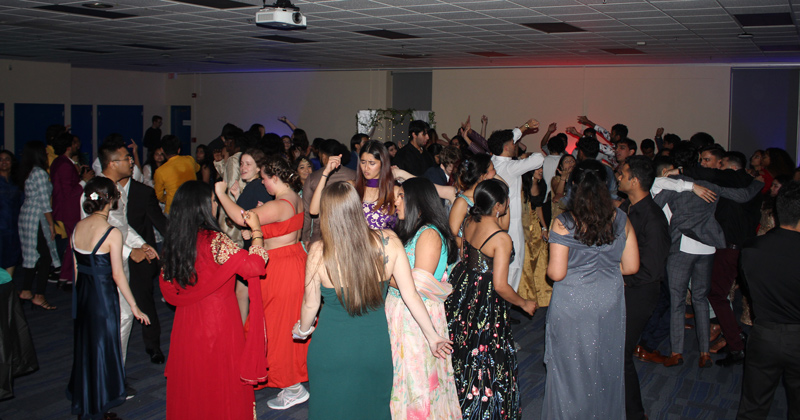 "As a club dedicated to celebrating Indian culture and heritage, we organize various events throughout the year that showcase different aspects of India, such as Diwali, the Festival of Lights. We invite all students to join us in these celebrations and learn about the rich traditions and customs associated with these festivals.
Additionally, we collaborate with different multicultural clubs to promote cultural unity. Towards the end of the year, we organize a Multicultural Formal where students from various backgrounds come together to celebrate and appreciate the diversity on campus. This event serves as an opportunity to foster cultural understanding, build connections and create a sense of community among different student groups.
Through our events and collaborations, we aim to create an inclusive environment where everyone can learn, appreciate, and embrace different cultures, including Indian culture, while also promoting cultural exchange and understanding among students at UD."
— Nisha Thope, ISA president, exercise science major with a minor in disabilities studies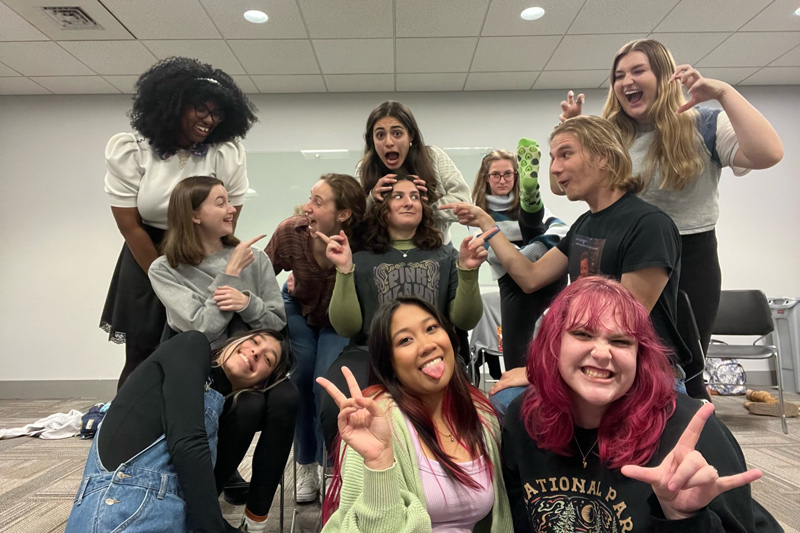 "We are the University of Delaware's original all-gender a cappella group, and we are coming up on our 35th anniversary year. We consider ourselves a family of singers and value diversity and uniqueness above all else. Most of our members are pursuing careers in non-music fields and have different cultural and racial backgrounds, which simply enhance their position in the group. We are a family of people who love to sing, and our amazing, talented lineup of singers would love to have the honor of meeting new students at auditions this fall."
— Riley Ferguson, Golden Blues president anthropology major with minors in forensic studies, museum science and writing 
Vietnamese Student Association
"The Vietnamese Student Association (VSA) fosters a safe environment for students to express and share Vietnamese culture with others. VSA provides many opportunities to learn and appreciate Vietnamese culture and food, thus representing the UD's global, multicultural community."
— Anh Ho, VSA president, biological sciences major with minors in medical diagnostics
"The Environmental Justice Project is a hybrid environmental/social justice RSO. We focus on education and outreach surrounding environmental justice (EJ), and how to best support struggling communities both domestically and internationally. We also discuss the frequently observed rate at which minority and marginalized communities are afflicted by EJ issues, and through fundraising efforts, we are able to support groups like the American Indian Community House. We also support communities through grant writing; last summer, a group of students helped the Tyonek Tribe in Alaska apply for a grant to build a community center, which would include a space for the preservation and teaching of their language. Our organization helps represent this specific issue seen across the globe and shows how we can support people from all walks of life, even those we are separated from by international borders." 
— Victoria Alves, club president, wildlife ecology major with minors in statistical data analytics
"Our organization focuses on working with communities around the globe to assist in completing engineering projects. Throughout the year, we spend time learning about the cultures of the communities that we will be traveling to during the summer. This summer, we have two teams traveling internationally, one to Malawi and the other to Bolivia. In Malawi, we will be drilling borehole wells to give the communities access to clean drinking water, and in Bolivia, we will be building a bridge to give the community access to many amenities in the surrounding area."
— John Welborn, EWB president, mechanical engineering and biomedical engineering double major with minors in mathematics 
Involvement fair
Students who would like to learn more about UD's 300-plus RSOs should attend the annual Involvement Fair, which will be held on Monday, Aug. 28, from 1-4 p.m., on Academy Street and the South Green, just outside the Perkins Student Center.  
Study abroad 
Students who would like to learn more and explore study abroad options for the 2024 Winter Session and beyond should attend the Study Abroad Fair from 2 p.m. to 4 p.m. on Wednesday, Sept. 6, in Trabant University Center's multipurpose room (with free UDairy). The Center for Global Programs and Services provides more information about the application process, scholarships and financing. Please also visit the UD Abroad Blog for student perspectives on the study abroad experience. 
From Delaware to the World
2023 marks the 100-year anniversary of study abroad, pioneered at the University of Delaware in 1923 when UD language professor and World War I veteran Raymond Kirkbride took eight students to France for their junior year. Today, UD boasts more than 100 study abroad programs in 40-plus countries and has an international student population that hails from over 100 countries. Learn more at www.udel.edu/studyabroad100.