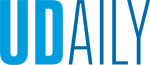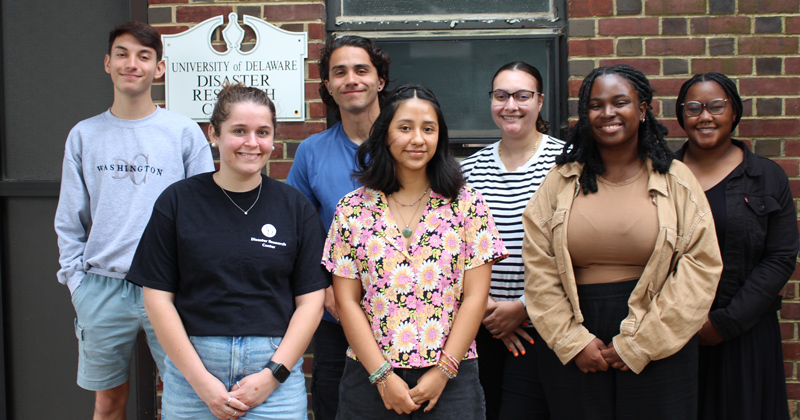 UD welcomes CHEER Hub students
Article by Sarabeth Lowe Photo courtesy of Sarah DeYoung August 03, 2023
National Science Foundation grant helps first cohort of students to research tensions and tradeoffs in disaster preparedness
If you follow the news, you've probably read headlines over the last year about hot housing markets, where limited supply and rising demand results in higher prices. You may also be aware that overpaying for a house can leave your pockets feeling empty.
It's less likely that you've considered how hurricane and flooding risks affect the housing market, but that is just what Nyla Howell, a geography and environmental studies major at the University of Maryland, Baltimore County, focused on this summer.
Howell was one of seven students from six universities working with the Disaster Research Center's Coastal Hazards, Equity, Economic prosperity and Resilience (CHEER) hub, as part of its eight-week, residential summer scholars' program. The CHEER Hub is a collaborative effort between the University of Delaware's DRC and 10 partner universities aimed at making coastal communities more resilient in the face of growing threats from climate change. The program was funded as part of a $16.5 million National Science Foundation grant.
According to Rachel Davidson, a core DRC faculty member, professor in the Department of Civil and Environmental Engineering, and the lead principal investigator of the project, this program is a cornerstone of the hub's mission.
"The vision of this program is for students to learn about disaster science through hands-on activities, including site visits to community centers and emergency management agencies, and attending talks with experts," Davidson said. "We know that they will also stimulate the rest of the CHEER team with their individual projects and insights."
The summer scholars worked alongside their fellow cohort members on interdisciplinary teams. Each student was assigned a research question to focus on different aspects of the problem, including how hurricane and flooding risks impact housing markets, community engagement, wealth disparities, and differences in abilities to cope and/or recover from disasters.
Sarah DeYoung, a core faculty member in the DRC and an associate professor of sociology and criminal justice, described the program as an opportunity for the scholars to connect with UD faculty and graduate students working on research projects that focus on disaster vulnerability and resilience.
Students spent the first half of the program at UD, then moved to East Carolina University for the second half.
"The general goal of the program was for students to get an introduction to the theoretical aspects of disaster research while at UD, and then put some of those theories into application for data gathering during their time at ECU," DeYoung said.
While at the DRC, the students learned about the foundation of disaster science, participated in hurricane and natural hazards research, defined their research projects, and began to familiarize themselves with the mission and vision of the hub. They also learned about the ways current graduate students gather community-based disaster data.
Hearing first hand from local agencies allowed students to see how this knowledge applies in the real world. For example, students visited the emergency operations center at the Delaware Emergency Management Agency to learn about the phases of disaster recovery and what each phase entails.
During these visits, Guadalupe Guevara, a rising senior at UD majoring in sociology and global studies, noticed that agencies tend to be directly involved in relief efforts immediately following a disaster but that this engagement seemed to peter off as communities recover.
"We've learned that community engagement research means continued participation with the community," Guevara said. "As researchers, we tend to go into the field, collect our data, and leave. This needs to change."
In the second half of the program, the students relocated to ECU, one of the hub's three case study areas. Meghan Millea, a CHEER co-principal investigator and education director for the hub, said the cohort spent time connecting with communities that have experienced hurricanes and flooding.
"While at East Carolina University, they built upon the groundwork they laid at UD," said Millea, a professor of economics at ECU. "The on-site conversations helped the students understand how community input and engagement is key to effective research, resource allocation, and policies because each community is different."
This was a nod to one of the hub's core principles: equity. The CHEER summer scholars program represents a significant effort toward developing and implementing a robust, research-based mentoring program that prepares a diverse cohort of new researchers for careers in convergent disaster science.
Diversity, equity and inclusion are a key part of the overall project. According to Davidson, partnerships with the McNair Scholars Program and Bill Anderson Fund, two highly respected national organizations that prepare and support graduate students from underrepresented groups across all disciplines and in disaster studies, respectively, have helped make this effort possible.
The hub's commitment to these values was reflected in the cohort's final projects, in which students showcased their findings to members of the CHEER team and partner organizations. Presentation titles included "Closing the Gap: Examining Hurricane Recovery Through an Equity Lens" and "Government and Disasters: The Roles and Responsibilities of Local, State, and Federal Government During Each Disaster Phase."
"When the students presented their work from ECU via Zoom, we were all so impressed by what they were able to learn about these issues in such a short time frame," said Tricia Wachtendorf, DRC director. "It really speaks to the students' commitment to these critical issues."
Millea echoed this sentiment, adding that the students' work is another catalyst for the hub's research.
"Students always help me see the work we do through fresh eyes," said Millea. "Their perspectives, experiences and curiosities inform the important work we do."