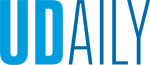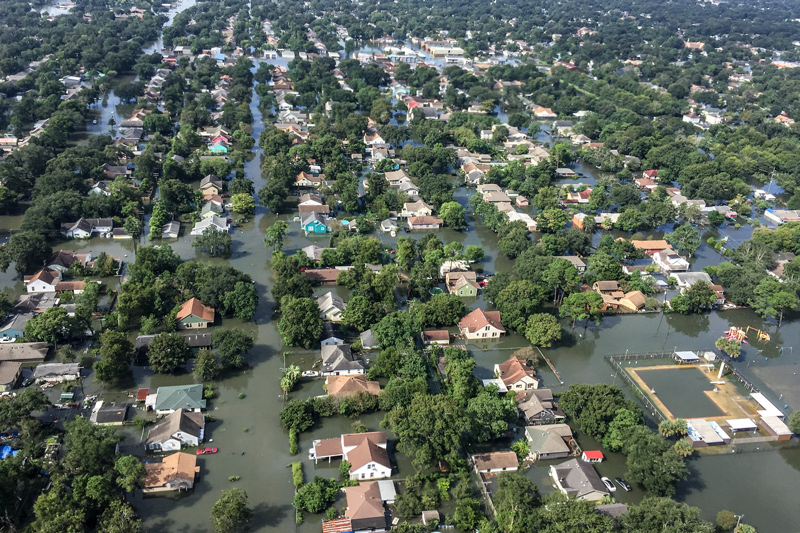 Coastal community resilience
Article by Karen B. Roberts Photos by iStock and National Oceanic and Atmospheric Administration September 20, 2022
UD's Disaster Research Center awarded $16.5 million to study interplay between resilience, equity and economic prosperity
It's been five years since Hurricane Harvey brought catastrophic rain, extensive flooding and more than $125 billion in damages to Texas in August 2017.
Other hurricanes and hazards have occurred since, with increased frequency and intensity, with Hurricane Fiona's destruction in Puerto Rico being the latest example. Yet coastal communities nationwide continue to grapple with disaster resilience.
How to cope with these hazards is complicated. The issues are multi-faceted: people who live along the coast have homes, jobs, families, while businesses have infrastructure and employees, all of which contribute to the region's economic prosperity. When disasters occur, not everyone is affected equally. And, as climate change worsens, the effects of hazards like hurricanes are increasingly felt farther inland.
Now, the Disaster Research Center at the University of Delaware has been awarded $16.5 million from the National Science Foundation to lead a multi-institutional effort exploring the tension and tradeoffs between a community's goals of managing hurricane risk while also achieving equity and economic prosperity.
The UD-led hub — Coastal Hazards, Equity, Economic prosperity and Resilience (CHEER) — is one of five NSF-funded projects announced recently as part of the agency's Coastlines and People program, which is infusing $51 million in research funding to protect the natural, social and economic resources of U.S. coasts, and to help create more resilient coastal communities.
The work will require intense input from public policy, sociology, meteorology, engineering and other disciplines.
"The Disaster Research Center at UD has a long and successful track record of interdisciplinary research, analysis and problem-solving focused on some of society's most complex challenges, so it is fitting that they will lead this latest effort," UD President Dennis Assanis said. "Through collaboration with institutions nationwide, the CHEER hub will help make coastal communities more resilient in the face of growing threats from climate change."
The five-year project will be led by Rachel Davidson, a core DRC faculty member and UD professor of civil and environmental engineering. Co-principal investigators include Sarah DeYoung, core DRC faculty member and associate professor of sociology and criminal justice at UD; Linda Nozick, professor and director of civil and environmental engineering at Cornell University; Brian Colle, professor and division head of atmospheric sciences at Stony Brook University; and Meghan Millea, professor of economics at East Carolina University.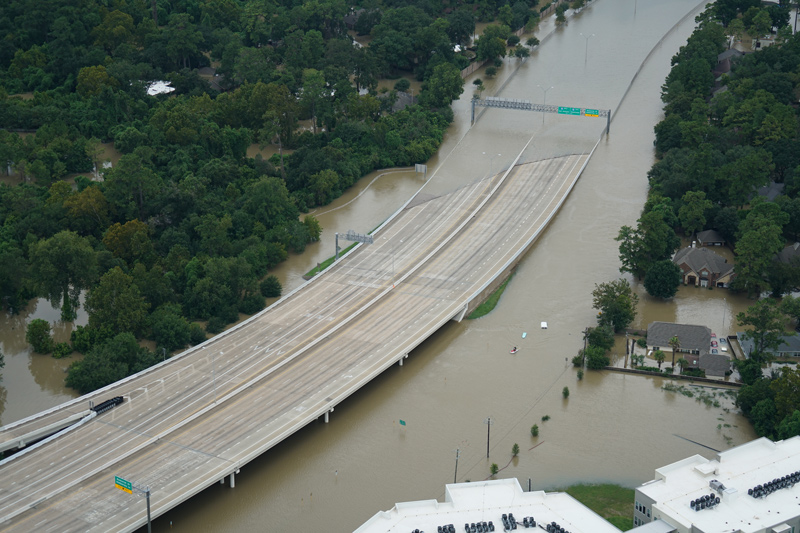 Davidson explained that addressing the desire for economic prosperity typically hasn't been considered when examining resilience to past hazards.
"We've framed the problem narrowly and said people shouldn't build in these places, they should just be smart … but minimizing risk is never a community's only goal," Davidson said. "The question we're asking now is whether there are ways to facilitate the growth that communities want in a way that's smart enough that we're not creating dangerous situations down the road."
Reframing the problem of hurricane risk
There is much to consider. More than 128 million people in the United States live along the coast, according to the National Oceanic and Atmospheric Administration's Office for Coastal Management.
Researchers involved in the work will advance methods to model long-term hurricane hazards in a way that accounts for climate change and incorporates multiple hazards, such as wind, rain, storm surge and waves. They will develop a framework to design and evaluate different policy interventions for achieving sustainable equity, prosperity and resilience.
The project is about looking at these interactions holistically and reframing the problem of hurricane risk as part of a community's normal activities and development to gain greater insight on possible solutions.
"If you only focus on the problem from shortly before the hurricane winds start to a little bit after the winds stop and the cleanup, you could miss important information, such as how that community has grown over the last 50 years," Davidson said.
For example, development in the Houston, Texas area over recent decades fueled great economic growth, including in Harris County, where the population grew by 31% during a 15-year period. The area economy grew, and population increases led to greater resources being available to the region for resilience measures. However, that development also increased flooding and exacerbated losses during Hurricane Harvey in 2017, because many of the newer neighborhoods were built in floodplains and former natural areas were by then covered with asphalt, leaving the water nowhere to go.
There are many ways the government, the insurance industry or other agencies can intervene to help communities achieve better hurricane risk management (think buyouts, grants, national flood insurance programs or post-event response and recovery investments). But it's not always obvious what combination of options makes the most sense.
The research team will create computer models to evaluate how different people and agencies interact and how specific policies will play out in real life, to help communities and other agencies make better decisions.
"We're looking for a win-win situation," Davidson said. "We're looking for policies where homeowners in general are better off, the insurance industry is profitable, and government agencies don't get stuck with large, unplanned expenditures." 
Equity in focus
Woven throughout the project is the issue of equity. It's been well documented that poorer people, minorities and others, such as those who are medically fragile, tend to experience worse impacts and have a harder time recovering from losses. Even mitigation, response and recovery processes designed to help can be inequitable. Davidson and her collaborators want to change this.
"One of the things we're focusing on is renters and how they experience disasters differently," she said.
For example, if a policy goal is to avoid as much dollar loss as possible, in practice that might mean investing mostly in the wealthiest properties because strengthening a single house could save a lot of money, Davidson said. Whereas, if equity is a goal, perhaps minimizing the percentage of loss each household experiences is better or, in the case of renters, making sure as few people as possible are displaced from their homes.
This ability to add equity into the equation is new, a result of a shift in thinking, Davidson said.
"We went from thinking about what would be best for a community overall to realizing that in real life, each household, government agency and insurer is making decisions from their own perspective," she said. "We started looking at each stakeholder as an individual and representing how they make their own decisions and interact with others. This sets us up to address equity because we're already explicitly looking at different viewpoints. Now we can easily ask how the loss will be distributed across different households and communities and whether it is equitable."
Overarching this work is climate change, a dynamic factor that may look different today than it will 30 years from now. For instance, there is growing evidence that hurricanes are causing more inland precipitation and damage as our climate is changing, but hurricanes often have been considered a worry only for people living on the coast. Considering inland effects of hurricanes will help expand this viewpoint. Additionally, the researchers plan to use computer vision and machine learning to automate the ability to create detailed descriptions of existing houses, so that it can be used to better estimate losses. 
Interdisciplinary and cross-institution expertise
Jointly funded with the Established Program to Stimulate Competitive Research (EPSCoR), the work will include contributions from researchers at UD, Cornell University, Boston University, University of Florida, University of North Carolina at Chapel Hill, Stony Brook, University of Oklahoma, East Carolina University, Texas A&M and North Carolina State University.
In forging the team, Davidson said they started with a core group of researchers who had collaborated previously, then added expertise from UD and externally. In addition to Davidson and Joe Trainor, DRC core faculty and professor in the Joseph R. Biden, Jr. School of Public Policy and Administration, a 2019 and 2020 disaster science cluster hire at UD added A.R. Siders, assistant professor in the Biden School and geography, Shangjia Dong, assistant professor of civil and environmental engineering, and DeYoung to DRC's core faculty, all of whom bring critical perspectives to the project.
"That six UD faculty from four colleges are on the grant, three from the cluster hire, really highlights the successes that come from supporting interdisciplinary work at UD, for the students, the science, and for making an impact in communities," said Tricia Wachtendorf, DRC co-director and sociology professor, who is also on the project.
The project will provide opportunities for postdocs to undergraduate students to participate in research-based mentoring and quick response fieldwork training, including summer fellows from the Bill Anderson Fund and the McNair Scholars, national organizations that support students from underrepresented groups.
The group is noticeably diverse, in terms of gender, race, age, discipline and geography — an effort Davidson called deliberate, to ensure the team's values are reflected in "the way we work, the kind of work we do, and the students we bring on the project."
A partnership with SimCenter, an NSF-funded center, will help ensure the tools created continue beyond the grant-funding period, while connections with organizations, such as the Federal Emergency Management Agency (FEMA), will help transfer the team's results to practice and DRC IT! modules will help engage researchers and the public.