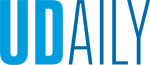 Video on AR Siders: youtube.com/watch?v=9ukWjs4fA5w
Plan for the planet: A.R. Siders
Article by UDaily staff Photo by Kathy F. Atkinson | Photo illustration by Jeffrey C. Chase | Video by Ally Quinn, Sam Kmiec, Jeffrey C. Chase April 19, 2023
Adapting for sea level rise and flooding under climate change
Editor's note: The University of Delaware is joining the more than 1 billion people, governments, institutions, and businesses who participate in Earth Day — Saturday, April 22 — to recognize our collective responsibility and to help accelerate the transition to a brighter, greener, and more equitable future for generations to come.
As we approach Earth Day, four University of Delaware researchers explain how their work addresses some of the greatest challenges facing the planet.
In this segment, Professor A.R. Siders answers a question posed by Maya Feinstein, an Honors environmental science student and Climate Hub Scholar, about how we can protect the infrastructure and people living along our coastlines from rising sea levels and flooding under climate change.
Siders is a core faculty member in the Disaster Research Center, the Joseph R. Biden, Jr. School of Public Policy and Administration and co-directs the Gerard J. Mangone Climate Change Science and Policy Hub, which aims to bring together students, faculty and other stakeholders to develop and implement solutions for a more sustainable future through education, research and innovation.
Feinstein is a member of UD's Sustainability Council and the Blue Hen Leadership Program.