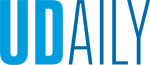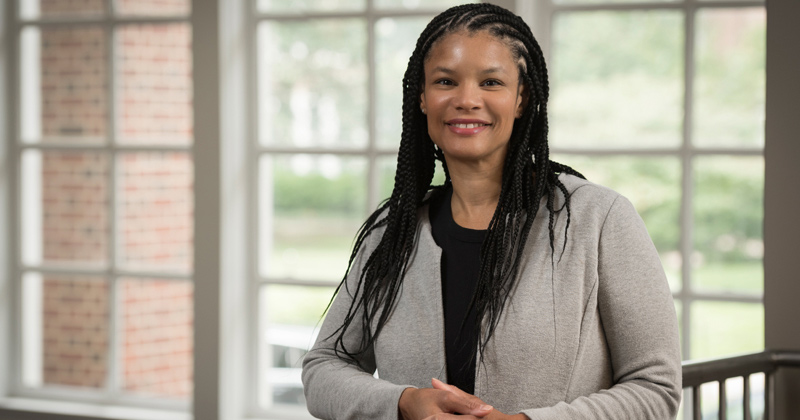 A pioneer in polymer physics
Article by Erica K. Brockmeier Photo by Kathy F. Atkinson October 19, 2022
UD Engineering's LaShanda Korley elected as a 2022 American Physical Society Fellow
University of Delaware College of Engineering Distinguished Professor LaShanda Korley has been elected as a 2022 Fellow of the American Physical Society (APS) "for innovative bio-inspired strategies to control architecture, assembly, and mechanics of soft material systems."
Korley, who holds appointments in the departments of Materials Science and Engineering and Chemical and Biomolecular Engineering, and her research group take inspiration from nature to design new polymers using innovative molecular-level design strategies and manufacturing approaches. Korley is also the director of UD's Center for Plastics Innovation (CPI) and the co-director of the Center for Hybrid, Active, and Responsive Materials (CHARM).
By studying the architectures and design rules used by the natural world, Korley's research helps materials scientists bridge the gap between fabricating simple, sustainable materials that also have a wide array of complex functions and downstream applications.
"Our group has a strategic vision on the interconnection between molecular design, engineering and materials science to design functional polymers," Korley said about what makes her group unique. "We tackle the full macromolecular design spectrum from chemistry to processing to impact polymer architecture and function."
Among her group's long-standing research projects is their innovative work on spider silk, a biological material that Korley says continues to be a rich source of inspiration due to its unique and tunable mechanical behavior. Her group is also exploring the possibilities of using lignin, an organic polymer that is a component of tree bark, as a building block for plastics in lieu of petroleum-based products, as well as connecting polymeric features to new deconstruction and upgrading strategies for plastics waste.
"Professor Korley has made substantial contributions to understanding the polymer physics of network-forming systems through an exquisite mix of detailed polymer synthesis, materials characterization, and polymer processing," said Thomas Epps, III, the Allan and Myra Ferguson Distinguished Professor of Chemical and Biomolecular Engineering, who nominated Korley for this award. "Her activities bring actionable insights that promote new applications of polymeric materials."
Each year, APS, a scholarly society and publisher for the physics community, recognizes less than 1% of its members through the APS Fellowship Program. Korley's outstanding contributions in bio-inspired materials science research was recognized by the Division of Polymer Physics, and she will receive her certificate at the APS annual meeting in March 2023.
"As a chemical engineer who works on polymer science and engineering, fundamental physical principles are what's driving the design, so physics and engineering go hand in hand," Korley said of being recognized by the APS. "If I'm designing a material at the molecular level, I have to understand and apply these underlying polymeric physics concepts."
Along with her election as an APS Fellow, Korley is also a 2022 ACS Division of Polymer Materials Science and Engineering (PMSE) Fellow, a recipient of the 2021 AIChE Minority Affairs Committee (MAC) Gerry Lessells Award, was named a 2020 American Institute for Medical and Biological Engineering (AIMBE) Fellow, and received the 2019 National Organization for the Professional Advancement of Black Chemists and Chemical Engineers (NOBCChE) Lloyd N. Ferguson Young Scientist Award.
"I am extremely pleased to see Professor Korley receive this well-deserved recognition, joining other Fellows within the department," said Joshua Zide, professor and chair of the Department of Materials Science and Engineering. "Her work serves as an inspiration to her colleagues, and we are always happy to see others also recognize her impact in the world. Locally, we appreciate that she is also an outstanding citizen of the department, and the students appreciate her teaching and mentorship."
Referring to what the future holds for her group, Korley said, "There's still more molecular engineering to do, and lots of questions driven by trying to understand concepts from nature that we see around us and that inspires us. Overall, I feel honored by this recognition from APS — not just for myself, but for my students, because they are the ones that believe in our lab's large-scale vision and drive the innovation that makes this work possible."