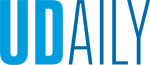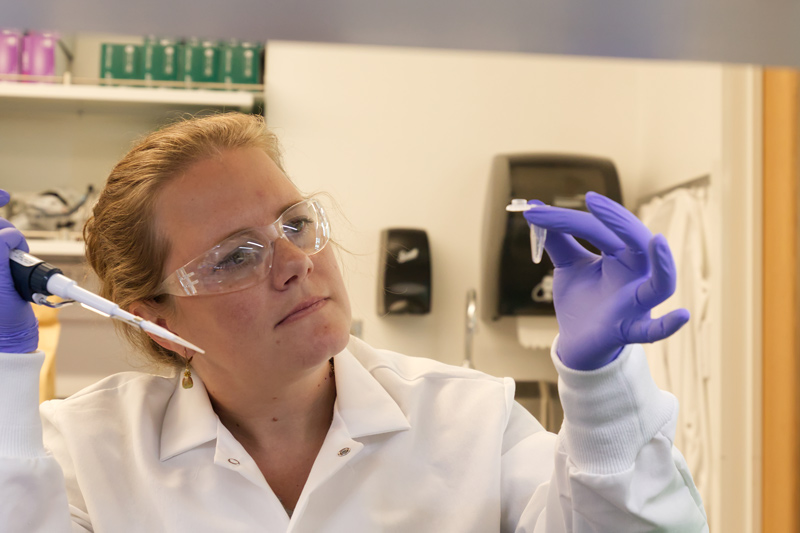 Rebuilding plants' defenses
Article by Dante LaPenta and Iowa State University Staff Photo by Monica Moriak October 10, 2022
Prof. Erin Sparks uses synthetic biology to investigate plants' ability to protect against environmental stress
Researchers from the University of Delaware, Iowa State University and University of Nebraska-Lincoln are working to bioengineer a plants' defense mechanism to protect against environmental stresses.
The goal is to identify the genetic regulation of a plant cuticle and create a roadmap for breeding plants with cuticles that can respond to changing climates. The work also has potential biorenewable applications for developing value-added chemicals with industrial functions.
"This discipline of research is synthetic biology — an emerging field," said Erin Sparks, UD assistant professor of plant molecular biology and the study's principal investigator. "The idea is to rebuild a biological process from scratch where it doesn't exist. If you really want to understand something, you must be able to successfully build it from the ground up."
Within a larger grant from the National Science Foundation, the Sparks Lab will focus on roots. Sparks brings an extensive research track record on maize — a staple food the world over. In the United States, maize, better known as corn, was planted across nearly 97 million acres, second only to barley as the most popular crop. Financially, corn has earned nearly $83 billion in crop cash receipts this year, according to the U.S. Department of Agriculture. Understanding this critical crop is very valuable information.
The cuticle of a corn plant is a waxy layer, found on aerial plant tissues, that provides a protective barrier between the plant and its environment. Researchers have identified many of the genes that contribute to making the cuticle, but do not have a good understanding of the specific functions of each gene and how they all work together.
"We now have a whole collective of genes that, if removed, impact the plant's ability to make this waxy deposition," Sparks said.
Sparks and her team will investigate what happens when you take these aspects of the above-ground part of the plant and put them in the below-ground root.
"Can we make a cuticle in a root?" Sparks said. "This is the concept of synthetic biology. If we understand how it's built in the plant's aerial organ, we should be able to build it in a root. That should tell us what's missing in how to rebuild the system."
So why does the plant need reconstruction? It's the age-old process of taking something apart to understand how it's made. Sparks notes that the ultimate goal is not to breed corn with cuticles in its roots. The roots are simply the vessel for this research.
"If you build a Lego castle, and then you take off a piece and the castle collapses, you can see how integral that piece was to the structure's integrity," Sparks said. "We're starting at the bottom — at the below-ground level — to see if our structure will stand. If not, we see that we're missing something and can go back and identify the missing piece."
About the funding
The National Science Foundation (NSF) award brings together three land-grant universities — University of Delaware, Iowa State University and University of Nebraska-Lincoln — all in NSF-designated Established Program to Stimulate Competitive Research (EPSCoR) states.
"I love this research because it is so interdisciplinary," Sparks said. "No one lab could accomplish this on its own."
The three universities will exchange more than research as part of this NSF-funded study; they will also exchange students. The grant's Research Experience for Undergraduates component will send a pair of promising young Blue Hen scientists to Ames, Iowa or Lincoln, Nebraska to work alongside the other institutions' faculty members. Likewise, undergraduate Cyclone and Cornhusker students will spend their summer in Newark in the College of Agriculture and Natural Resources.
"This is such a great way to connect our physically distant, yet commonly united state universities," Sparks said. "We are united by our land-grant-mission."